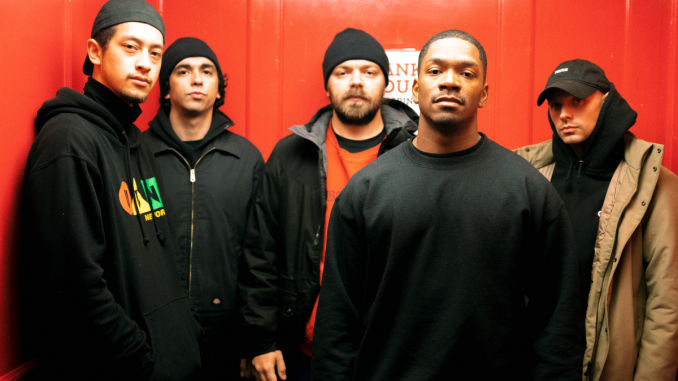 ALBUM OUT MARCH 4 ON CLOSED CASKET ACTIVITIES

BAND SHARES VIDEO FOR NEW SONG "THE KILLING WOMB" — WATCH

READ EXCLUSIVE INTERVIEW AT SPIN
VEIN.FM have announced their new album This World Is Going to Ruin You. The album, which follows 2018's Errorzone, arrives on March 4 via Closed Casket Activities. Pre-order it here.
The band has shared the video for the new track "The Killing Womb." Watch it here.
Vein.fm also did an exclusive interview with SPIN, detailing the new album. Read it here.
This World Is Going to Ruin You was recorded with Grammy-winning producer Will Putney of Graphic Nature Audio in April 2020, just weeks into a global shutdown. Featuring guest appearances from artists Geoff Rickly, Jeff Smith, and BONES, as well as the original artwork and typography of Autumn Morgan, This World Is Going To Ruin You is a fully-realized version of the band's darker and more disgusting inception of metallic hardcore.
While the band's full-length debut Errorzone received praise from Pitchfork, which stated that it "sets the tone for one of the year's most exhilarating heavy records…" This World Is Going to Ruin You will be hailed as its own formidable beast. "Every release is like its own universe," the band explains. "On Errorzone, we made a departure into another universe, sonically and visually. It was very futuristic and high-energy, and there were lots of elements we tapped into in order to fulfill our vision of that universe."
In that sense, This World Is Going To Ruin You is not a return to the band's roots so much as a more fully realized version of them. "But it's not a contrived nostalgia trip. We're just naturally taking that part of the band to a fuller potential," vocalist Anthony DiDio explains. "Errorzone was entering another world, while this record is Vein.fm coming home."
Lyrically, This World Is Going to Ruin You describes the human condition through a birth-to-death timeline. "I was coming from a very anti-social mentality," DiDio says. "I want people to completely disconnect and have their own personal journey through this album."
This World Is Going to Ruin You will be released by Nuclear Blast outside of the U.S.
THIS WORLD IS GOING TO RUIN YOU TRACK LISTING:
"Welcome Home"
"The Killing Womb"
"Versus Wyoming"
"Fear in Non Fiction"
"Lights Out"
"Wherever You Are"
"Magazine Beach"
"Inside Design"
"Hellnight"
"Orgy in The Morgue"
"Wavery"
"Funeral Sound"
VEIN ARE:
Matt — Drums
Jeremy — Guitar
Jon — Bass
Benno — Samples
Anthony — Vocals
PRESS PRAISE FOR VEIN.FM:
"Heavy songs for pulling through together." — The Fader
"One of the year's most exhilarating heavy records…This is the sound of retro-futurism finally reaching the turn of the last millennium." — Pitchfork
"Vein's sound is a furious, explosive, deeply metal-influenced take on their genre, a bit similar to what fellow Bostonians Converge were doing about 15 years ago." — Stereogum
"Their goal is to shock your system, whether it's through recorded music, live performance or visual imagery. The band's debut record, Errorzone is the pinnacle execution of the tactic." — Forbes
"Vein are no one trick ponies… ["demise automation"] covers more ground in its less-than-two-minutes running time than some bands do on entire albums, and it's thrilling from start to finish." — Brooklyn Vegan
"The most explosive live act in hardcore today" — Kerrang!
"splice[s] the unhinged, primordial hardcore endemic to the Beantown underground with avant-garde industrial and spazzy math-prog" — Revolver
"…the most talked about band in hardcore right now" — Decibel
"Just a fucking great metalcore sound… thumbs up to this shit!" — The Needle Drop