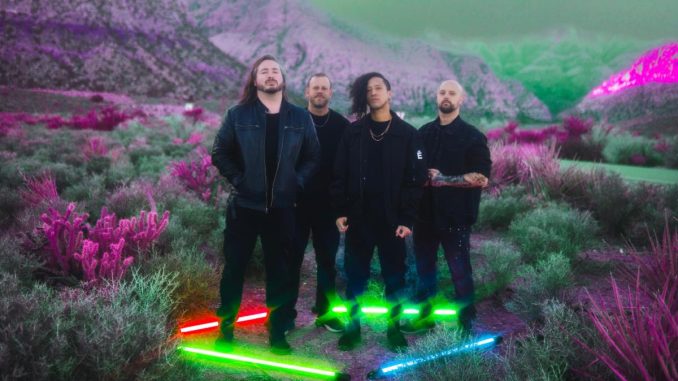 Veil Of Maya
Release New Single + Music Video
"Mother Pt. 4"
Taken From Upcoming New Album
[m]other
Out May 12th Via Sumerian Records
Pre-Orders Available Now HERE
Upcoming US Tour With Avatar Kicks Off On April 28th
Tickets Available Now HERE
Veil of Maya L – R – Danny Hauser (bass), Sam Applebaum (drums), Marc Okubo (guitar), Lukas Magyar (vocals)
Credit: Paige Margulies | Download HERE
Wednesday, April 12th, 2023 – Genre-bending metal powerhouse VEIL OF MAYA continue to stoke the fires of fan excitement today with the release of the third single from their long-awaited new album, '[m]other' today. The track, titled "Mother Pt. 4" is accompanied by an official music video that continues the narrative from previous singles "Godhead" and "Red Fur". Stream the new track HERE and watch the new video HERE or by clicking the image below.
Veil of Maya announced their highly anticipated new studio album, their first in nearly 6 years, last month. The new album, '[m]other', will be released on the band's long-time label, Sumerian Records on May 12th. Pre-orders, with a variety of merch and vinyl bundle options, are available now from veilofmayaband.com
Speaking on the release of the new track, founder and guitarist, Marc Okubo shares
"We are very pleased to share this new experience with you! This is the 3rd video in our [m]other series made by the incredible Blvckbox Studios. We will be joining Avatar on their US tour in a few weeks and our album '[m]other' will be available everywhere May 12th! We're so stoked for you to hear it. See you soon!"
WATCH: Official Music Video for "Mother Pt. 4"
[m]other Artwork | Download HERE

Veil Of Maya | [m]other

Track Listing

Tokyo Chainsaw
Artificial Dose
[re]connect
Disco Kill Party
Lost Creator
Death Runner
"Red Fur" follows the release of stand alone singles, "Godhead" (released last month) and "Synthwave Vegan" (released in May of last year). Both tracks feature on the new album and between them have clocked up 3.8 million Spotify streams and 968,000 YouTube views.

The band also announced today that in addition to the previously released album pre-order merch bundles, they will also be releasing a very limited run of colored cassette tapes (50 each in pink, green, yellow and blue only available in US and 150 white only available in UK and EU). In addition, they have partnered with highly respected streetwear brand Rucking Fotten to create a Meil of Vaya x Rucking Fotten all-over-print t-shirt and poster, both limited to 100 pieces each.
Meil of Vaya x Rucking Fotten Collab and limited edition cassette tapes/vinyl | Download graphic HERE
VEIL OF MAYA have a stacked touring schedule coming up. Having just returned from laying waste to Europe, they will embark on a 24-date run across the US starting on April 28th in Omaha, NE. For full dates and tickets, head to veilofmayaband.com
VEIL OF MAYA US TOUR DATES

W/Avatar & Orbit Culture

4/28 Omaha, NE – The Admiral

4/29 Denver, CO – Ogden Theatre

4/30 Salt Lake City, UT – The Depot

5/01 Garden City, ID – Revolution Concert House

5/03 San Diego, CA – The Observatory – North Park

5/04 Los Angeles, CA – The Belasco Theater

5/05 San Francisco, CA – The Fillmore

5/06 Las Vegas, NV – House of Blues

5/07 Phoenix, AZ – The Van Buren

5/09 Austin, TX – Emo's

5/10 Dallas, TX – The Echo Lounge & Music Hall

5/12 Minneapolis, MN – Skyway Theatre

5/13 Green Bay, WI – EPIC Event Center

5/14 East Moline, IL – The Rust Belt

5/15 Chicago, IL – House of Blues

5/16 Royal Oak, MI – Royal Oak Music Theatre

5/19 St Petersburg, FL – Jannus Live

5/20 Atlanta, GA – Buckhead Theatre

5/21 Lexington, KY – Manchester Music Hall

5/23 New York, NY – Webster Hall

5/24 Boston, MA – Paradise Rock Club

5/25 Silver Spring, MD – The Fillmore Silver Spring

5/26 Philadelphia, PA – Theatre of Living Arts

5/28 McKees Rocks, PA – Roxian Theatre
ABOUT VEIL OF MAYA

By channeling energy in one direction, force grows exponentially. Veil of Maya harness the individual experiences and talents of four distinct musicians—Marc Okubo [guitar], Sam Applebaum [drums], Danny Hauser [bass], and Lukas Magyar [vocals]—into airtight groove-laden metal accented by fits of instrumental virtuosity and vocal catharsis. This approach has endeared them to a devout fan base with critical acclaim and over 135 million total streams and counting (unprecedented for an outfit this crushingly heavy). The Chicago band draw on the strength of their union on their seventh full-length offering, [m]other [Sumerian Records].

Veil of Maya have consistently pushed the boundaries of heavy music by pushing themselves collectively. 2015's Matriarch made major waves, crashing the Billboard US Hard Rock Albums Chart at #2 powered by "Aeris," "LeeLoo," and "Mikasa." The latter has gathered over 25.4 million Spotify streams and counting. In 2017, 'False Idol' saw the band return to the Top 3 of the Hard Rock Albums Chart as "Overthrow" and "Doublespeak" each eclipsed 8 million-plus Spotify streams apiece. The record also incited the applause of LoudWire, Substream Magazine, Metal Hammer, and Invisible Oranges who raved, "False Idol is undeniably Veil of Maya: greatly contrasting the band's past, it serves as a companion and booster for their older work." Simultaneously, they toured alongside Animals As Leaders, Upon A Burning Body, Chelsea Grin, Oceans Ate Alaska, and more. In the midst of the Pandemic, they dropped "Outsider," "Viscera," and "Outrun."

The Chicago band now draw on the strength of their union on their seventh full-length offering, [m]other [Sumerian Records]. In short, this is Veil of Maya at their collective best. Speaking on his hopes for his band's upcoming opus, guitarist, Marc Okubo shares

"I hope you're inspired to listen to this again and again. Maybe you'll hone in on the little details as you go further, and it will musically become a cinematic experience."