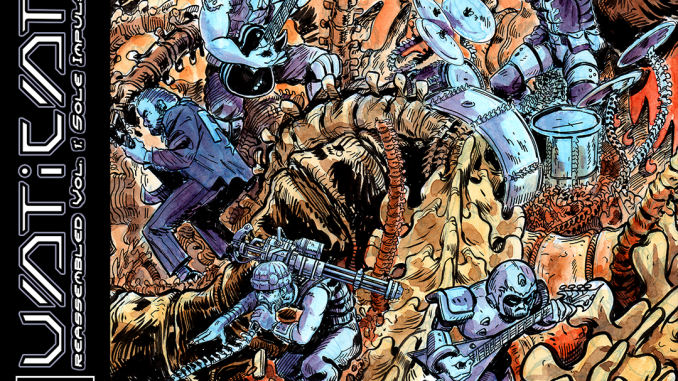 REIMAGINED RELEASE FEATURING 8 AND 16 BIT REMIXES OF SONGS FROM THEIR LATEST ALBUM ARRIVES TOMORROW, FRIDAY, SEPTEMBER 24
Savannah's VATICAN, lauded by Brooklyn Vegan for "their bone-crushing attack with tech-y patterns, atmospheric interludes, electronics, and other embellishments that keep them sounding fresh and unpredictable," are throwing fans for another loop! The band will release Reassembled Vol. 1: Sole Impulse on September 24. Get the EP here.
The EP features remixed versions of a handful of songs from their last album Sole Impulse, released back in 2019. This release was a way for the band to show another side of itself, as they have remixed the album in the style of 8 and 16 bit video game soundtracks they grew up on.
"In Vatican, we don't do anything unless it makes us laugh, and Reassembled is the peak of that idea," the band shares. "Every new remix kept getting more ridiculous, with crazier sounds that had everyone rolling on the floor. Game music and sound design have always been an inspiration to the band, and it getting to shamelessly rep our love for Sonic 3, Megaman X, and Donkey Kong Returns is hilarious."
Vatican are also touring this fall. All dates are below.
REASSEMBLED VOL. 1: SOLE IMPULSE TRACK LISTING:
"31[staples]"
"blades/sephia"
"CYANIDE.VR"
"sOL3 1mPULSE"
"000-0000-5463"
"RE:Assembled"
"Vita_Alpha.rom"
VATICAN ARE:
Mike Sugars — Vocals
Tom Lovejoy — Guitar
Nolan Mobley — Guitar
Josian Soto-Ramos — Drums
Jonathan Mackey — Bass
VATICAN ON TOUR:
WITH SEEYOUSPACECOWBOY, GREYHAVEN, + WRISTMEETRAZOR:
11/5 — Anaheim, CA — Chain Reaction
11/6 — Henderson, NV — Eagle Aerie Hall
11/7 — Mesa, AZ — Underground
11/9 — Oklahoma City, OK — 89th Street Collective
11/10 — Kansas City, MO — The Rino
11/11 — Springfield, MO — Odyssey Lounge
11/12 — Memphis, TN — Growlers
11/13 — Nashville, TN — Exit / In
11/14 — Louisville, KY — Portal
11/16 — Indianapolis, IN — Hoosier Dome
11/17 — Detroit, MI — Sanctuary
11/18 — Pittsburgh, PA — Preserving Underground
11/19 — Syracuse, NY — Lost Horizon
11/20 — Philadelphia, PA — First Unitarian Church
11/21 — Brooklyn, NY — Market Hotel
11/23 — Cambridge, MA — Middle East (Upstairs)
11/24 — Buffalo, NY — Mohawk Place
11/26 — Cincinnati, OH — Legends
11/27 — Lakewood, OH — Foundry
11/28 — Chicago, IL — Beat Kitchen
11/30 — Milwaukee, WI — X-Ray Arcade
12/1 — Des Moines, IA — Leftys
12/2 — Minneapolis, MN — 7th Street Entry
12/3 — Omaha, NE — Reverb Lounge
12/4 — Denver, CO — Lost Lake Lounge
12/5 — Salt Lake City, UT — Kilby Court
12/7 — Seattle, WA — The Vera Project
12/8 — Portland, OR — Brightside DIY
12/10 — Berkeley, CA — 924 Gilman

WITH WRISTMEETRAZOR:
11/22 — Albany, NY — Empire Underground
12/6 — Boise, ID — The Corral
12/14 — El Paso, TX — ROckhouse Bar & Grill
12/16 — Dallas, TX — Three Links
12/17 — San Antonio, TX — Paper Tiger
12/18 — Houston, TX — Secret Group