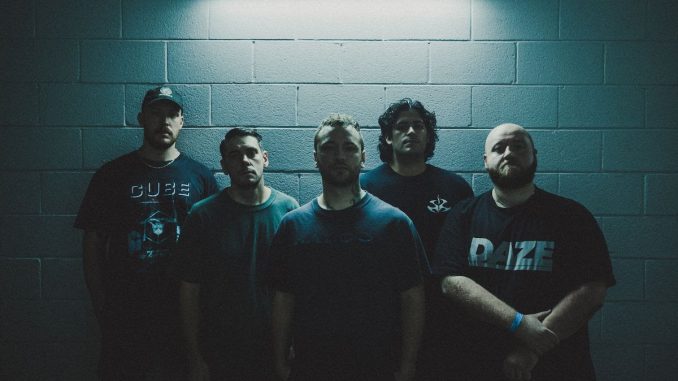 Savannah metal outfit
Vatican
have premiered the video for their new single
"
Decemeta
" today over at
Brooklyn Vegan.
Watch the video game-inspired clip
here
. Vocalist
Mike Sugars
tells Brooklyn Vegan, "This song is about how we as people love to see others fail. There are plenty of times where it's maybe best that this person goes away, but we're always watching to see who's next and are always looking for the cracks in someone's frame."
He continues, "I wanted to name the track based on how the song just makes me feel. I thought the song felt like a battle montage and landed on something like 'Decimation' or something not great like that. Then, I took inspiration from NieR: Automata and Metal Gear Rising and combined decimation with the 'mata' thing. I just thought it looked and sounded cool."
Drummer Josian Omar Soto-Ramos speaks about linking up with friend Beyond Sahaj to create a 3-D model of VR unit mech. "When that was finished, I thought about the song we were going to release and tying it into the track. The first thing that popped in my head was a visualiser of it fighting off enemies in PlayStation 1-inspired style, with a lot of explosions and flying. Specifically, the Armored Core series immediately came to mind for this and made sense with the abrasive context of the song. Sahaj was super stoked on the idea and we started bouncing ideas back and forth. It was a lot of fun getting this idea made into a reality and it's all thanks to him for doing a dope job."
Click the image below to watch the video.
ABOUT VATICAN:
Savannah metal five-piece Vatican are rising out of America's south and onto the world stage. After developing a name for themselves and garnering press praise from
Revolver, Kerrang!, New Noise
, and more with 2019's full-length
Sole Impulse
, Vatican stormed out of the gates hard earlier this year with the announce of their signing to UNFD and release of their knockout double-single effort
Become A New God
.
Featuring singles "Absolute Reality" and "Fractured God," both of which received full rotation adds on SiriusXM's Liquid Metal, Become A New God saw Vatican tackling the complexity of the human experience and all its brokenness, uncertainties, strangeness, and need for constant self-reflection and improvement. Propped on the UNFD roster alongside the likes of Silverstein, Stray From The Path, ERRA, Frank Iero, and more, Vatican's music edges on sub-genres like djent and industrial, while the group ultimately describe their sound as "hardcore's answer to metalcore." Harkening to classic influences in Messhugah and The Dillinger Escape Plan, Vatican also sit tightly against new wave risers like Knocked Loose and fellow Southern heavies Kublai Khan.
With an untamed ferocity and unashamed message, Vatican are set to break even further out of small-town Savannah before too long.
VATICAN ARE:
Mike Sugars — Vocals
Tom Lovejoy — Guitar
Nolan Mobley — Guitar
Josian Soto-Ramos — Drums
Jonathan Mackey — Bass