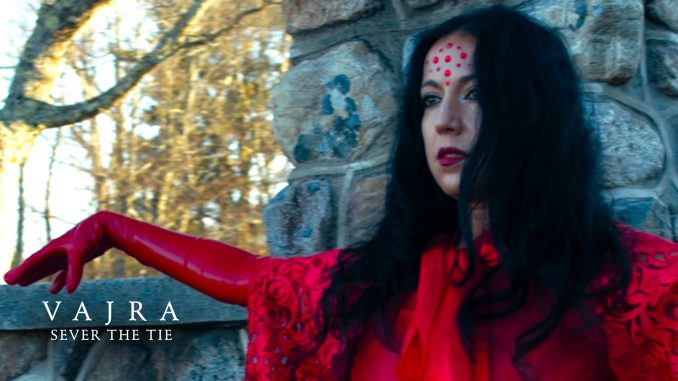 Dec. 7, 2020 – NEW YORK – Vajra, the NY-based band led by Annamaria Pinna, have debuted a second track from the band's forthcoming album, Irkalla (Jan. 15, Thunder Cult Records), premiering the video for "Sever The Tie" via Metal Injection (https://metalinjection.net/video/vajra-dismantles-the-irrational-on-new-song-sever-the-tie).

"I wrote this song in the van while we were on tour," explains Pinna. "It was one of those songs that revealed itself in the matter of a few hours. Not every song does that. Some songs could take months or years to show you what they want. Not this one. As for the lyrics, I wrote most of the song lyrics late night at a kitchen table in Florence, Italy whilst visiting my family.

If astrology is any indicator, with five planets in retrograde, we should have predicted that this year would be full of twists and catalytic turning points. It was challenging for most of us, but change is scary, especially when we experience growing pains. 'Sever The Tie' couldn't be more fitting. The song is about having the courage to dissolve the idols of the tribe, and to give ourselves the permission to explore the irrational. It is about digging deeper into our own sense of awareness and paying 'attention to the man behind the curtain.' When we see things as they really are, we can then let go of those situations, people or perceptions in order to clear space for a more evolved version of ourselves. While change from a familiar's embrace is difficult, it is also exciting. As it is said, 'the darkest hour is before dawn.' I believe we are on the cusp of something greater for ourselves individually and for society as a whole. "

The video for "Sever The Tie" is the fifth chapter of a short film written, produced, shot and edited by Pinna and bassist David Sussman, which is inspired by the Sumerian classic hero myth, the "Descent of Inanna." The previously released single, "Maya" (https://youtu.be/mXfACBEye8E), was the second chapter of that short film. The performance shots took place underground in a basement of a building in DUMBO, Brooklyn.

Album pre-orders are available now via their webstore (https://shop.vajraofficial.com/). Pre-orders include exclusive bundles and handmade ritual packs. Physical variants include an additional trio of tracks dubbed the Shadow Queen Ritual Music EP. The single was produced and mixed by Sahaj Ticotin (Ra) and mastered by Latin GRAMMY-Award winner Camilo Silva, and Blake Flaming (ex-Mars Volta) guest drummed.

About Vajra

Vajra was formed by the esoteric femme fatale Annamaria Pinna during her self-imposed exile in India, where she wrote the band's debut album Pleroma. The band has been championed by Loudwire, with the heavy music outlet featuring Vajra on their Loudwire Music Festival and Rolling Stone proclaiming them a "must see act." AXS said, "Vajra is really something special and have managed to come up with a completely new sound of metal. They bring mystical, moody and haunting melodies to the stage that are completely entrancing." Vajra is Annamaria Pinna (vocals), Dave Sussman (bass), Mark Collom (guitar), Al Javier (guitar) and Jimmy DeMarco (drums/percussion). Blake Fleming (ex-Mars Volta) played drums on Irkalla.

# # #
VAJRA DEBUT "SEVER THE TIE" VIDEO VIA METAL INJECTION
NEW ALBUM, IRKALLA, ARRIVES JAN. 15 VIA THUNDER CULT RECORDS
https://shop.vajraofficial.com/
"…heavy yet haunting…" – Loudwire
"Vajra is really something special and have managed to come up with a completely new sound of metal. They bring mystical, moody and haunting melodies to the stage that are completely entrancing."- AXS
To view the "Sever The Tie" video click the image above or follow this link: https://metalinjection.net/video/vajra-dismantles-the-irrational-on-new-song-sever-the-tie
Dec. 7, 2020 – NEW YORK – Vajra, the NY-based band led by Annamaria Pinna, have debuted a second track from the band's forthcoming album, Irkalla (Jan. 15, Thunder Cult Records), premiering the video for "Sever The Tie" via Metal Injection (https://metalinjection.net/video/vajra-dismantles-the-irrational-on-new-song-sever-the-tie).
"I wrote this song in the van while we were on tour," explains Pinna. "It was one of those songs that revealed itself in the matter of a few hours. Not every song does that. Some songs could take months or years to show you what they want. Not this one. As for the lyrics, I wrote most of the song lyrics late night at a kitchen table in Florence, Italy whilst visiting my family.
If astrology is any indicator, with five planets in retrograde, we should have predicted that this year would be full of twists and catalytic turning points. It was challenging for most of us, but change is scary, especially when we experience growing pains. 'Sever The Tie' couldn't be more fitting. The song is about having the courage to dissolve the idols of the tribe, and to give ourselves the permission to explore the irrational. It is about digging deeper into our own sense of awareness and paying 'attention to the man behind the curtain.' When we see things as they really are, we can then let go of those situations, people or perceptions in order to clear space for a more evolved version of ourselves. While change from a familiar's embrace is difficult, it is also exciting. As it is said, 'the darkest hour is before dawn.' I believe we are on the cusp of something greater for ourselves individually and for society as a whole. "
The video for "Sever The Tie" is the fifth chapter of a short film written, produced, shot and edited by Pinna and bassist David Sussman, which is inspired by the Sumerian classic hero myth, the "Descent of Inanna." The previously released single, "Maya" (https://youtu.be/mXfACBEye8E), was the second chapter of that short film. The performance shots took place underground in a basement of a building in DUMBO, Brooklyn.
Album pre-orders are available now via their webstore (https://shop.vajraofficial.com/). Pre-orders include exclusive bundles and handmade ritual packs. Physical variants include an additional trio of tracks dubbed the Shadow Queen Ritual Music EP. The single was produced and mixed by Sahaj Ticotin (Ra) and mastered by Latin GRAMMY-Award winner Camilo Silva, and Blake Flaming (ex-Mars Volta) guest drummed.
About Vajra
Vajra was formed by the esoteric femme fatale Annamaria Pinna during her self-imposed exile in India, where she wrote the band's debut album Pleroma. The band has been championed by Loudwire, with the heavy music outlet featuring Vajra on their Loudwire Music Festival and Rolling Stone proclaiming them a "must see act." AXS said, "Vajra is really something special and have managed to come up with a completely new sound of metal. They bring mystical, moody and haunting melodies to the stage that are completely entrancing." Vajra is Annamaria Pinna (vocals), Dave Sussman (bass), Mark Collom (guitar), Al Javier (guitar) and Jimmy DeMarco (drums/percussion). Blake Fleming (ex-Mars Volta) played drums on Irkalla.
# # #
Vajraofficial.com
Facebook.com/vajratemple
Instagram.com/vajratemple
Twitter.com/vajratemple