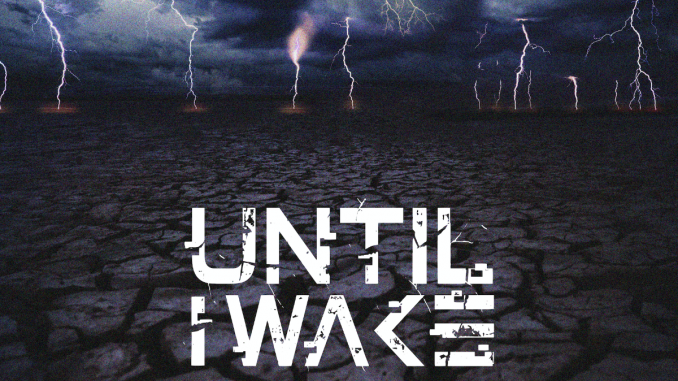 Buffalo quartet Until I Wake — vocalist Cody Johnson, bassist Ryan Ridley, guitarist August Geitner, and drummer Alex Curtin — have shared the new single "Forsaken."
The song paints a bleak picture, with the band saying, "'Forsaken' is about a post-apocalyptic, post-rapture, godless society. People have given up on God and the earth is a wasteland run by pagan cults who have reverted back to the old ways of human sacrifice. The bridge of the song describes the return of god on judgment day to destroy the earth."
Until I Wake have been steadily bubbling under in the hard rock scene since its formation in 2019. They released a self-titled EP in 2021. Thanks to its crunchy, guitar-driven anthems, the band has already tallied 12 million global streams to date and found itself on Spotify's New Core, New Metal Tracks, and New Blood playlists, in addition to the song "Mixed Signals" being featured in SiriusXM Octane's Test Drive. With early believers on board at tastemaker publications like Alternative Press and Kerrang!, tours with Attack Attack! and Crown the Empire under their belt, and additional praise from Outburn and Blabbermouth, Until I Wake are on their way.
Until I Wake will announce further details about their forthcoming Fearless Records debut in due course.
LISTEN TO MORE UNTIL I WAKE:
"Octane"
"Inside My Head"
Until I Wake are currently on the road with Crown the Empire. All dates are below.
UNTIL I WAKE ON TOUR:
WITH CROWN THE EMPIRE:
6/17—Grand Rapids, MI—Elevation
6/18—Columbus, OH—King of Clubs
6/20—Pittsburgh, PA—Mr. Smalls
6/21—Toronto, ON—Opera House
6/22—New York, NY—Gramercy Theatre
6/24—Reading, PA—Reverb
6/25—Boston, MA—Paradise
6/26—Baltimore, MD—Baltimore Soundstage
6/28—Atlanta, GA—The Masquerade
6/29—Tampa, FL—The Orpheum
7/1—Houston, TX—White Oak Music Hall
7/3—San Antonio, TX—Vibes Event Center