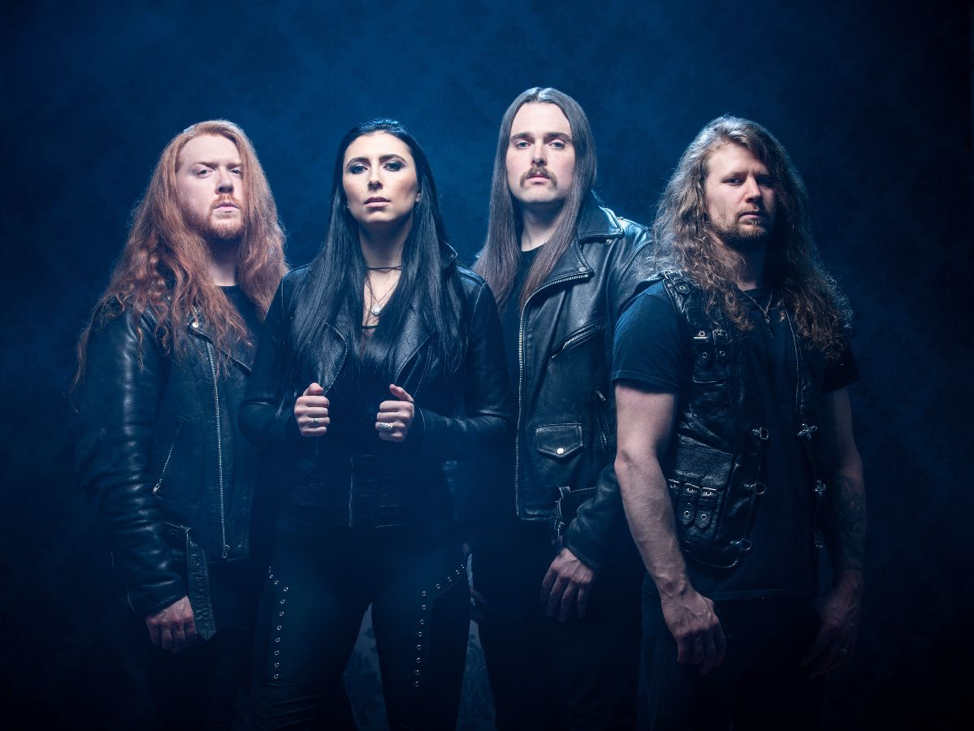 | | |
| --- | --- |
| Acclaimed New Anthem "Legacy" | |
In August, breakout Canadian melodic metal quartet UNLEASH THE ARCHERS dropped one of the most highly-acclaimed albums of 2020, Abyss, sparking serious buzz in the metal and rock communities, and beyond. Deservingly, the conceptual benchmark scored banner praise from critics and fans alike, with Stereogum dubbing the opus "a ripper", and Bandcamp enforcing it as "a mandatory listen". Upon release, Abyss charted worldwide, debuting at the #1 spot on the US Current Hard Music and Top New Artist Albums charts, as well as #4 and #8 on the US and Canadian Billboard Top 200 Hard Rock charts, respectively.
Today, the band is following up on the album's successes by throwing fans a hefty bonus in the form of a new video for the post-drop fan favorite "Legacy" – one of Abyss' standout anthems. Searing in with breakneck blastbeats, cosmic guitar work and frontwoman Brittney Slayes' impeccable vocal delivery, the pop-tinged anthem single-handedly proves the band's position as one of this generation's premier heavy acts, bar none. The new video provides an introspective live-action backdrop to the track's conceptual lyrics.
Frontwoman Brittney Slayes explains:
"This song means a lot to us as a band, it's pretty different from everything that we've done before and really set the tone for the sonic exploration that is Abyss. When Andrew first brought the intro riff to us we immediately loved it, but we were a little hesitant as we felt our fans might not understand why we were choosing to include this style of track on the album. The hesitation was momentary though, as we all very quickly decided it was too cool not to continue writing, and luckily it seems like our fans have fallen in love with it as well. It's quite theatrical, and yet somehow very simplistic as well. "
Watch the new lyric video for "Legacy"
HERE
Slayes adds about the video:
"When it came time to choose the next song for a music video, "Legacy" was the resounding winner, but we wanted to do something a bit more than the traditional lyric video. The band all agreed that this is the kind of track that you put on when you're commuting, when you're wandering through the city just vibin', when you're on that long bus ride or skytrain ride staring out the window at the world passing by… So that's what this video is. It's you hanging out in our heads as we walk the streets of Vancouver, traveling towards something, or away from something, but always moving forward. We hope "Legacy" can be your soundtrack to those everyday moments in life, when you've finally put the phone away to really look around and enjoy the beauty of the world that surrounds you. We genuinely hope it can be a small light in this seemingly neverending darkness, even just for a moment."
Watch more new high-quality videos from
UNLEASH THE ARCHERS here,
boasting over 1 Million collective views:
Thematically, UNLEASH THE ARCHERS' new album Abyss is the direct sequel to the band's 2017 album Apex. Beginning with a dreamlike acoustic introduction accented by the smoky beckonings of singer Brittney Slayes, opener "Waking Dream" quickly punches into a colossal wall of sound, setting the stage for the auditory escape that is Abyss. Powerful anthems such as the immense power metal-encapsulated title track "Abyss" and metallic pop-tinged earworm "Through Stars" conjure classic elements while maintaining an entirely fresh, forward-thinking approach. Guitarists Andrew Kingsley and Grant Truesdell turn heads with wicked work on stellar tracks such as "Legacy" (fans of artists like Devin Townsend and Astronoid, take note), while Slayes showcases her incredible vocal diversity and range on mighty epics like "Return To Me" and "The Wind That Shapes The Land". Drummer Scott Buchanan makes technical strides on burners "Soulbound" and "Faster Than Light" – setting breakneck twists and turns ablaze with his bandmates. UNLEASH THE ARCHERS rounds the edge of Abyss with throwback-hued "Carry The Flame", and wraps up with the soaring, rewarding concept closer "Afterlife".
Abyss was once again engineered, mixed and mastered by Jacob Hansen of Hansen Studios in Denmark (Volbeat, Delain, Amaranthe), with production by guitarist Andrew Kingsley. Additionally, transcendent closer track "Afterlife" features orchestration contributions from Francesco Ferrini of Italian symphonic death metal machine Fleshgod Apocalypse. Fans will notice that, unlike on Apex, Abyss incorporates a weighty dose of synth in the mix, and for the first time ever, all tracks were written on seven strings – adding to the massive expanse of the album's sound as it explores the celestial realm.
Order Abyss in physical, digital and bundle formats
HERE
!
[Album Artwork Illustration: Adam Burke]
See what the media is saying about Abyss, 2020's breakout heavy hit!
"Abyss" (single) named one of Loudwire's "20 Best Metal Songs of 2020 (So Far)"
"…Abyss is a ripper…"
– Stereogum
"…their mixture of fierce energy and technical playing continues to impress."
– Paste
"…Abyss stretches the notions of power and heavy metal."
– PopMatters
"…Abyss is a mandatory listen for power metal obsesses and curious newcomers alike…
truly spectacular metal…"
– Bandcamp
"With releases like Abyss and Apex, Unleash the Archers continue
to lead a new wave of Canadian heavy metal…"
– Exclaim!
"Like a great entry in a film franchise, [Abyss] ups the ante on its predecessor's ideas
without sacrificing its core appeal."
– Decibel Magazine
"Canada's finest must now be regarded as among the power metal elite.
Abyss will swallow you up."
– Blabbermouth
"Abyss is quickly becoming one of my favorites of 2020."
– Vince Neilstein, MetalSucks
"UNLEASH THE ARCHERS are an underrated gem in modern metal.
Abyss should be the album that solidifies them as a household name…"
– Metal Injection
—
UNLEASH THE ARCHERS is:*
Brittney Slayes – Vocals
Scott Buchanan – Drums
Grant Truesdell – Guitar, Vocals
Andrew Kingsley – Guitar, Vocals, Synth
*Bass on Abyss performed by Benjamin Arscott
UNLEASH THE ARCHERS SOCIALS: