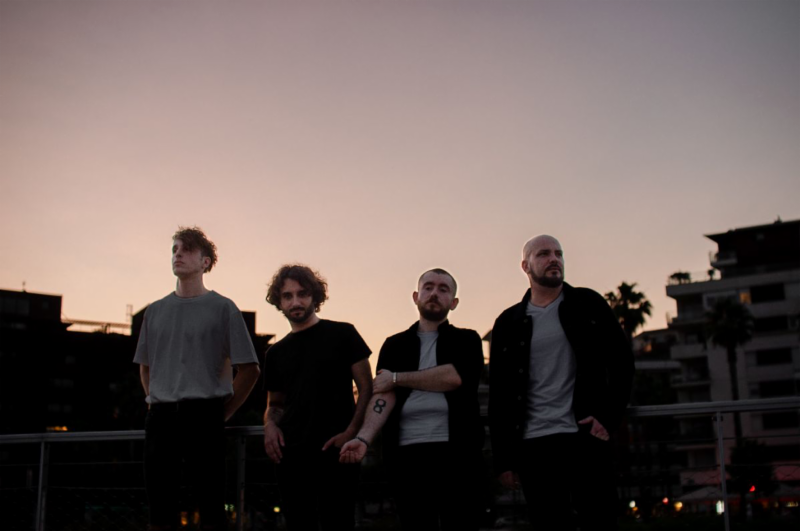 | | |
| --- | --- |
| UNEVEN STRUCTURE RELEASE NEW SINGLE "INNOCENT" AND ANNOUNCE ALBUM "PARAGON" | |
French progressive metal frontrunners UNEVEN STRUCTURE have announced their new album "Paragon" along with a visually stunning official music video for the first single "Innocent". The new full-length and successor of 2017's "La Partition" is set to be released on October 18th, 2019 as exclusive bundles, limited double vinyl, CD Digipack and digital.
Watch the video for the first single "Innocent"
HERE
.
"Paragon" Tracklist:
1. Magician
2. Hero
3. Innocent
4. Caregiver
5. Outlaw
6. Explorer
7. Creator
8. Ruler
9. Jester
10. Sage
11. Lover
12. Everyman
Hailing from France, one of the biggest emerging markets and breeding stock for bands within the Metal and Progressive Rock scene, Uneven Structure was formed in May 2008 from the willing of Benoit Friedrich and Igor Omodei to finally bring the technically enhanced and progressive music they had been working on for themselves alive. The sound they were aiming to create was a one of a kind merger of groovy polyrhythmic guitar riffs with huge slick of ambient guitar leads, which with no doubt they accomplished.
In December 2009 they released their first EP "8" with the help from singer Daniel Ädel (Vildhjarta). The EP has obtained great feedback through thousands of downloads through the span of a few days, already allowing the band's name to spread on the internet in January 2010. Later that year, vocalist Matthieu Romarin joined the band, enriching their sound with his unique, both clean and heavy singing.
The band made their first live performances in Europe in 2010 and released the first album "Februus" in October 2011 via Basick Records, the British label leading the avant-garde and experimental metal market. After releasing "Februus", acclaimed by press and audience unanimously, saluting the creativity and technicality serving a fine songwriting, the band made multiple tours and festival appearances through Europe and Russia with Tech Metal and Prog Rock prominences such as Protest The Hero, Textures, Animals as Leaders and Tesseract. In 2013 the French metallers released a re-recorded version of their debut EP "8", as a gift to their early fans for being supportive and believing in the project. From then the band continued to tour in multiple countries all across Europe from Portugal to Russia. Accounting more than 100 shows since the release of their first album and some highlight gigs performing at Brutal Assault, Euroblast Festival and a full European tour with Protest The Hero.
From 2013 onwards, Uneven Structure worked on the follow up to "Februus". This next step, a full concept album called "La Partition", released on April 21st of 2017 under the guidance of their new label, Long Branch Records. Within "La Partition" you can hear and feel the progress and growing the band made since "Februus", their sound now being even more complex and perfectly arranged, catchy, experimental and groovy. A perfect combination of the hardness of Metal with the elaborate techniques of Prog and the atmospheric sounds of Ambient.
Following this new chapter, Uneven Structure came back touring Europe, playing over 70 shows in 2017 supporting Textures, Twelve Foot Ninja, as a headliner and making several festival appearances such as Resurrection Festival. But instead of pushing the dense touring schedule any further, they decided to use such a dense amount of learnt lessons and gained wisdom to clear the table getting right back into the studio to write their newest album, soberly named "Paragon", scheduled to be introduced to the world on October 18t, 2019, under Long Branch Records. This album crystallizes an age of newfound maturity, a vision clearer than ever, and the need for Uneven Structure to expose its genuine inner self. With rock solid foundations and an iron handedly curated team of devoted partners surrounding the entity, this upcoming opus is set to break the boundaries and overcome any obstacles that might be thrown on the way, only to be brought to everyone that needs this music in their lives.
For More Info Visit: