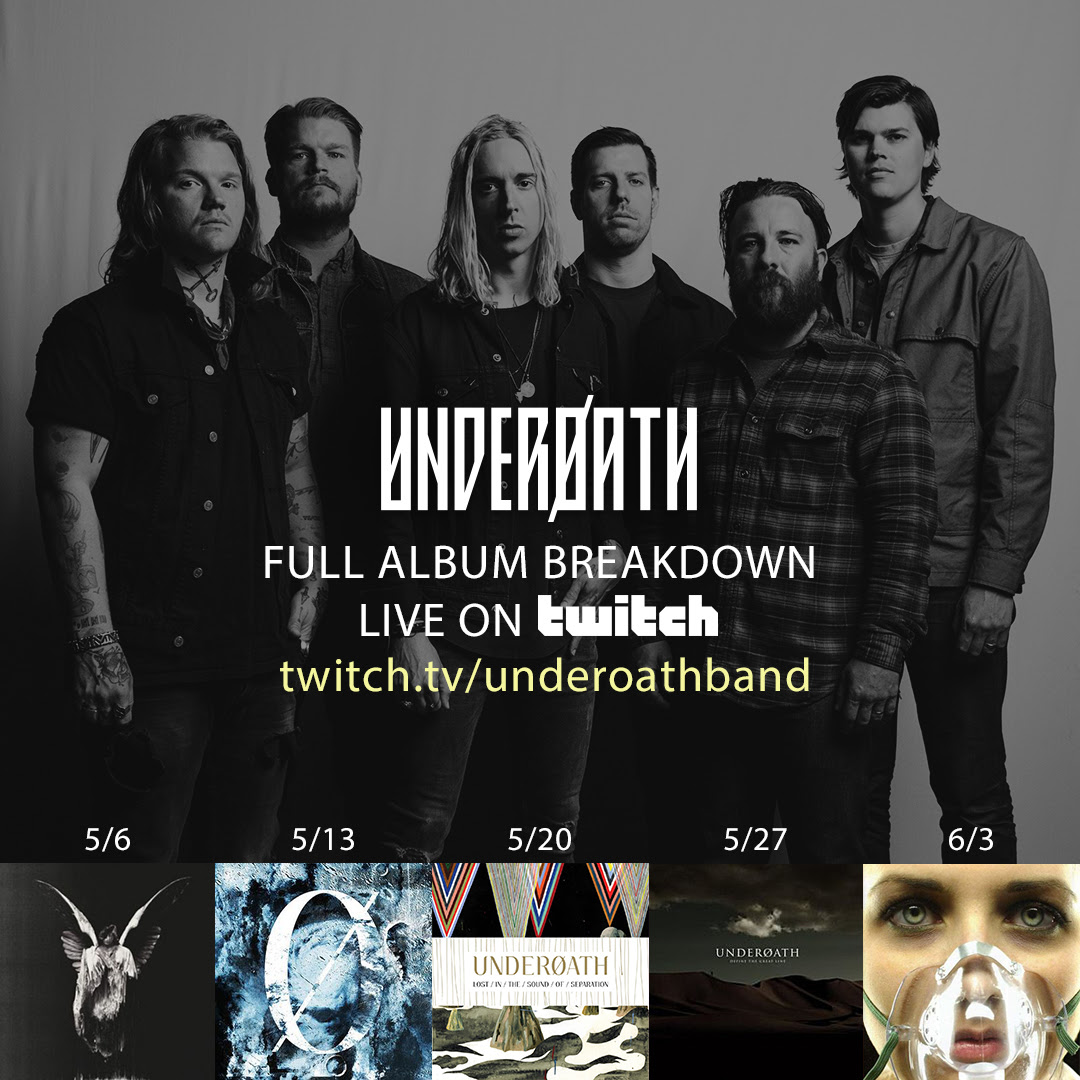 A DAY TO REMEMBER'S JOSH WOODWARD, BEARTOOTH'S CALEB SHOMO, FEVER333'S JASON AALON BUTLER, + THURSDAY'S TOM KEELEY TO APPEAR ALONG WITH PRODUCERS ADAM D. + ADAM GOLDMAN
Earlier this month, hard rockers Underoath launched a weekly series on their Twitch channel. During the episodes, which air on Wednesdays, the band streams an album from its catalog in full and goes into detail about the writing and recording processes.
This week's episode will drop at 8pm ET on May 27 and will break down 2006's Define the Great Line. Guests include A Day To Remember's Josh Woodward, Beartooth singer Caleb Shomo, Fever333's Jason Aalon Butler, and Thursday's Tom Keeley. Killswitch Engage's Adam D. and producer Adam Goldman, both of whom produced the album, return for this episode, as well.
Future episodes will feature producers, artists that Underoath have toured with, Twitch streamers who are Underoath fans, label personnel, friends, and other people who have been intricately involved with and instrumental in the band's career.
The first episode spotlighted Underoath's latest album, 2018's Grammy-nominated Erase Me. It included producer Matt Squire and filmmaker Dan Newman, who shot a documentary about the record. A three-hour discussion ensued, with the band answering questions for rapt fans. The second episode took a deep dive into the band's fifth album, 2010's Ø (Disambiguation) and marked the first time that the entire Ø (Disambiguation)-era version of the band sat down with both Daniel Davison and Aaron Gillespie. The third episode focused on 2008's Lost In the Sound of Separation, with Killswitch Engage's Adam D., producer Adam Goldman, Every Time I Die's Jordan Buckley, and Slipknot's Jay Weinberg guesting. View all past episodes here.
ABOUT UNDEROATH:
Underoath released Erase Me, their first album in eight years, via Fearless Records in 2018. The band notched a Grammy nomination in the Best Metal Performance category for "On My Teeth" and spent most of the year on the road in support of the album — playing countless sold-out headline shows and headlining their first-ever arena show in their Tampa hometown. The band also toured arenas with Breaking Benjamin in Spring 2019 and hit sheds with Alice In Chains and Korn that summer. Ultimately, Erase Me represented a watershed moment for the gold-selling heavy music luminaries whose inescapable influence can be felt in nearly every corner of hard rock. The album crashed the Billboard Top Hard Rock Albums Chart at #1. It sees the band refine its trend-setting but inimitable style with heavy intensity and hypnotic hooks coursing through songs, like the aforementioned "On My Teeth," "Rapture," "Wake Me," and the Top 15 active rock single "ihateit," which have cumulatively tallied over 30 million streams in a few months' time.