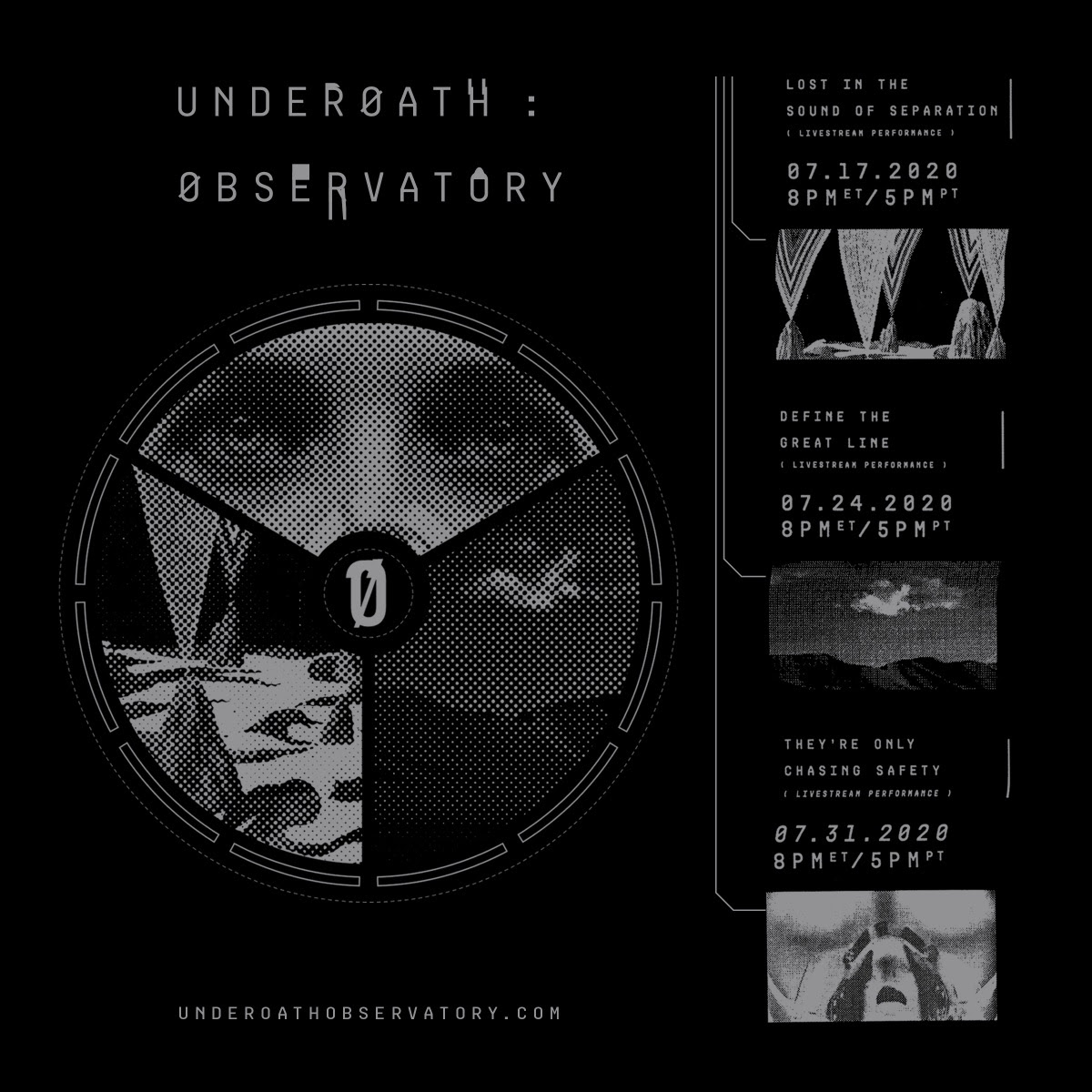 BAND WILL PERFORM LOST IN THE SOUND OF SEPARATION, DEFINE THE GREAT LINE, + THEY'RE ONLY CHASING SAFETY OVER THREE WEEKS
GRAMMY-nominated hard rock band UNDEROATH have announced UNDEROATH: OBSERVATORY, an epic livestream concert series that will unfold over a three-week period this month.
For UNDEROATH: OBSERVATORY, the band will perform a show per week, which will be broadcast from a secret location that will include a groundbreaking new stage design utilizing full touring production exclusively built for these online performances. The shows will be produced in association with Bandsintown.
Each week will feature a full album performance, which will take place Friday evenings at 8PM ET. The series kicks off with the Grammy nominated Lost In The Sound of Separation, followed by the gold-selling Define the Great Line, and wrapping with They're Only Chasing Safety, which also achieved Gold status.
Additionally, each record will be reissued on vinyl and there will also be accompanying merch drops.
Underoath are aiming to bring the concert stage to your living room and beyond with this unparalleled series.
"We've always been a live band so this is a big deal for us," the band explains. 'We've never attempted something of this scope so tackling it has been a big undertaking, but also exciting. It's a different arena for sure, but I think this will be something that changes how we approach our live shows from here on out. We can't wait to see what happens….We'll do it live."
The full show schedule is as follows.
Friday, July 17: Lost In The Sound of Separation
Friday, July 24: Define the Great Line
Friday, July 31: They're Only Chasing Safety
Fans are able to purchase tickets for each show here.
Underoath have remained incredibly busy during the quarantine. They launched a weekly series on their Twitch channel. During the episodes, the band streams an album from its catalog in full and goes into detail about the writing and recording processes. Guests include producers, artists that Underoath have toured with, label personnel, and others who've been intricately involved with and instrumental in the band's career. The series quickly became a favorite among fans, averaging almost 10,000 unique viewers per stream. View past episodes here.
ABOUT UNDEROATH:
Underoath released Erase Me, their first album in eight years, via Fearless Records in 2018. The band notched a Grammy nomination in the Best Metal Performance category for "On My Teeth" and spent most of the year on the road in support of the album — playing countless sold-out headline shows and headlining their first-ever arena show in their Tampa hometown. The band also toured arenas with Breaking Benjamin in Spring 2019 and hit sheds with Alice In Chains and Korn that summer. Ultimately, Erase Me represented a watershed moment for the gold-selling heavy music luminaries whose inescapable influence can be felt in nearly every corner of hard rock. The album crashed the Billboard Top Hard Rock Albums Chart at #1. It sees the band refine its trend-setting but inimitable style with heavy intensity and hypnotic hooks coursing through songs, like the aforementioned "On My Teeth," "Rapture," "Wake Me," and the Top 15 active rock single "ihateit," which have cumulatively tallied over 30 million streams in a few months' time.