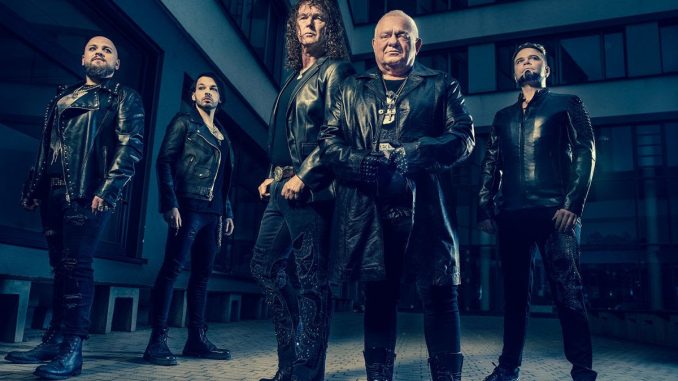 Touchdown Full-Length To See Release This August Via Atomic Fire Records + Preorders Launched!
Heavy metal quintet U.D.O. — fronted by legendary singer Udo Dirkschneider and officially completed by former Accept bassist Peter Baltes in April — recently announced their new studio album, Touchdown, due out on August 25th via Atomic Fire Records.
Crafted with producer and mixing engineer Martin "Mattes" Pfeiffer at Redhead Studio (Wilhelmshaven, Germany), the massive, thirteen-track Touchdown was mastered by Stefan Kaufmann at ROXX Studio (Solingen, Germany). The record includes a guest appearance by violinist Stefan Pintev on the closing track, and bass tracks were recorded by new member Baltes. Artwork was provided by Martin Häusler who was also responsible for shooting band photos in support of the new album campaign.
Currently, U.D.O., who are also performing as DIRKSCHNEIDER, are gracing the stages of some of Europe's biggest festivals including Graspop Metal Meeting, Leyendas del Rock, Summer Breeze Open Air, and more. Playing in front of their rabid loyal global fanbase makes each and every concert feel like a home game and today, U.D.O. kicks off their new musical season with their latest single and accompanying lyric video, "Forever Free."
Elaborates drummer Sven Dirkschneider of the track, "'Forever Free' is supposed to make people not simply believe facts they hear or get shown, for example, by media, but to think individually. Of course, we don't mean that one should question everything. The song shall just express that it's better to create your own opinions about conflicts and other topics one stands for, even when they're wrong sometimes, than to follow the mass blindly. It's a musical tribute to our privilege of living in a free world as we luckily can."
Touchdown will be available in the following formats:
– CD jewel case
– CD digipak (EU; incl. bonus DVD Dirkschneider – Live At Wacken 2022)
– Limited Box Set available at:
* Atomic Fire Records in Yellow-Green Splatter vinyl [Special price at the AFR webshop until 6/26!]
* Nuclear Blast in Purple Black Dust vinyl
* EMP in Red-Clear Black Dust vinyl
– 2xLP in gatefold in the following variants:
* Black, Silver, Clear/Blue-White Splatter (US excl.)
* Clear-Blue Marbled (AFR excl.)
* Yellow-Green Splatter (AFR excl.)
* Purple Black Dust (Nuclear Blast excl.)
* Red-Clear Black Dust (EMP excl.)
* Clear-Black (Sweden Rock Magazine excl.)
– digital
Touchdown Track Listing:
1. Isolation Man
2. The Flood
3. The Double Dealer's Club
4. Fight For The Right
5. Forever Free
6. Punchline
7. Sad Man's Show
8. The Betrayer
9. Heroes Of Freedom
10. Better Start To Run
11. The Battle Understood
12. Living Hell
13. Touchdown
Dirkschneider – Live At Wacken 2022 (Bonus DVD; CD digipak only):
1. Starlight
2. Living For Tonite
3. Midnight Mover
4. Breaker
5. London Leatherboys
6. Princess Of The Dawn
7. Restless And Wild
8. Son Of A Bitch
9. Screaming For A Love-Bite
10. Up To The Limit
11. Metal Heart
12. Fast As A Shark
13. Balls To The Wall
U.D.O. / DIRKSCHNEIDER Live:
7/21/2023 Open Air Pförring – Pförring, DE
7/29/2023 Rock Of Ages – Rottenburg-Seebronn, DE *
8/12/2023 Leyendas del Rock – Villena, ES *
8/16/2023 Summer Breeze Open Air – Dinkelsbühl, DE
8/17/2023 Rock Castle Open Air – Moravský Krumlov, CZ
8/20/2023 Rock The Lakes – Vallamand (VD), CH
8/25/2023 Baltic Open Air – Haddeby, DE
9/16/2023 Beast Of Rocks @ Stadthalle – Tuttlingen, DE
10/07/2023 Keep It True Rising III @ Posthalle – Würzburg, DE *
10/22/2023 Wildstyle & Tattoo @ Tabakfabrik – Linz, AT
10/29/2023 Wildstyle & Tattoo @ Messezentrum – Salzburg, AT
5/10-11/2024 Rock in Rautheim – Braunschweig, DE
*as DIRKSCHNEIDER
U.D.O. / DIRKSCHNEIDER:
Udo Dirkschneider – vocals
Andrey Smirnov – guitar
Sven Dirkschneider – drums
Fabian Dee Dammers – guitar
Peter Baltes – bass
Artwork by Martin Häusler