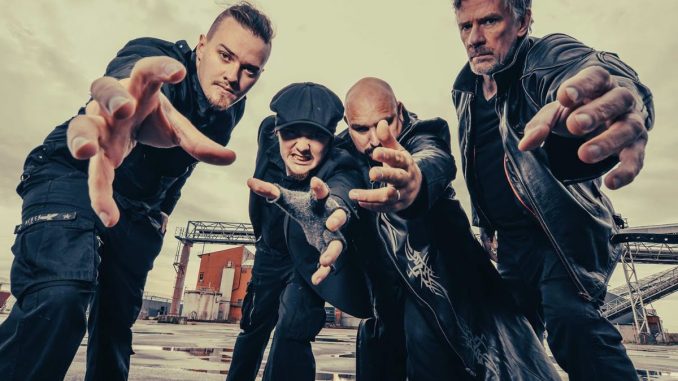 NEW ALBUM BLISS OUT JUNE 17
"Out of darkness comes bliss!"

Swedish metallers Tungsten are back to conquer the world with their third studio album Bliss. It will be released June 17 via Arising Empire. Pre-order it here.
Today, the band has shared the video for "Bliss." Watch it here.
The music video is recorded and edited by Nick Johansson (guitar), who says, "We already knew we wanted Volfram to be part of this video. Other than that, I got some ideas from one of our band photos where we sit around an old black telephone, seemingly waiting for a call. This resulted in a concept for our video 'Bliss,' which turned out pretty cool. The stressful feeling of the video suits the song and its lyrics well."
The brand previously shared "March Along" and "Come This Way."
Bliss is undoubtedly the heaviest and darkest Tungsten album to date. The lyrics are darker but still focus on things the common man might relate to in one way or another.
Bliss was recorded like previous albums at Harm Studios, in Trelleborg in Sweden. Nick Johansson once again took care of the mixing, mastering, and production duties.
Karl Johansson says, "We really hope that Bliss will reach an even broader fanbase than before. So much pain, sweat, and love has been put into this album. We are truly excited to introduce Bliss to the world."
Anders Johansson agrees, saying, "Yes, this album might be one of the hardest for me to record. Nick is close to a perfectionist at the production helm. So if I can find something that has been good about the pandemic, it might be the fact I could spend so many more hours in the drum studio just to practice and develop my technique."

Andreas Marschall was once again hired to paint the front cover. The conceptual idea was a colloboration between the band and artist, and it conveys a darker feeling which suits the music perfectly. Volfram is back in a twilight world to ours on his neverending quest to aid the weak.

Tungsten are ready to enter the live scene in 2022 and are confirmed for Sabaton Open Air in August.
ABOUT TUNGSTEN:
Tungsten formed in 2016 when drummer Anders Johansson (Hammerfall, Yngwie J. Malmsteen's Rising Force, Manowar) asked his sons Nick Johansson (guitars) and Karl Johansson (bass and screams) if they were interested in starting a brand new band with him. Tungsten describe their music as "melodic, industrial power metal with hints of Northern Folk music." Tungsten's first album We Will Rise was released in September 2019 and the song "The Fairies Dance" is closing in on 3 million streams on Spotify alone. In November 2020, Tungsten released their second album Tundra. The song "King of Shadows" has become a live anthem for the band.
TUNGSTEN ARE:
Mike Andersson | Vocals
Karl Johansson | Bass + Screams
Nick Johansson | Guitar
Anders Johansson | Drums