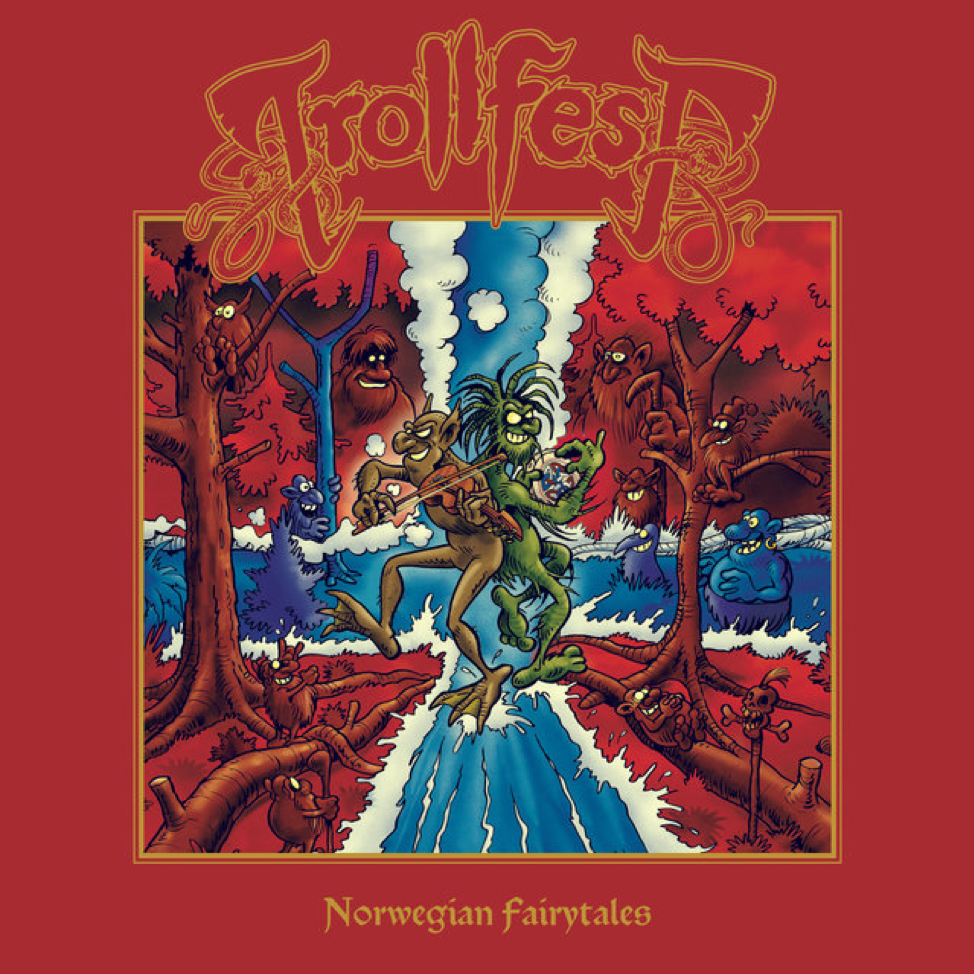 TROLLFEST Release Second Single and Video
New Album "Norwegian Fairytales" Out January 18th on NoiseArt Records
Today, TROLLFEST presents the second digital single "Kjettaren mot strømmen". The song is now available on all digital platforms. The official video clip can be watched here:
The band states:
"We chose 'Kjettaren mot strømmen' (Heretic against the current) as our second single from 'Norwegian Fairytales'. The song itself is a groovy and catchy song capturing the Norwegian Folk theme of the album while at the same time has the distinct TROLLFESTsound. We decided to do another animation lyric video as the storyline could potentially deliver some funny cartoon scenes… Check it out and see for yourself."
The band already released the first single titled "Espen Bin Askeladden".
The song can be heard and watched in the form of a video clip on YouTube:
The album trailers can be seen below:
Trailer #1:
"Norwegian Fairytales" tracklisting:
1. Fjøsnissens Fjaseri
2. Kjettaren mot strømmen
3. Espen Bin Askeladden
4. Trine Reinlender
5. Fanden Flyr
6. De tre Bukkene Berusa
7. Småfolkets store bragder
8. Draugen
9. Deildegasten
10. Byttingenes Byttehandel
11. Nøkken og Fossegrimen spiller opp til midnattstimen
With eight full-length releases since their inception in 2004, the trollish powerhouse has constantly kept their fans busy with new music and unrivalled live shows, but this time the lyrics on beer orgies performed in their unique "Trollspråk" have made room to the more ambitious topics and legends that the band wisely chose from their ancestral books and performs in Norwegian language.
But fear not, little party goblins! With still tons of high quality entertainment, humour and unbound energy left, TROLLFEST keep their status as the craziest band in the folk metal forest!
TROLLFEST live:
Album-Release Show:
18.01. NO – Oslo – Rock In
25.01. FIN Helsinki – Nosturi (w/ KORPIKLAANI, PROFANE OMEN & special guests WALTARI)
26.01. FIN Tampere – Klubi (w/ KORPIKLAANI & PROFANE OMEN)
16.02 UK  Birmingham – HRH Metal
"Wayfarers & Warriors Tour 2019"
w/ KORPIKLAANI, TURISAS, TROLLFEST
21.02. LUX Esch an der Alzette – Kulturfabrik
22.02. D Wacken – Wacken Winter Nights
23.02. NL Tilburg – 013
24.02. B Antwerp – Trix Muziekcentrum
25.02. UK London – Islington Assembly Hall
26.02. F Lille – Le Splendid
27.02. F Paris – La Cigale
28.02. F Mérignac – Krakatoa
01.03. E Bilbao – Santana 27
02.03. P Porto – Hard Club
03.03. P Lisbon – Lisboa ao Vivo
05.03. E Málaga – Paris 15
06.03. E Murcia – Garaje Beat Club
07.03. E Zaragoza – Centro Cívico Delicias
08.03. F Marseille – Espace Julien
09.03. CH Pratteln – Z7
10.03. F Bourg-en-Bresse – La Tannerie
11.03. I Trezzo sull'Adda (MI) – Live Club
12.03. HR Zagreb – Tvornica Kulture
13.03. H Budapest – Barba Negra Music Club
14.03. SK Bratislava – Majestic Music Club
15.03. PL Krakow – Klub Kwadrat
16.03. PL Warsaw – Progresja
17.03. PL Gdansk – B90
19.03. D Berlin – Huxleys Neue Welt
20.03. PL Wroclaw – Centrum Koncertowe A2
21.03. D Jena – F-Haus
22.03. D Munich – TonHalle
23.03. D Mannheim – MS Connexion Complex
24.03. D Cologne – Essigfabrik
More information coming soon. Stay tuned!
TROLLFEST Online: