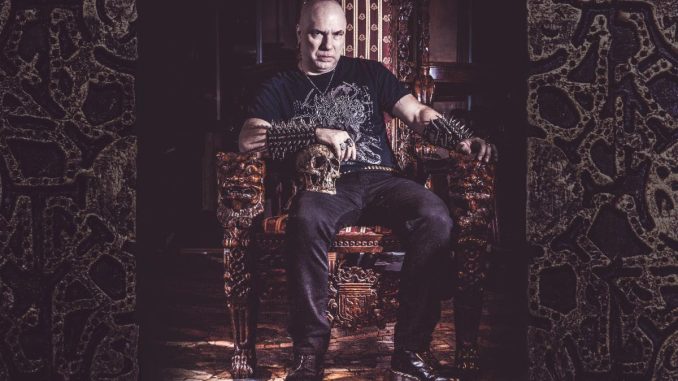 Canadian blackened death metal band TRIBE OF PAZUZU have released a new track off their debut studio album. In addition, the cataclysmic outfit dropped a lyric video for "Blasphemous Prophecies", which is the title track for the new LP.

The upcoming album hits digital and streaming platforms on March 6, 2023, with the physical release to follow on March 24 (Pre-Order HERE).

Speaking about the impetus behind their vile creation, vocalist and bass player Nick Sagias says: "I wanted to create something a little darker musically and lyrically this time around than what I had done previously. The composition of this album was very focused, in an effort to create a truly dark atmosphere, without much rest or letting up on the relentless style. The lyric writing was also very focused to stay within the themes of evil and darkness – specifically the darkness hidden within key historical beings throughout time"

Watch the Lyric Video HERE
About Tribe of Pazuzu:

Like the pestilent and plague-ridden winds summoned by the ancient Mesopotamian demon of which they share their name, Canada's Tribe Of Pazuzu invokes all the agony, suffering, and disease of mankind with their old-school, uncompromising brand of death metal.

Summoned forth in the year 2018, Tribe Of Pazuzu features band main man/vocalist/bassist Nick Sagias (Nihilist Death Cult, ex-Soulstorm, ex-Overthrow, ex-Pestilence), guitarist Randy Harris (ex-Macifecation, ex-Porno), and drummer Flo Mounier (Cryptopsy, Vltimas). This very same lineup has unleashed two critically-acclaimed EPs ('Heretical Uprising', 'King Of All Demons') since its inception. Incantation's John McEntee played rhythm guitar on 'Heretical Uprising', but had to step away due to Incantation commitments.

Tribe Of Pazuzu will release their first full-length album on March 6, 2023, entitled 'Blasphemous Prophecies'. The album contains eight unrelenting tracks of pure, old-school death metal, and features guest appearances by Luc Lemay (Gorguts – guest vocals on 'Invocation of the Ancients'), Jorgen Sandstrom (ex-Grave, ex-Entombed – guest vocals on the "The Trial And Prosecution of the Scorned Prophet"), and Christian Donaldson (Cryptopsy – guest solo on "The Trial And Prosecution of the Scorned Prophet" and "Pazuzu Incarnate").

The album was recorded, mixed and mastered by Christian Donaldson in Montreal, Quebec.
'Blasphemous Prophecies' Track List
1) We Serve Under No God
3) Countess Of Blood
4) Invocation Of The Ancients
5) The Trial And The Prosecution Of The Scorned Prophet
6) Pazuzu Incarnate
7) Born Of A Jackal
8) Towards Oppressors
Tribe Of Pazuzu are:

Nick Sagias – Vocals & Bass

Randy Harris – Guitar

Flo Mounier – Drums