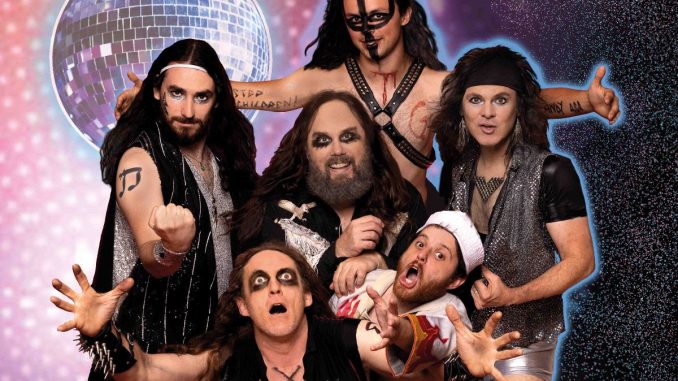 Watch the New Video HERE
European Tour with NANOWAR OF STEEL
Kicks Off Tomorrow
+ New US Tour Dates with Beatallica Announced!
New Album, 'I Am Woman', Out Now via Napalm Records Order HERE
New York City tribute masters, TRAGEDY, recently released their Napalm Records debut, 'I Am Woman', to the masses! Following fantastic album singles "Venus", "I'm So Excited" and "I Will Survive", today, TRAGEDY are thrilled to reveal a new music video for their reimagination of Cyndi Lauper's "She Bop" – just in time for tomorrow's kick off of their European/UK tour with labelmates Nanowar of Steel.

TRAGEDY says about "She Bop":

"You gotta fight for your right – to bop! Cyndi Lauper's song about pleasuring oneself is a great fit for our band and this album. Let your fantasies run wild! Ain't no law against it… yet."

Watch the Official Music Video for "She Bop" HERE
TRAGEDY will kick off their co-headline European tour with Nanowar of Steel tomorrow, April 18 in Southampton, UK! After they return, TRAGEDY will head back out on the road in the US with Beatallica! See below for all tour dates.
TRAGEDY: European Decimation co-headline tour w/ Nanowar of Steel
*TRAGEDY only (w/o Nanowar of Steel)
04.18.23 – UK: Southampton, 1865*
04.19.23 – UK: Oxford, O2 Academy 2*
04.20.23 – UK: Hull, The Welly Club
04.21.23 – UK: Carlisle, The Brickyard
04.22.23 – UK: Glasgow, Cathouse
04.23.23 – UK: Sheffield, O2 Academy 2
04.24.23 – UK: Newcastle, Think Tank
04.25.23 – UK: Liverpool, O2 Academy 2
04.26.23 – UK: Birmingham, IS
04.27.23 – UK: London, O2 Academy Islington
04.28.23 – UK: Dorset, Teddy Rock Festival
04.29.23 – UK: Bristol, Thekla – see Newcastle
04.30.23 – UK: Brighton, Concorde 2
05.02.23 – FR: Nantes, Ferrailleur
05.03.23 – FR: Paris, Petit Bain
05.04.23 – FR: Toulouse, Connexion Live
05.05.23 – ES: Barcelona, Sala Boveda
05.06.23 – ES: Madrid, Sala Revi Live
05.07.23 – PT: Lisbon, RCA Club
05.08.23 – ES: Murcia, Sala Garage Beat Club
05.09.23 – ES: Valencia, Sala Peter Rock
05.10.23 – ES: Portugalete (Bilbao)
05.11.23 – FR: Lyon, Rock'n Eat
05.12.23 – DE: Cologne, Luxor*
05.13.23 – DE: Barnin, Rock am See Festival*
TRAGEDY: USA Co-Headline Dates with Beatallica
06.07.23 – Cleveland, OH @ Winchester Music Tavern
06.08.23 – Buffalo, NY @ Mohawk Place
06.09.23 – Teaneck, NJ @ Debonair Music Hall
06.10.23 – Rochester, NH @ Rochester Opera House
06.11.23 – Boston, MA @ Sonia
06.13.23 – Springfield, MA @ Gateway City Arts
06.14.23 – Watertown, CT @ Jameson Pub
06.15.23 – Wilmington, DE @ The Queen
06.16.23 – Washington, DC @ Pearl Street
06.17.23 – New York, NY @ Brooklyn Bowl
06.18.23 – Reading, PA @ Reverb
06.21.23 – Pittsburgh, PA @ Crafthouse
06.22.23 – Pontiac, MI @ Pike Room @ The Crofoot
06.23.23 – Columbus, OH @ King of Clubs
06.24.23 – Covington, KY @ The Rooftop @ Madison Live
TRAGEDY had a glitter-encrusted grip on the entertainment world when they emerged in the early 2010's. Now, following the 2015 breakout viral music video for their cover of Grease's "You're The One That I Want" and 2017's second viral hit, a cover of "Stayin' Alive" by the Bee Gees, TRAGEDY are back with a brand new twist on 'I Am Woman'!

Flipping the script on sleaze rock tropes, 'I Am Woman' pays tribute to the most powerful force in the band's lives – celebrating womanhood in all forms on 14 newly-reinvented disco and soft rock anthems.

Having introduced their raucous trademark stage show to audiences in the USA, the UK, Germany, France, Switzerland and beyond, and releasing several albums of metallized disco, soft rock and pop covers before even tasting their first viral hit, TRAGEDY proved early on that they were never just your everyday satirical cover band. These six warriors of wacky fully embody the soul of the original and reimagine it from the top down, infusing the tracks with an undeniably infectious energy that can be felt both on stage or on wax. And while their 80s hair metal image would imply that plenty of misbehavior is to be seen on the surface, one only need witness TRAGEDY live a single time to understand that the band's true overarching message is one of carefree joy, humanity, acceptance and the simple pursuit of a damn good time.

…Shiny costumes, dramatic eye makeup and headbanging hilarity…"

– The Village Voice (US)

"Hard riffs, tight white flares, and even tighter octave-scraping harmonies… essential listening"

– The Sun (UK)
'I Am Woman' Track List:
1. Le Freak
3. She Bop
4. Memory
5. Lay All Your Love on Me
6. Venus
7. Goldfinger
8. Respect
9. Flashdance… What a Feeling
10. I'm So Excited
11. Here You Come Again
12. All I Wanna Do
13. I Am Woman
14. Roar
'I Am Woman' is available to order in the following configurations:
-CD Digisleeve
-1LP Gatefold SILVER
TRAGEDY are:

Disco Mountain Man – vocals, keys

Mo'Royce Peterson – vocals, guitar

Andy Gibbous Waning – bass, vocals

Gibbon Ass Freehly – guitar, vocals, horns

The Infernal Demigibb – drums

FOLLOW TRAGEDY: