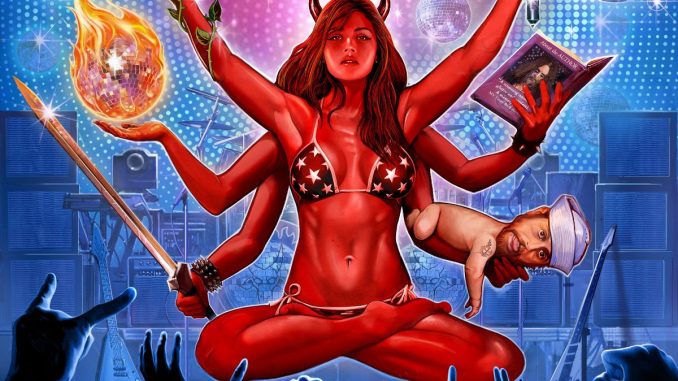 TRAGEDY – one of New York City's most famous tribute bands and the undisputed inventors of "disco metal" – recently announced their new, upcoming full-length album, 'I Am Woman', out March 3, 2023 via Napalm Records. Flipping the script on sleaze rock tropes, 'I Am Woman' pays tribute to the most powerful force in the band's lives, celebrating womanhood in all forms on 14 newly-reinvented disco and soft rock anthems!
Today, following their latest cover of the legendary track "Venus", the band showcases their heavy metal take on The Pointer Sisters' classic anthem, "I'm So Excited". Follow the band in the Cara Maria O'Shea-directed music video to their Halftime Show performance at the Big Bank SuperDuper Dome – you won't be able to contain yourself as you rock out to a metalized version of this iconic track with half-timed grooves, squealing solos, and energetic vocals.
Frontman Mo'Royce Peterson says about "I'm So Excited":
"Anita Pointer sadly passed away very recently, and this is our tribute to her and her sisters' impact on music, as well as, of course, their everlasting and unbridled enthusiasm for 'pleasures in the night' on this track.
"The song is about the building, burning anticipation of impending carnal satisfaction. The heart races, hormones surge – gratification is imminent! In the video, the "excited" band members pack themselves into the family minivan, then play the Halftime Show at the Big Bank SuperDuper Dome – an event viewed live by over 700 Billion people worldwide!"
TRAGEDY had a glitter-encrusted grip on the entertainment world when it emerged in the early 2010s. Now, following the 2015 breakout viral music video for their cover of Grease's "You're The One That I Want" and 2017's second viral hit, a cover of "Stayin' Alive" by the Bee Gees, TRAGEDY is back with a brand new twist on I Am Woman!
Having introduced their raucous trademark stage show to audiences in the USA, the UK, Germany, France, Switzerland, and beyond, and releasing several albums of metalized disco, soft rock, and pop covers before even tasting their first viral hit, TRAGEDY proved early on that they were never just your everyday satirical cover band. These six warriors of wacky fully embody the soul of the original and reimagine it from the top down, infusing the tracks with an undeniably infectious energy that can be felt both on stage or on wax. And while their 80s hair metal image would imply that plenty of misbehavior is to be seen on the surface, one only need witness TRAGEDY live a single time to understand that the band's true overarching message is one of carefree joy, humanity, acceptance, and the simple pursuit of a damn good time.
"…Shiny costumes, dramatic eye makeup, and headbanging hilarity…"
– The Village Voice (US)
"Hard riffs, tight white flares, and even tighter octave-scraping harmonies… essential listening"
– The Sun (UK)