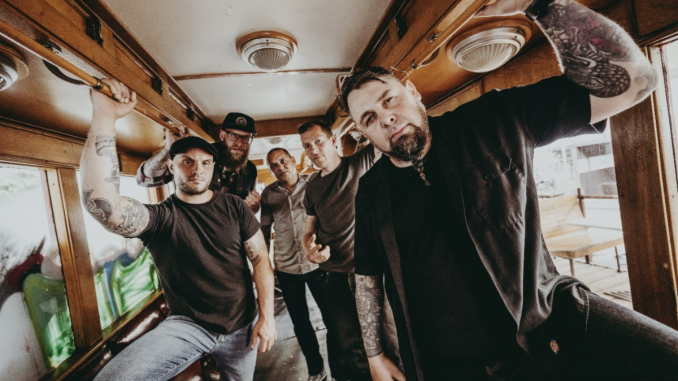 | | |
| --- | --- |
| ZWANZIG.TAUSEND VOLT out January 28, 2022 | |
With ZWANZIG.TAUSEND VOLT set for release on January 28 via Napalm Records, Berlin's finest Streetcore powerhouse TOXPACK releases the third single "Totgelaubt, doch neugeboren", confidently moving forward and firing up the moshpit once more! The legendary five-piece from Germany's capital are charged up and ready to deliver the streetcore sound that fans have been loving for over 20 years!
TOXPACK about "Totgeglaubt, doch neugeboren":
"Many have had to struggle hard, some have lost everything in the last two years. Be it due to the current situation, the flood disaster in Germany or other precipitation that hit mercilessly out of nowhere. As so often, friends were on the verge of giving up, burying their dreams and goals.
This song is for you. It should give you courage and strength to get through it all. 'Time is your enemy, it always has been – But you stay strong, show it the middle finger!'"
Twenty years of streetcore: TOXPACK blast ZWANZIG.TAUSEND VOLT into the world!
ZWANZIG.TAUSEND VOLT is a flare of expulsion – anger, hate and despair, raw and unfiltered. It's the tone TOXPACK has been setting for 20 years. They can't do and they don't want anything else: from the streets for the street.
ZWANZIG.TAUSEND VOLT is also a gift to all old and new fans. TOXPACK is 20 years of streetcore, force, intensity and unconditional honesty, felt by many. The connection between band and fans is unique – and ZWANZIG.TAUSEND VOLT is the energy boost for everything that is yet to come.
Guitarist and lyricist Tommi Tox about the new album:
"All the energy, perseverance, what we have experienced and the constant will to always give everything, simply everything that has accumulated over the past 20 years, inevitably comes together on this album and that has to be sent to this world. We probably couldn't have given ourselves a better birthday present."
ZWANZIG. TAUSEND VOLT tracklist:
1. Gekommen um zu bleiben
2. ZWANZIG.TAUSEND VOLT
3. Wecke den Kampfgeist
4. Ozean voll Scheiße
5. Bastarde für alle Zeit
6. Totgeglaubt, doch neugeboren
7. Kopf durch die Wand
8. Zusammen einsam
9. Letzte Warnung
10. Noch einmal so wie früher
11. Schweinehund
12. Wehe, wenn wir losgelassen
13. Nur für Dich
14. Wir kommen wieder irgendwann
15. Himmelwärts
Varying in select territories, ZWANZIG.TAUSEND VOLT will be released digitally and via CD, as a bundle with T-shirt as well as a 2-CD bundle with flag and exclusive demos, in black as well as limited yellow-black vinyl (100 pieces worldwide) and as an impressive earbook with 60 pages + hand-numbered autograph card. ZWANZIG.TAUSEND VOLTbelongs in every collection of punk rock, hard rock and metal fans, and friends of German-language rock!
[Limited Edition 2-CD Earbook]
TOXPACK are:
Schulle – vocals
Tommi Tox – lead guitar, backing vocals
Erik – guitar, backing vocals
Stephan – bass
Zoppel – drums
TOXPACK SOCIAL MEDIA: