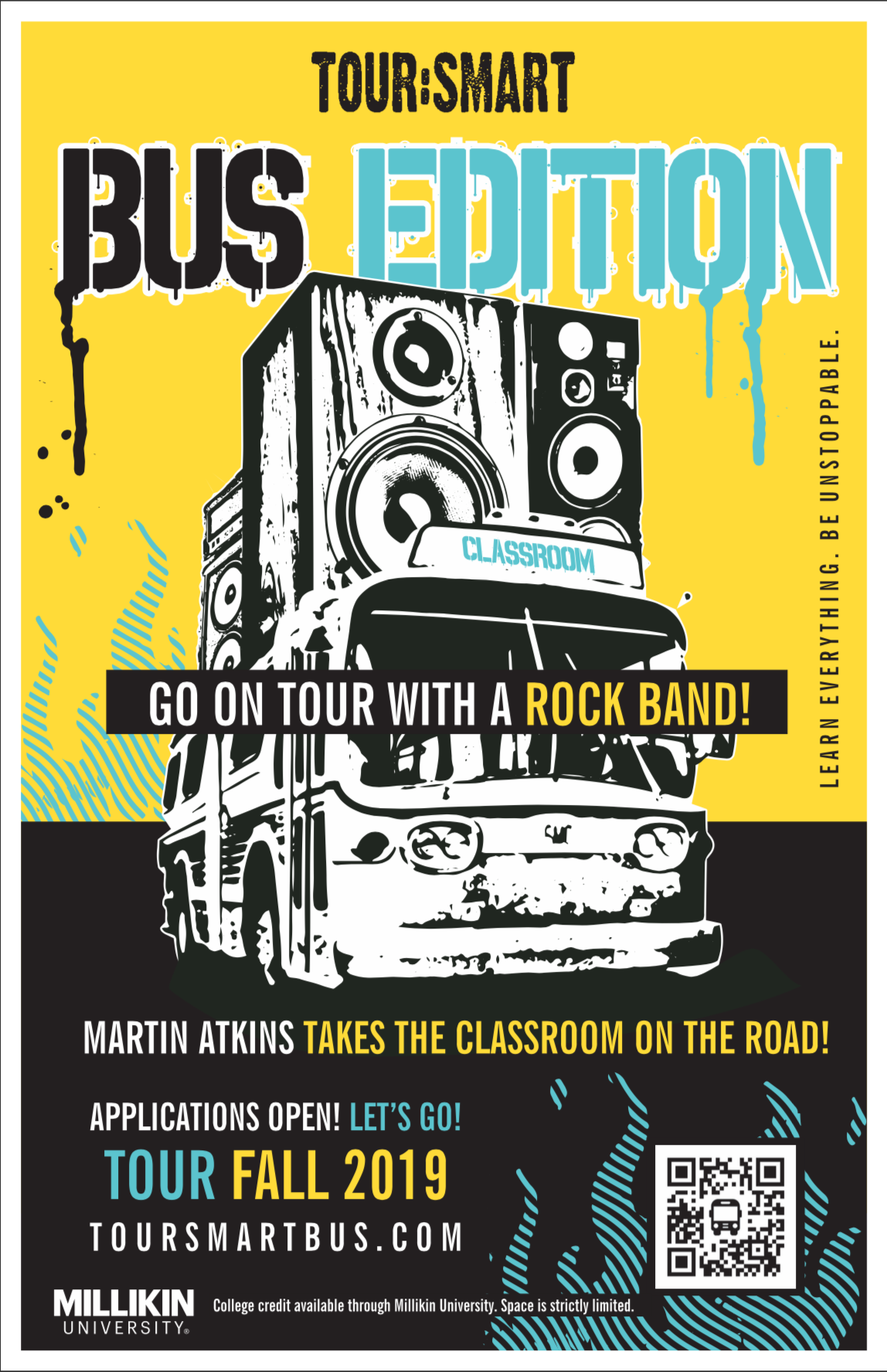 Legendary Drummer/Professor Martin Atkins and Millikin University Partner 
for One-of-a-Kind Program
Legendary drummer Martin Atkins has partnered with Millikin University to offer an educational experience unlike anything else – Tour:Smart Bus Edition. Tour:Smart Bus Edition takes students out of the classroom and on the road with a touring band for a five-day learning adventure, while also earning college credits.
Tour:Smart Bus Edition embeds students on a US rock tour to learn everything firsthand and become unstoppable. Think of it as a study abroad, but instead of living in another country, students are on a tour, working and learning with the industrial supergroup Pigface. Nevermind study abroad – this is another planet!
Tour:Smart Bus Edition 
is an extension of Atkins' 2007 comprehensive guide to touring,Tour:Smart: And Break the Band. He is currently the acting Music Business program coordinator at 
Millikin University
 in Decatur, IL.
"Sixteen years ago during my first touring class at Columbia College Chicago," says Atkins. "I had my students come to a show and SMELL the Pigface road crew. Now I'm putting the class on a bus and taking them on tour! I wrote the book on touring, and now we're going to write the book on whatever this is."
Participants in the program will spend each of the five days focusing on a different element of the touring business: tour management, production, merchandising, ticketing and VIP experiences, and venue and accessibility.
Tour:Smart Bus Edition
 is a three-credit course open to everyone looking to enhance their careers, their education, and their life with the opportunities provided to them through this experience.
Millikin University, is a 110-year-old university that has operated under the philosophy of providing an education that combines theory with practice with its signature focus on "Performance Learning."
About Martin Atkins:
Martin Atkins is the definition of entrepreneurial activity in cultural arts endeavors, his 40+ years in the music business spans across genres and borders and industries.
He was a member of Public Image Ltd and Killing Joke. He founded industrial supergroup Pigface, The Damage Manual, and Murder Inc., and has contributed to Nine Inch Nails and Ministry. He is the owner of Invisible Records and Mattress Factory Recording Studios (est. 1988). He is the author of three books including Tour:Smart, a syndicated blogger, and is the Coordinator of the Music Business Program at Millikin University.
Martin is a producer, drummer, documentary film maker, DJ, and father of four. Whatever the future of music is, you can pretty much bet that he'll be in the middle of it.