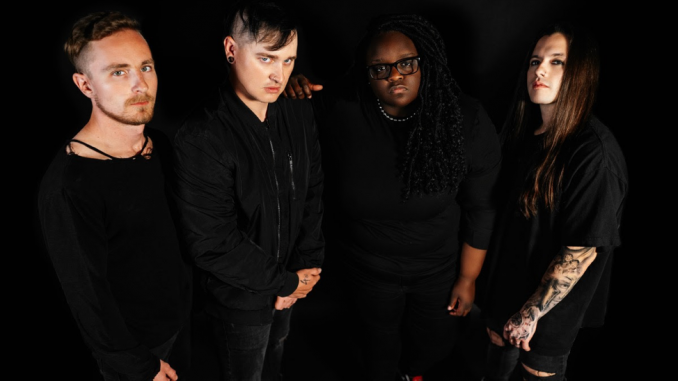 Rising Metal stars TETRARCH are getting ready to return to the road on the strength of their trailblazing sophomore studio album, 'Unstable', which dropped this past spring on Napalm Records. The band will join forces with decorated heavy rockers ATREYU on the upcoming 'Baptize' US tour this Fall. Rounding out the lineup is direct support from Crown The Empire, with SAUL and Defying Decay opening the show each night. The Baptize Tour kicks off on November 9th in Dallas, TX, and concludes in Santa Ana, CA on December 16th. A complete list of dates can be found below!
TETRARCH US Tour Dates
with Atreyu, Crown The Empire, SAUL & Defying Decay:
11/9: Dallas, TX @ Gas Monkey Bar And Grill
11/10: Houston, TX @ The Warehouse
11/11: New Orleans, LA @ Republic NOLA
11/15: Atlanta, GA @ The Masquerade
11/16: Charlotte, NC @ The Underground
11/17: Baltimore, MD @ Rams Head Live
11/19: Pittsburgh, PA @ The Roxian
11/20: Sayreville, NJ @ Starland Ballroom
11/21: New York, NY @ Webster Hall
11/22: Clifton Park, NY @ Empire Live
11/23: Hartford, CT @ The Webster
11/24: Worcester, MA @ The Palladium
11/26: Detroit, MI @ The Majestic
11/27: Columbus, OH @ Newport Music Hall
11/30: Cleveland, OH @ The Agora
12/1: Grand Rapids, MI @ The Intersection
12/2: Joliet, IL @ The Forge
12/3: Belvidere, IL @ The Apollo Theater AC
12/4: Minneapolis, MN @ Skyway Theatre
12/6: Kansas City, MO @ The Truman
12/7: Denver, CO @ The Summit
12/9: Salt Lake City, UT @ The Depot
12/10: Boise, ID @ Knitting Factory
12/11: Portland, OR @ Roseland
12/12: Seattle, WA @ The Crocodile
12/14: Santa Cruz, CA @ The Catalyst
12/15: San Diego, CA @ House of Blues
12/16: Santa Ana, CA @ The Observatory
TETRARCH – "Stitch Me Up" (Official Video)
Produced by the band and Dave Otero (Cattle Decapitation, Allegaeon, Khemmis), TETRARCH's new album, Unstable, dropped on April 30 via Napalm Records to major critical acclaim! Loudwire stated, "TETRARCH are not messing around, bringing the heavy with full force…", while Alternative Press said, "The meteoric rise of nu metal's brightest new stars TETRARCH has been a compelling show for the scene around them". Upon release, TETRARCH's debut single, "I'm Not Right" cracked the Mediabase Active Rock Top 30 and has garnered over six million combined cross-platform streams to date. Follow-up single "You Never Listen" received support from SiriusXM, HardDrive, Full Metal Jackie and many more of the country's leading active rock outlets, while one of their most recent singles, "Negative Noise", has reached nearly one million views on YouTube and counting.
Fierce individuality and a fearless embrace of the outsider are at the heart of TETRARCH. The band's tireless hard work and relentless determination have established them as one of the top up-and-coming bands in heavy music, catching the attention of major media, including Pollstar (cover mention), Billboard, Revolver, Alternative Press, Guitar World, Guitar Player, Premier Guitar, Kerrang! and Metal Hammer, many in which lead guitarist Diamond Rowe was the first African American female lead guitarist from the heavy metal genre to be featured. TETRARCH has been featured on Spotify playlists such as Kickass Metal, Rock Hard, New Blood (cover featured), and Metal Tracks and has also seen stellar support from Apple Music and their users, appearing on several additional playlists. Having appeared on major festivals such as Epicenter and Exit 111, TETRARCH is charging back into the major touring scene with renewed persistence and the mighty nonconformist spirit that has driven them since day one.
TETRARCH is:
Josh Fore – vocals/guitar
Diamond Rowe – lead guitar
Ryan Lerner – bass
Ruben Limas – drums