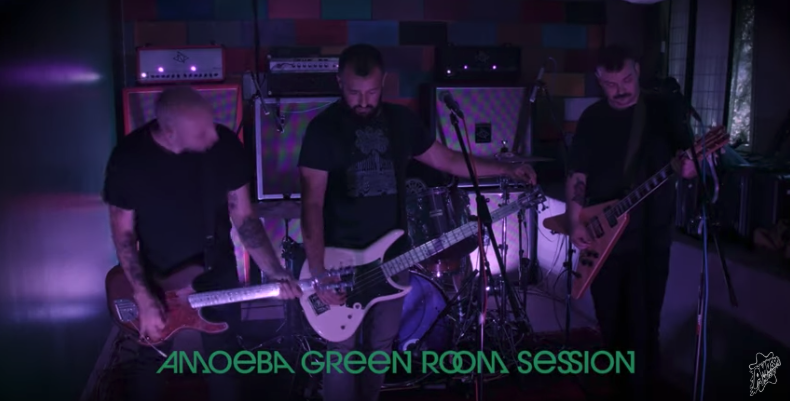 TORCHE LAUNCH U.S. TOUR TOMORROW

BAND FEATURED ON SEVERAL ONLINE SHOWS: AMOEBA'S GREEN ROOM SESSIONS, PREMIER GUITAR'S RIG RUNDOWN, GEAR GODS' RIGGED

STREAM PART TIME PUNKS TODAY AT 3 PM PACIFIC VIA KXLU.COM
Oct. 31, 2019, MIAMI – Torche return to the road tomorrow, launching three weeks of U.S. dates at The Fest in Gainesville, Fla. before heading overseas for an extensive U.K. tour.

A special performance on KXLU's Part Time Punks begins today at 3 pm pacific via KXLU.com.

On the band's recent North American trek, they visited several media partners, doing interviews, and taping performances with Amoeba's Green Room Sessions (https://youtu.be/L22faTQXvCQ), Premier Guitar's Rig Rundown (https://youtu.be/q3ySlh4S-j4) and Gear Gods' Rigged(https://youtu.be/ytA5V-Zbc7c).

The sessions and interviews follow what has been an extremely busy period for the Miami-born outfit. The four-piece released their fifth album, Admission (Relapse Records), in July, which was followed by the band's late night television debut, performing the title track on Late Night with Seth Meyers (https://youtu.be/8SVGmIMHQ4A). The band has been crisscrossing North America since early Summer including festival appearances at Sled Island and Doomed and Stoned, three weeks of shows with Baroness, and headline shows across the continent.

The 11-song Admission has been met with widespread critical acclaim, Stereogum said that "Admission, like every Torche album before it, kicks all kinds of ass," Billboard remarked that, "Torche once again constructs layers of guitar riffs that are somehow as airy as they are dense" while Brooklyn Vegan summed it up by saying, "Torche do everything on this album with exactly the kind of passion, power and precision you'd expect from a well-oiled machine like this one."

Torche tour dates:

November 1 Gainesville, FL The Fest

November 4 Birmingham, AL Zydeco *

November 5 Baton Rouge, LA Mid City Ballroom *

November 6 Houston, TX Secret Group +

November 7 Denton, TX Rubber Gloves +

November 8 Corpus Christi, TX House of Rock +

November 9 Austin, TX Levitation

November 10 Fayetteville, AR Smoke & Barrel *

November 11 Kansas City, MO Riot Room *

November 12 St. Louis, MO Off Broadway *

November 13 Milwaukee, WI X-Ray Arcade *

November 15 Chicago, IL Empty Bottle *

November 16 Columbus, OH Ace of Cups *

November 17 Johnson City, TN Capone's *

November 18 Athens, GA Caledonia Lounge *

December 3 London, UK New Cross Inn

December 4 Bristol, UK Green Door Store

December 6 Manchester, UK Factory

December 7 Glasgow, UK Stereo

December 8 Liverpool, UK Zanzibar

December 9 Nottingham UK Bodega

December 10 Birmingham, UK Mama Roux

December 11 Leeds, UK Burdenell Social Club

December 12 Stoke, UK Underground

December 13 Belfast, UK The Palm House

December 14 Dublin, IE The Grand Social

March 12 Antwerp, Belgium Trix Zaal ++

March 13 Paris, France Bataclan ++

March 14 Orleans, France L'Astrolabe ++

March 15 Nantes, France Warehouse ++

March 16 Biarritz, France Atabal ++

March 18 Porto, Portugal Hard Club ++

March 19 Lisbon, Portugal LAV – Losboa ao Vivo ++

March 20 Seville, Spain Sala X ++

March 21 Madrid, Spain Copérnico ++

March 23 Barcelona, Spain Sala Apolo La ++

March 24 Toulouse, France Le Rex de Toulouse ++

March 26 Milan, Italy Santeria Toscana 31 ++

March 27 Ciampino, Italy Orion Live Club ++

March 28 Bologna, Italy Social Center TPO ++

March 30 Rijeka, Croatia Pogon Kulture ++

March 31 Budapest, Hungray Dürer Kert ++

April 1 Vienna, Austria Arena Wien ++

April 2 Prague, Czech Republic Lucerna Music Bar ++

April 3 Berlin, Germany Astra Kulturhaus ++

April 6 Münich, Germany Technikum München ++

April 7 Zürich, Switzerland Rote fabric – Atioonshalle ++

April 9 Cologne, Germany Die Kantine ++

April 10 Hamburg, Germany Gruenspan ++

April 11 Copenhagen, Denmark Vega ++

April 12 Oslo, Norway Inferno Metal Festival

April 13 Stockholm, Sweden Slaktkyrkan ++

April 14 Gothenburg, Sweden Musikens Hus ++

April 16 Tilburg, Netherlands Roadburn

*With Eye Flys

+With Windhand and Russian Circles

++With Russian Circles

Torche have released five albums: Torche, (2005), Meanderthal (2008), Harmonicraft (2012), Restarter (2015) and Admission (2019, available here: https://store.relapse.com/b/torche). The Miami-born band are revered for their "gloriously fuzzy, sludgy, hard-hitting" music (Entertainment Weekly), earning praise from a wide range of outlets including Pitchfork ("sludgy ferocity"), Rolling Stone ("sunny sludge-pop"), Spin ("as toe-tapping as it is head-banging"), Stereogum("they write huge and triumphant hooks") and the Washington Post ("otherworldly"). Torche is Steve Brooks (guitar/vocals), Eric Hernandez (bass), Jon Nuñez (guitar) and Rick Smith (drums).