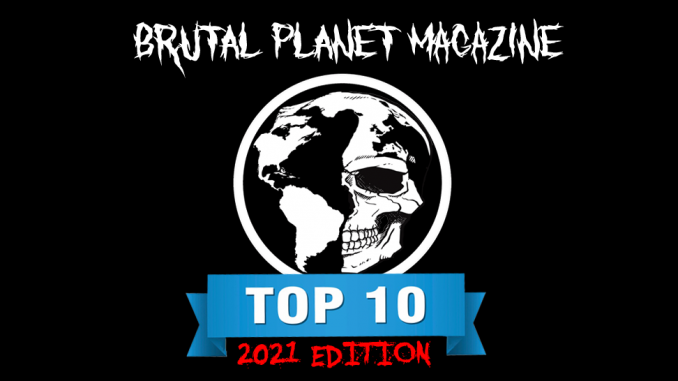 As 2021 comes to a close I have to say that it has been a banner year for Rock and Metal. Bands found themselves in the same place as most of us in 2020. Sitting at home became the norm for the year, which turned into writing music for a new year. Bands that released albums in 2020 found there was no place to support their releases, so they resorted to online shows and fan-less live streams. Shows slowly found their way back into mainstream life in 2021. In addition to shows, a lot of bands released albums. The list of my favorite for 2021 is quite diverse and yet showcases my loyalty to symphonic and power metal. This list is not in any particular order and each album on this top ten list holds a special place in 2021.
10) In 2021 Michael Schenker celebrated 50 years of six string domination. Throughout his career he has worked with some amazing musicians and his 2021 release Immortal continued that trend as he enlisted a stellar group of musicians to contribute to the album. Artists like Ralf Scheepers, Joe Lynn Turner, Ronnie Romero, and Michael Voss on vocals with Gary Barden, Robin McAuley, and Doogie White also adding backing vocals. In addition to that lineup the album also features Derek Sherinian (Sons of Apollo, former Dream Theater) on Keyboards. One of my favorite tracks on the record has to be "Sail The Darkness" featuring Ronnie Romero on vocals.
9) Any top ten for 2021 would not be complete without an Accept album on it. In 2021 Accept released Too Mean to Die, their 16th studio album. The album features some epic songs with guitarist Wolf Hoffmann as the bands lone original member. That being said the band is full of veteran musicians. Accept added Martin Motnik on bass for this album after original bassist Peter Baltes left abruptly. Too Mean to Die has some catchy songs including the title track as well as "Sucks to be You" and "Overnight Sensation." My favorite track on the album is by far "The Undertaker."
8) When I talked to Magnus Karlsson about Heart Healer The Metal Opera I told him this album would definitely be in my top ten for 2021. As promised here is that album in my top ten! Magnus personally assembled some of the most amazing female vocalist to construct this masterpiece. Adrienne Cowan (Seven Spires, Sascha Paeth's Masters Of Ceremony, Avantasia), Netta Laurenne (Smackbound, Laurenne/Louhimo), Youmna Jreissati (Ostura), Ailyn (Her Chariot Awaits, ex-Sirenia), Noora Louhimo (Battle Beast), Margarita Monet (Edge of Paradise), and Anette Olzon (The Dark Element, ex-Nightwish) are the vocalists on this album. There are so many amazing songs it would be difficult to pick just one. "This is Not the End" would be as close as I could get to picking a favorite. The song embodies everything the album encompasses.
7) Someone once said, "Life imitates art." This statement could not be more relevant when talking about Ronnie Atkin's release, One Shot. This album is such an inspirational album that there is just no way it could be left off my top ten list. Ronnie is an amazing human being and each song encapsulates the importance of our existence. Songs like "One Shot" and "Subjugated" are clear examples of the personal subject matter Ronnie covers in the album. The song that did it for me was "Miles Away." The song was is dedicated to his wife for standing by him no matter what crazy adventure he is on. If there was an award for inspirational album One Shot would be that album. As a cancer conqueror myself I consider Ronnie a warrior as he battles his own illness.
6) Todd La Torre released his first solo album in 2021 called Rejoice In The Suffering. Based on the caliber of the songs this should not be Todd's last solo album. Tracks like "Hellbound and Down" and "Critical Cynic" are just two of the many on this album not to be missed but it was "Darken Majesty" that had me from the first listen. This song sounds as though there is a duet going on and it is just Todd showcasing his vocal talents in full force. The song "Apology" is the song that has the most meaning to me. It is about his Dad's last day on earth before he committed suicide. To me it was just another song until July 26, 2021 when I was informed that a good friend and icon in the metal community Mike Howe had taken his own life. At that point "Apology" took on a whole new meaning to me as I tried to put together the pieces of this tragedy. What was he thinking and what were his last thoughts? It is something that will stick with me forever. A huge thank you to Todd for a song that truly helped me try to understand what happened to my friend.
5) Noora Louhimo (Battle Beast) and Netta Laurenne (Smackbound) appear in my top ten twice in 2021. They both participated in the Heart Healer The Metal Opera by Magnus Karlsson. They re-appear in my top ten with their blistering album tittled Laurenne / Louhimo: The Reckoning. Through and through this is the strongest album on my top ten. It has not a single weak song on it. One of my favorite songs on the album is "Bitch Fire." The song has a Judas Priest Painkiller sound to it. My favorite song on the album is easily "The Reckoning." If you want a sample of what the album holds the "The Reckoning" is the song that will hook you.
4) One of the most anticipated album releases of 2021 was the self-titled album by Helloween. After hearing the first single "Skyfall," I knew this album was destined for my top ten. After hearing the whole album my pick was confirmed. Kai Hansen and Michael Kiske rejoined the band after leaving a number of years ago. Some of the songs on the album including "Mass Pollution" and "Out For Glory" were a couple of my favorites. I had a hard time picking just one song as my top song so I picked two. The first is "Fear of the Fallen." The other is without a doubt "Skyfall."
3) In a rare but well deserved move I have a band that made my top ten list two years in a row. Lords of Black released Alchemy of Souls, Part 1 in 2020 and it was a no brainer for my top ten then. Now fast-forward to 2021 and Alchemy of Souls, Part 2 was released. It is as strong or stronger than Part 1. Ronnie Romero has perfected his sound on these two albums and Tony Hernando's guitar work and song writing continues to blow me away with each Lords of Black release. "Fated To Be Destroyed" and "No Hero Is Homeless" are two songs that rise to the top as my favorites, but by far the song that makes this album is "Maker of Nothingness." It was just released as a single at the end of November. Every time I listen to it I hear my ears start to blister as it is just that hot.
2) There are two artists on my top ten that take me way back in life. One of them being Accept and the other is Ministry. In 2021 Ministry released Moral Hygene and it knocked me on my ass when I listened to it. Uncle Al taught me a long time ago to stand up for what I believe in and most importantly he taught me there is a time and place to tell some one to, "Fuck Off!" Moral Hygiene is a reminder to me that in 2021, it is as important if not more important to stand up for what I believe in. The song "Good Trouble," a piece inspired and dedicated to the late Civil Rights leader John Lewis. The song exemplifies what activism is and why John Lewis was a hero for the voiceless. My favorite song on the album is by far "Search and Destroy." It is a classic homage to a band that obviously gave Uncle Al the courage to take a stance for what he believed in. The song stands today as an anthem and Ministry gave it an industrial makeover that could not be more fitting.
1) The shaped of Symphonic Metal is evolving year by year and one of the bands shaping it beautifully is Seven Spires. I feel a great connection to them as I reviewed their debut album Solveig, in 2017. From that moment on I was a fan and have had three failed attempts to see them live. I am hoping that 2022 is that year I finally get to see what I have been waiting for five years. In 2021 they released the final album in their trilogy called The Gods of Debauchery. I said it in my review and I will say it again, "In three albums these Berklee school kids have mastered the use of symphonic music in metal, and I predict they will transform the future of metal as we know it." "The Cursed Muse" and the title track "The Gods of Debauchery" are just two songs that amazed me. The track that musically and lyrically brilliant to me is "Lightbringer." How could you not find a song with lyrics like this magnificent?

"Goin' down, down, down, to a heaven underground
Where two's a party and three's a crowd
You want it, you'll find it if you open your mind
Time to sin 'til you win, let your demons out!
Goin' down, down, down where the demons hang around
Where souls are sold and the music's loud
He's sweet, she's vicious, this love's fictitious
So sin 'til you win, let your demons out!"
Picking my favorite albums at the end of the year is never easy, but I have to say this was an easy year. Most of my top ten floated to the top after hearing just one song and confirmed after hearing the whole album. I am going to say that if all of these are not in your library right now, they need to be. So get out there and support these bands. Not only do they deserve it but they have earned it!