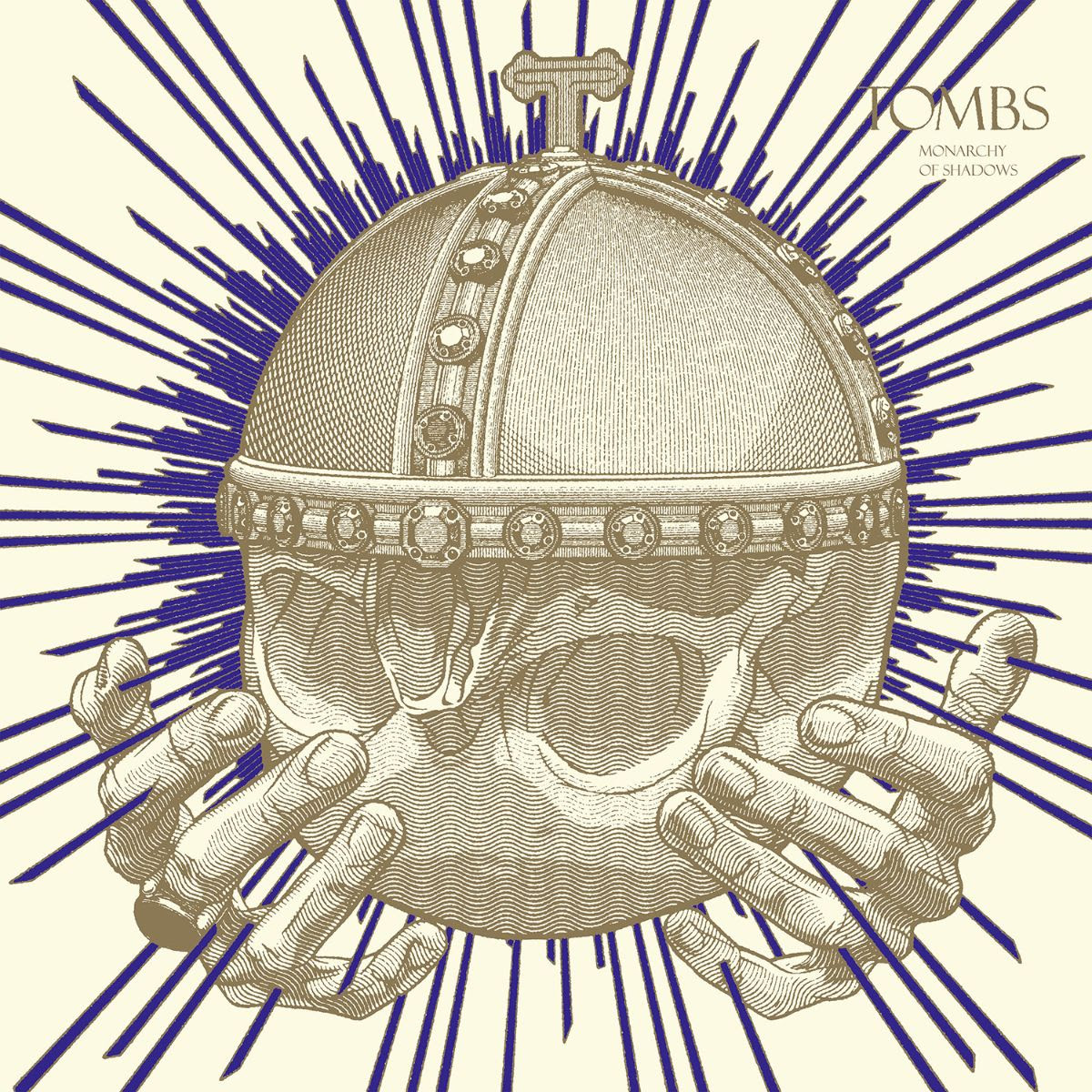 While concerts might currently be on hiatus, you can still experience the live fury of Brooklyn metal formation TOMBS! The band has just dropped previously unreleased live tracks from a 2019 set in Chicago, IL, which was recorded by Spenser Morris on June 17, 2019 at Livewire Lounge. "Abraxas Ritual: Live in Chicago" features four live cuts and is available to stream or purchase now via Bandcamp at THIS LOCATION.

'Monarchy of Shadows' was released on February 28 via Season of Mist, making it the band's debut to the label! The album can be heard in its entirety HERE and purchased HERE.

See what the press is saying about 'Monarchy of Shadows' below:

"Frenetic, lively and grandiose black metal colors the EP's six tracks. 'Monarchy of Shadows' references the brooding, down-tempo nature of 'The Grand Annihilation' at times; however, there is a more visceral, fast, full-frontal assault this time around that finds the band continuing to grasp at an ethereal spirit." – Blabbermouth

"The six tracks on Monarchy Of Shadows are ripping, diabolic odes to darkness that drink heavily from the same chalice as Watain, with razor-wire guitar melodies sticking jaggedly out the top…" – Kerrang

"The music has changed in small and large ways from album to album, but Tombs is one of those bands you just need to listen to, because the intensity is unwavering, and the evolution never seems to have taken any wrong turns." – No Clean Singing

"The black metal parts on this one are especially blackened and whiplash-inducing, but as is usually the case with Tombs, the album can't be pinned down to just one sound. It also takes clear influence from goth and post-punk and Swans, and Tombs fuse those sounds with black metal pretty seamlessly." – Brooklyn Vegan

If you are looking for some further entertainment during isolation, TOMBS mainman Mike Hill is the host/producer/creator of the Everything Went Black podcast as well as the host and producer of Gimme Radio's Metal Matters flagship podcast. Episodes of Metal Matters can be heard HERE.
The cover artwork for 'Monarchy of Shadows,' which was created by Valnoir, can be found below along with the tracklist.
Tracklist
1. Monarchy of Shadows (07:32)
2. Once Falls the Guillotine (04:44)
3. Necro Alchemy (05:47)
4. Man Behind the Sun (06:02)
5. The Dark Rift (05:58)
6. Path of Totality (Midnight Sun) (04:44)
Total: 0:34:47
There's a line from Mike Hill's audiobook/tour diary of Anodyne's 2004 European tour in which the gravel-throated frontman affirms, "I will always outwork you." In that case, Hill was referring to an incident in Germany early on during a six-week long overseas jaunt with his previous band. In actuality, however, he could have been talking about any instance between when he first picked up a guitar as a teen and the present. Whether it's his history dating back to previous bands Otis, Anodyne, King Generator or Versoma, his ongoing solo work in Vasilek, the more recent Scorpion Throne project or his twelve year-long reign as the driving force and nerve center of post-black metal institution Tombs, hard work is second nature and nothing will keep the guitarist/vocalist from creative endeavour and expression.

And it's not just music in which his propulsive work ethic has gleaned results: Hill also is the CEO and roast master at Savage Gold Coffee (a labelling nod to Tombs' 2014 album of the same name), the host/producer/creator of the Everything Went Black podcast, host and producer of Gimme Radio's Metal Matters flagship podcast, the creator and co-host of horror podcast Necromaniacs as well as a stalwart in the print and online journalism world covering music and MMA fighting. His is, has been and always will be a life steeped in dedication and with unassailable drive in the cross hairs, and 2020 sees Hill shining the spotlight of focus on his first love: Tombs. Giving in to his innate determination and ongoing tenacity, Tombs has emerged with the next chapter in the band's impressive catalog and growing legacy, Monarchy of Shadows.

"The week Versoma broke up in 2007, I started Tombs," he says, recalling how, characteristically, the band started before any dust was permitted to settle. "The initial rehearsals ended up being the bulk of material that showed up on the first [self-titled] EP. The intent from the beginning was to get back to playing music I wanted to hear and to not be so concerned with genre or satisfying anyone else's desires. It was to do music on a personal level and be a reflection of the darkness I've felt throughout my life."
Formed in the gritty corners of pre-gentrified Brooklyn, NY, Tombs' early mandate was steeped in the harshness and atonality of black metal but dosed with trace amounts of the varied influences and inspirations ingrained in Hill's musical muscle memory by previous bands.

"The canon of music Tombs has created has spanned several different genres, but I've always had it my intent for there to always be a certain amount of violence and hardness lurking the background."

Those early years delivered splits and singles, the highly revered Winter Hours debut in 2009 and Decibel's 2011 Album of the Year, Path of Totality. Never one to sit still, Path of Totality was followed by appreciable and impressive amounts of touring in accordance with the lauding afforded by critics and fans and the braying of foes, which only served as fuel for Hill's perseverance. Savage Gold came three years later after which a restless Hill began nudging Tombs' black metal base into territories populated by gothic and death rock artists like Fields of the Nephilim and Sisters of Mercy as well as avant-garde purveyors Caspar Brotzmann and Live Skull while never forgetting – or being able to – scrape the grime of NYC from under his fingernails. The addition of a second guitar and live keyboards/samples brought a fuller sound and allowed noise sequences and soundscapes to be brought to the live show. It was around the time of 2016 All Empires Fall EP that Tombs punctuated its iconoclastic spirit and thought process. Despite then-being part of the Relapse Records family, the band struck out with the intent of self-releasing the EP in order to retain as much independence as contractual obligations would allow – retaining the digital and publishing rights while eventually licensing the record back to Relapse. A one album stint in 2017 under the Metal Blade banner birthed The Grand Annihilation into the world where Tombs took broader and more daring steps into buffering black metal with morose melody, sullen death rock and classic Metallica chugging.

"I've never thought too far ahead about any of those changes," ponders Hill. "When I meet people or hear new sounds, I think about how they might fit into the ideology of the band, what they'd bring and what they're role might play in the band."

For Monarchy of Shadows, Hill has been joined by 3/4ths of New Jersey death metal crew Kalopsia – drummer Justin Spaeth, guitarist Matt Medeiros and bassist Drew Murphy – for a further twisting of black metal's DNA around dank emotional corners, psychological turmoil and the urban underbelly.

"If it were up to me I'd have unlimited numbers of people in the band; strings, keyboards, three guitar players and so on, but that can't happen. However, for the first time in the history of Tombs there has been a collaboration between band members. It's not just me writing everything. It's a big difference from The Grand Annihilation which was basically a solo record."

The title track commences with an elegant, studded glove to the chops as guitars scream and wail in rapid fire agony with corpse paint doused in your favourite flammable liquid and ignited by tensile tremolo picking. All this before a denouement wrapped in post-punk forays, elegiac crawls and spine tingling vocals.

"That's my favourite track on the record!" he exclaims. "I think it really flexes all the muscles and demonstrates everything we can do. There's fast drumming, black metal riffing, a Celtic Frost beatdown in there, there are synthesizers and electronics and a death rock thing at the end. It's a thumbnail of what the band is about."

The riffing in "Once Fall the Guillotine" rips like an icy pick axe through complacency and orthodoxy before a melodic excursion that's equal parts face planting off a sticky bar room floor and a liberating soaring through chilled mountain air, while "Necro Alchemy" blazes with a neck-snapping ferocity and anthemic charm.

As Monarchy of Shadows continues, it becomes evident that Tombs is bristling with a combination of ages-old anger and newfound energy. "Man Behind the Sun" included obvious nods to Andrew Eldritch and Carl McCoy in its closing sections, while "Dark Rift" is awash with ambitious hanging chords and keyboard swells with those detours, as inspiring as they are, being understated, insidious and never detracting from the band's blackened, monolithic mission.

"That one is very much a collaborative track," Hill says of the latter piece. "Justin wrote the first half, guitar parts and all, and I wrote the second half and lyrics then everyone layered in their own interesting parts that added a lot of dimension and atmosphere to the song."

After spending his entire adult life navigating the pitfalls and pratfalls of the industry for expressive and creative opportunity, Hill has amassed an impressive legacy, one that Monarchy of Shadows contributes to admirably. With his status as underground lifer and veteran, one might expect Hill to approach another new lineup and, in Season of Mist, another new record label with a cautious, if not irascibly jaded shoulder shrug. However, there's a palpable excitement in his voice when he talks about the future; his view being that of Tombs heading towards a bright horizon with all the necessary components in place and all guns firing.

"I'm playing with excellent players who are on the same creative page and have introduced elements that weren't obvious to me which ended up expanding the band's sound. I feel like the music and this incarnation of the band is a lot more powerful because there's a personal investment from all the members. We have a label behind us that understands what we're about aesthetically and is used to working with bands like ours. There's a new, more thoughtful and collaborative approach to song writing and I feel that this EP is the strongest record of the band's history. It's another growth period for Tombs."

Track List:
1. Monarchy of Shadows (07:50)
2. Once Falls the Guillotine (04:44)
3. Necro Alchemy (05:45)
4. Man Behind the Sun – (06:00)
5. The Dark Rift – (05:59)
6. Path of Totality (Midnight Sun) (04:45)
Total – 35:02

Line-Up:
Mike Hill – guitar / vocals
Justin Spaeth – drums /electronics
Drew Murphy – bass / vocals
Matt Medieiros – guitar / vocals

Guest Musicians:
Mike Goncalves – guest vocals on "Path of Totality (Midnight Sun)"
Ben Karas – strings on "The Dark Rift"
Terence Hannum – synth on "Monarchy of Shadows"

Studio: Frightbox Recording (Passaic, NJ, U.S.A.)

Producer/Sound Engineer/Mixing Studio Engineer: Bobby Torres

Mastering studio engineer: Alan Douches @ West West Side Music

Cover Art: Valnoir

Biography: Kevin Stewart-Panko

For more on TOMBS, visit their official FACEBOOK, TWITTER, INSTAGRAM, and BANDCAMP.