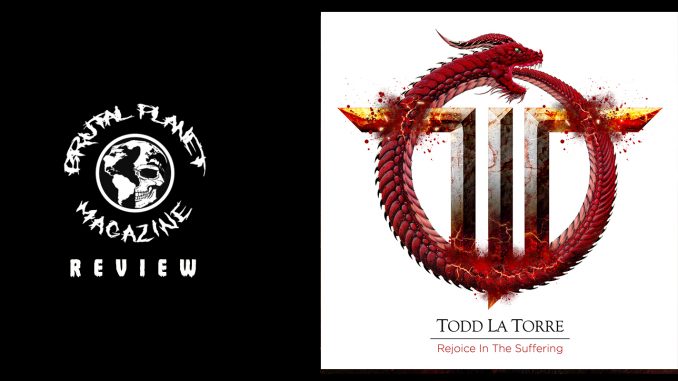 The current events globally presented Queensryche vocalist Todd La Torre elements to put his debut solo album in motion.
Even though La Torre's debut has been in the works over the years, it was the gift of time. That gift allowed the Florida native to finally red stamp his efforts with the words "complete."
La Torre will presents a sonically diverse debut titled Rejoice In The Suffering through Rat Pak Records on Friday, February 5. 2021.
Listeners seeking to hear the Queenryche voice churning out tracks in the vain of the Ryche will only receive a few samplings.
What La Torre delivers is a Todd La Torre solo effort that possess a deep personal meaning to him.
There's a lot of variety throughout Rejoice In The Suffering surprising the listener with what La Torre offers up.
The first four tracks, "Dogmata," "Pretenders," "Hellbound and Down" and "Darken Majesty," the first single are just straight forward. They posses simplistic, crystal-clear metal riffs with a tad of aggression in the vocals.
It's with Crossroads to Insanity that sees La Torre pulling the reins on the tempo for the first time. This is where the Queensryche vibe falls onto the ears but not for long.
La Torre plows forward with "Critical Cynic", the title track, "Vexed" and "Vanguards of the Dawn Wall". These tracks when seriously analyzed have a hint of Fight (Rob Halford). It's just part of the heavy diversity for La Torre.
Rounding out the ten tracks comes "Apology", a deep-rooted track lyrically. The brief guttural spewing from La Torre just solidifies the intensity of the track. It's hands down the most powerful of musically. One needs to truly listen to the lyrics and what La Torre is sharing.
An added feature the release would be the three bonus tracks, "Fractured," "Set it Off" and "One by One". Instead of these tracks being individually released in Japan, Europe and North American, La Torre has included them all. The tracks aren't fillers, they're heavy offerings with La Torre showcasing La Torre's metal capabilities.
If there's any positive with the current state of events, it's La Torre being able to deliver Rejoice In The Suffering. Rejoice in the release, not the suffering being experience.