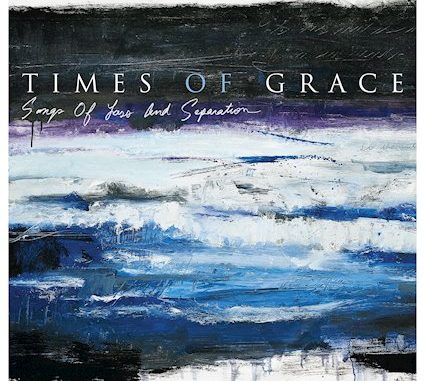 If you are a fan of metalcore, you can probably remember that feeling of loss you had when you heard the news that lead vocalist, Jesse Leach, had been battling depression and left the band Killswitch Engage. We all loved his vocals on "Self Revolution," and "My Last Serenade" and we wondered whether we would ever hear him record again. Then, in 2007, Leach returned on the scene with Killswitch guitarist, Adam Dutkiewicz to start a new project, "Times of Grace."
Times of Grace released their debut album, "The Hymn of a Broken Man," in January of 2011. It was a solid return for Jesse Leach but on a whole, was akin to early Killswitch Engage. The band took a four-year hiatus during Leach's return to Killswitch Engage, and it wasn't until many years later that fans would regain hope in hearing another album from this duo. And now, the time has finally come- "Songs of Loss and Desperation" will be released on July 16, 2021.
This album truly surprised me. I was expecting the sophomore album to follow in the same vein as the first one, but the overall sound of "Songs of Loss and Desperation" reflects its title much more than its predecessor. This album is desolate and morose. In a recent interview, main songwriter Adam Dutkiewicz, stated, "The record is not very optimistic. If you're looking for that uplifting album to pull you out of something, this isn't it." These ten songs do reflect the darker side of life, and whether we want to admit it, this world is full of much suffering and loss and I believe many fans will be able to relate to this level of songwriting.
The album starts out with "The Burden of Belief." This song is one of four on the album that surpasses five minutes in length, proving Times of Grace is not afraid to push the boundaries of what the "normal" length of what most modern rock songs are. "The Burden of Belief" was released as a single on May 20 and really showcases the overall feel of this album. Sure, there are faster and heavier songs than this, but "The Burden of Belief" leads the album with a sad guitar and mournful lyrics.
The second and third singles to be released are "Medusa" and "Rescue." The former was released in early June and features those classic Adam D riffs, but it sounds like it has been dragged through sludge- giving it an emotionally heavy feel. The song also features excellent drumming by Dan Gluszak, who, after touring with the band years ago but is now an official member. "Rescue" was just released on Independence Day and is definitely one of the more aggressive songs on the album. The riffs are fast and Leach's vocal performance is stellar- taking on the perspective of a savior-like figure and repeating, "I will rescue you." Many fans have been finding much hope through these new songs.
I love albums that carry the listener on an audible rollercoaster. "Songs of Loss and Separation" is no exception. From fast to slow, from heavy to soft, these ten songs are all different, but every one of them will make you feel. "Currents" and "To Carry the Weight" are both powerful, "Mend You" plays with an odd time signature, and "Bleed Me" brings the pace way down while still maintaining intensity. "Far From Heavenless" is one of my favorite songs on the record. Lyrically, it calls out hypocrisy, and musically, it taunts the listener to a fight and delivers an uppercut of assault toward the end of the song. "Cold" might be the slowest and softest song on the album and it nearly had me in tears when I first heard it.

If you are looking for Killswitch Engage, this is not it. If you are looking for a reiteration of the band's debut album, this is not it. But if you are looking for an album that will have you shifting between screaming and crying as you listen, this just might just be your remedy. "Songs of Loss and Separation" is macabre and melancholic and is arguably the best music Dutkiewicz and Leach have written.