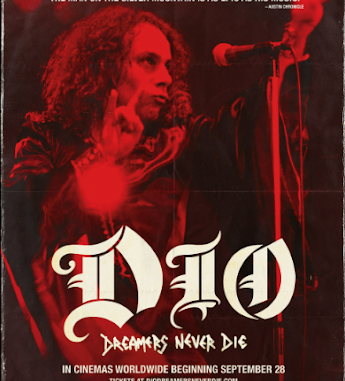 TICKETS ON SALE NOW FOR 'DIO: DREAMERS NEVER DIE'




FILM EVENTS IN CINEMAS WORLDWIDE




AT

WWW.DIODREAMERSNEVERDIE.COM



CLICK

HERE FOR THE OFFICIAL 'DIO: DREAMERS NEVER DIE' TRAILER



BMG & TRAFALGAR RELEASING PRESENT FILM HONORING THE LIFE OF LEGENDARY HEAVY METAL SINGER RONNIE JAMES DIO IN CINEMAS WORLDWIDE SEPT. 28 & OCT. 2
Philadelphia, PA – August 24, 2022 — Tickets for career-spanning documentary on the life and times of legendary metal icon
Ronnie James Dio, "DIO: Dreamers Never Die," go on sale today at
www.diodreamersneverdie.com
. Presented in more than 500 cinemas worldwide by Trafalgar Releasing and BMG for two days only on Wed., Sept. 28 and Sun., Oct. 2, "DIO: Dreamers Never Die" explores Dio's incredible career with his early bands, to his days in Elf and Ritchie Blackmore's Rainbow, to replacing Ozzy Osbourne in Black Sabbath, and finally cementing his status as a legendary metal icon with his own band, DIO. The film incorporates never-before-seen footage, personal photos, and scenes with his closest peers, family, and friends, including Wendy Dio, Tony Iommi, Geezer Butler, Glenn Hughes, Vinny Appice, Lita Ford, Rob Halford, Sebastian Bach, Eddie Trunk, and Jack Black. View the official trailer (
HERE
).
In addition to the feature-length film, this special cinema event will also include a hand-picked selection of outtakes from the cutting room floor that will only be shown at these screenings to create an exclusive experience for fans in attendance.
Ronnie James Dio, who died of gastric cancer in 2010, reigns as one of the most influential rock artists of all time and one of the greatest vocalists ever. With an illustrious recording career spanning from the 1950's through to the 2000's, the documentary follows his trajectory from sideman into singer, songwriter and frontman of not one, but three, of rock's internationally-renowned, multi-Platinum-selling arena attractions: Rainbow, Black Sabbath and DIO. Famous for popularizing the "devil horns" hand gesture that is now synonymous with hard rock and heavy metal music, Dio was known for not wavering in his pursuit of his rock and roll dreams and continues to influence a new generation of music artists. His fans the world over remember him not only for his massive talent, but for his kindness, resulting in millions of dollars raised for cancer research in his memory.
"DIO: Dreamers Never Die" is fully authorized by the artist's estate, was financed solely by BMG, was directed by Don Argott and Demian Fenton (Framing John DeLorean, Believer, Last Days Here), produced by Don Argott and Sheena Joyce for 9.14 Pictures, and executive produced by Dio's widow and longtime manager Wendy Dio for Niji Productions and Kathy Rivkin Daum for BMG.
Rhino/WMG will release the soundtrack from "DIO: Dreamers Never Die" in the fall.
ABOUT TRAFALGAR RELEASING:
Trafalgar Releasing is the global leader in event cinema distribution. A subsidiary of Trafalgar Entertainment, Trafalgar Releasing's global operations include production, acquisition, marketing and distribution of specialized content to over 8,000 cinemas in more than 120 countries worldwide.

A full spectrum of releases includes world-class opera and ballet (The Metropolitan Opera, Bolshoi Ballet, Royal Opera House), award-winning theater (including The King and I: from the London Palladium, Kenneth Branagh Theater Company's The Winter's Tale, and 42nd Street), iconic moments (Monty Python's Life of Brian 40th Anniversary, David Bowie is happening now, They Shall Not Grow Old), heritage music acts (Metallica & San Francisco Symphony: S&M2, Depeche Mode: SPIRITS in the Forest, Oasis Knebworth 1996) and contemporary music sensations (BLACKPINK THE MOVIE, Coldplay: A Head Full of Dreams), including four global events with K-pop sensations BTS (Burn The Stage: The Movie, Bring The Soul: The Movie, Break The Silence: The Movie, and the live concert broadcast Permission To Dance On Stage – Seoul: Live Viewing).

More information about Trafalgar Releasing can be found at www.trafalgar-releasing.com.
ABOUT BMG
BMG – est. 2008 – is the world's fourth-biggest music company, the first new global player in the music business of the streaming age, and a record label and music publisher in one. Named in 2020 one of the world's Most Innovative Companies by Fast Company, BMG's pitch is unique – a relentless focus on fairness and transparency and service to its artist and songwriter clients. BMG's 19 offices across 12 core music markets now represent over three million songs and recordings, including many of the most renowned and successful catalogs in popular music history. BMG's fresh approach includes production music, films, books, artist management, merchandise, neighboring rights, and live as well as music publishing and recordings off the same service platform. BMG is owned by international media, services and education company Bertelsmann, whose other content businesses include the entertainment company RTL Group and the trade book publisher Penguin Random House. With its multi-platform perspective, integrated technology platform and commitment to help artists maximize their income, BMG aims to be the best company in music to do business with. www.bmg.com