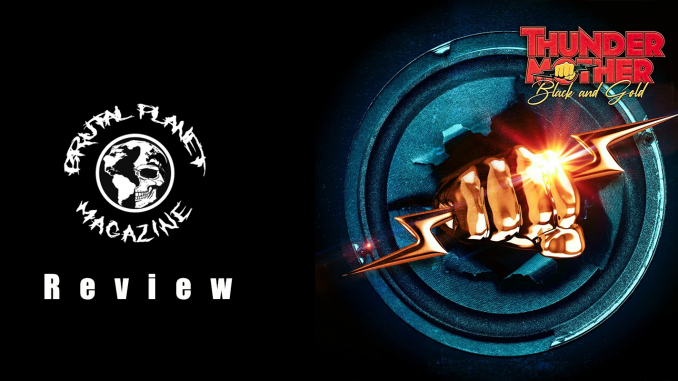 Review by:
Casey Hanson
Wearing it with pride
The all-female hard rock band, Thundermother, out of Sweden, has released their most powerful album to date, titled, Black and Gold. With 4 albums to their credit, this is no doubt their strongest collection of in your face, hard rocking music to offer to their fans, thus far.
The album is solid, the messages in the songs are very relatable, and the music has similarities to the 80's-90's arena rock, with plenty of sing along anthems that will surely be fan favorites.
From the hard and heavy rock, to the softer, but still edgy ballads, there are plenty of whoa's and ya's in the choruses and great lyrics to sing along to in this album.
Founding member and guitarist, Filippe Nassil, leadis the charge, along with lead vocalist,
Guernica Mancini; Emlee Johansson on drums, and Mona Lindgren on bass guitar…this band is a powerhouse of talent ready to take on the world, one rock song at a time.
The title track, "Black and Gold", is an instant hit and will have fans rocking along and chanting, "Let's Go!" with each chorus. The vocals are powerful, and the guitars are equal to it. Really a great rock and roll song.
The ballads, "Hot Mess", about giving yourself to that someone and showing your vulnerability with all of your imperfections, while "Borrowed Time" is about giving your all every night on stage to the fans and questioning whether it's good enough.
"I Don't Know You" is the seventh track on the album, is about being confronted with people
wanting to meet them, take pictures of and with them, and wanting autographs, and how people expect so much all of the time from the band. The message is about saying, just wait your turn.
The hard hitting, in your face song, "Watch Out", is another definite hit. The guitars lead you into a groovy journey of proclaiming power and a position that has been hard fought for. A definite homerun and great party tune.
Black and Gold is a solid rock album and will be a fan favorite, no doubt. These four ladies know their place, and it's up front and in the driver's seat in the world of rock.
You can catch Thundermother on tour in America with the Scorpions and Whitesnake through October 2022. You can pick up Black and Gold now!!!