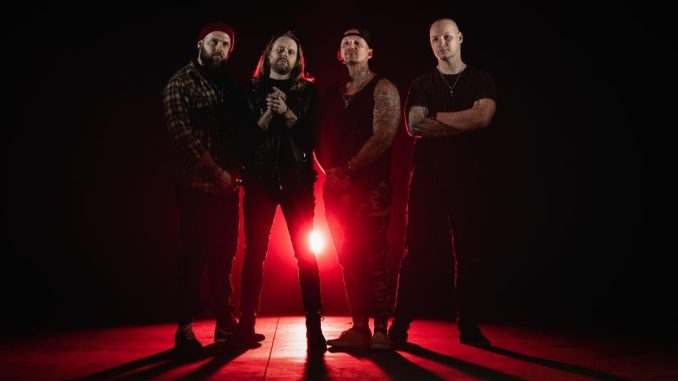 Watch HERE
New Album, 'Strangeworld',
Coming June 30th!
Pre-Order HERE
"Throw The Fight fires on all cylinders with a sound equally melodic and punchy, harnessing the perfect balance between riling up the basement circle pit
and a huge arena." – New Noise Magazine
"Throw The Fight finds a balance between rock, and you know, rawk, and proceeds to tear it up in 4/4 time!" – Alternative Press
With over 50,000 albums sold, 700,000+ monthly Spotify listeners, and more than 100 million streams, American hard rock experts THROW THE FIGHT has already developed impressive numbers throughout their band history. Three years after the release of their latest album 'Settle Your Sins' the band marks their return with the full-length 'Strangeworld', out June 30th via Long Branch Records. Produced by Josh Gilbert and Joseph McQueen (As I Lay Dying, Bad Wolves, Light The Torch, Upon A Burning Body), the record is a potent distillation of the strengths of their catalog and a huge step forward to the future.

Today, the band released their new track, "Lost Without You", alongside a brand new video – marking the fourth and final single before their new album 'Strangeworld' is being released on June 30th.

"'Lost Without You' was written after losing a loved one and watching family emotions during the grieving period," comments singer Kade Katz.

Stream 'Lost Without You' and pre-order the new album HERE

With a diehard audience earned the old-school way and modern rock anthems suited for the digital age, THROW THE FIGHT celebrates two decades of passion and perseverance. Mixing soaring melodicism and heavy bombast without ever sacrificing hooks, the Minnesota outfit was built to last.

Watch the Video for "Lost Without You" HERE
'Strangeworld' Track List:
2 Obey
4 Sorry, Not Sorry
6 Shadow Self
7 Lost in the Lies
8 Snake Mountain
9 Wake up!
'Strangeworld' will be released in the following formats:
=> LP Edition incl. transparent vinyl with blue streaks
=> CD Edition, Stream and Download
=> Exclusive T-Shirt+CD/LP Bundles are available for pre-order at the Long Branch Records Shop
Tours with Bullet For My Valentine, Black Veil Brides, and All That Remains; shows with Avenged Sevenfold, Papa Roach, and Red Jumpsuit Apparatus; festival appearances and headlining gigs introduced audiences to the power of the band's sound as it evolved across four albums.
THROW THE FIGHT Live 2023:
25/06 US, Clear Lake / IA – Surf Ballroom & Museum /w Candlebox
30/06 US, St. Paul/MN – Amsterdam Bar & Hall
01/07 US, Sioux Falls / SD – Bigs Bar
02/07 US, Council Bluffs / IA – Maloney's Irish Pub
07/07 US, Des Moines / IA – Lefty's Live Music
08/07 US, Janesville / WI – The Back Bar /w Gemini Syndrome
09/07 US, Madison/WI – High Noon Saloon
THROW THE FIGHT are:

Kade Kastelitz – Vocals

Ryan Baustert – Guitar/Vocals

Kris Weiser – Guitar

Jeff Baustert – Drums