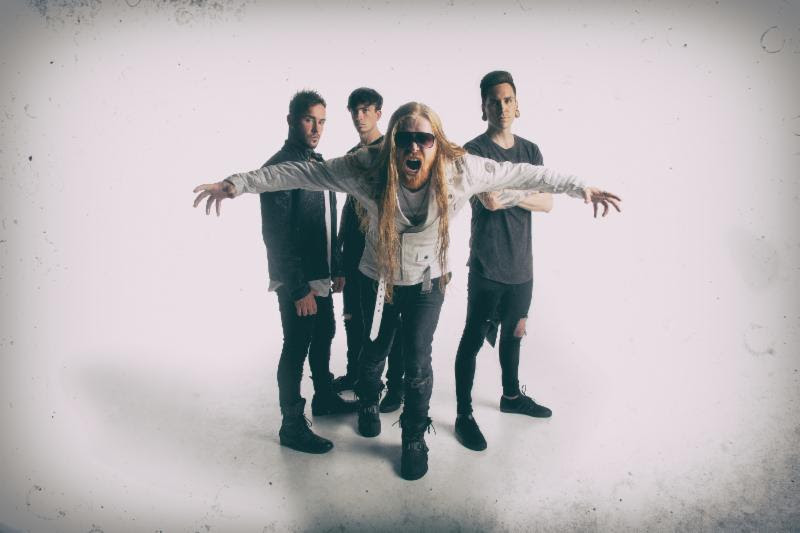 Brand New Album
'ALL ANIMAL'
Set For Release On
July 19th Via Sumerian Records
Band To Hit The Road This Summer On The 'Firestorm Tour'
with Co-Headliners Like A Storm
And Special Guests Wilson and Stitched Up Heart
Wednesday June 5th 2019 : Omaha based hard rock quartet, Through Fire, have today announced the release date for their second studio album. Titled 'All Animal', the 11 track rager will be dropping on July 19th via Sumerian Records. Pre-order bundles are available now from
ThroughFireMusic.com
Fans who pre-order the album on iTunes will instantly receive the band's most recent single, the title track from 'All Animal' which premiered exclusively on SiriusXM Octane last month to much excitement from fans.
With their debut album 'Breathe' released via Sumerian Records, Through Fire have racked up an impressive 22 million streams and 48 million YouTube views. Their first single 'Stronger' spent 26 weeks on the charts and reached #1 on iTunes. It also held the #1 spot on Sirius XM Octane for 5 consecutive weeks, placing them in the #3 spot overall for the year right behind Metallica and Highly Suspect (also winning them the Breakout Artist of the Year Award).Following that, Through Fire landed a top 10 single at rock radio with their contagious smash hit 'Breathe'. The band's third single, 'Where You Lie' continued to take them to new heights being the #1 most added song in the country at rock radio in it's first week.
'All Animal', the band's highly anticipated sophomore album was produced by guitarist/songwriter Justin McCain. Speaking on his band's latest body of work, McCain says:
"We couldn't be more excited to start this album cycle! There was no stone left unturned in making this album and we can't wait for the world to hear it!
We're so grateful for all the love and support from our fans, radio, promoters, venues, press outlets as well as our incredible team at Sumerian Records, FM Music Management, AGI, PRS Guitars, Sinister Guitar Picks and Cleartone Strings. A huge thanks is owed to everyone."
Through Fire

'All Animal' Track Listing

1. All Animal

2. Medicine

3. Sick And Tired

4. Listen To Your Heart

5. Superhero

6. Die Sober

7. Doubt

8. Breaking Point

9. If You Love Me, Leave Me

10. My Son

11. Wake The Dead
Through Fire have also announced that they will be hitting the road with Like A Storm, Wilson and Stitched Up Heart this summer on the Firestorm Tour. The 23 date tour starts July 12th at the Rock-Fest Kickoff Party in Neilsville, WI and finishes in Lincoln, NE on August 10th. Full dates below. Tickets available from
ThroughFireMusic.com
FIRESTORM TOUR 2019

W/ Like A Storm, Wilson and Stitched Up Heart

7/12 – Neillsville, WI @ 105.7 Rock-Fest Kickoff Party

7/13 – Racine, WI @ Route 20

7/14 – Belvidere, IL @ The Apollo Theater

7/15 – Madison, WI @ The Annex

7/17 – Joliet, IL @ The Forge

7/18 – Angola, IN @ The Electic Room

7/19 – Harrison, OH @ The Blue Note

7/20 – Flint, MI @ The Machine Shop

7/21 – Toledo, OH @ Civic Music Hall

7/24 – Pittsburgh, PA @ Crafthouse

7/25 – Halethorpe, MD @ Fish Head Cantina

7/26 – Lancaster, PA @ Chameleon Club

7/27 – Jacksonville, NC @ The Tarheel Concert Lounge

7/28 – Charlotte, NC @ Amos Southend

7/30 – Dallas, TX @ Gas Monkey Bar N' Grill

7/31 – Austin, TX @ Empire Control Room & Garage

8/02 – Tempe, AZ @ The Marquee

8/03 – Las Vegas, NV @ Count's Vamp'd

8/04 – Salt Lake City, UT @ The Complex

80/6 – Colorado Springs, CO @ The Black Sheep

8/07 – Denver, CO @ The Oriental Theater

8/09 – Sioux City, IA @ Anthem at Hard Rock Hotel & Casino

8/10 – Lincoln, NE @ The Royal Grove