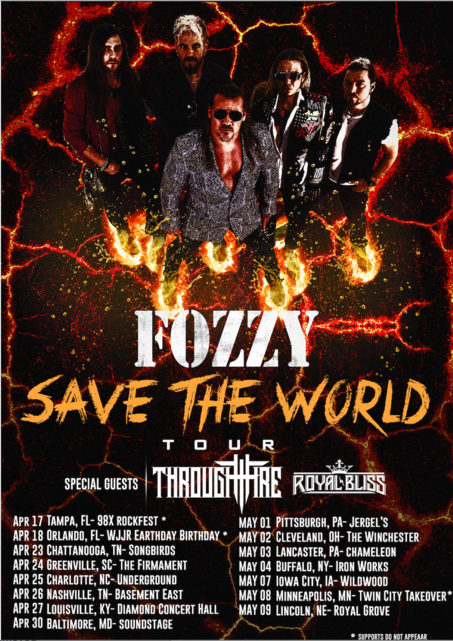 Speaking on their cover of 'Listen To Your Heart' and the enormous impact Marie had on millions of music fans around the world, Through Fire have released the below statement
"Roxette's music has served as a soundtrack and inspiration for so many people. When recording our new album earlier this year, we decided to cover their classic "Listen to Your Heart". We always intended on the song being our second single, so went to L.A. several months ago to shoot the music video.
"We were so excited to pay tribute and honor a legendary artist who had such a positive impact on us. We released the video on Monday morning, Dec 9th. However, the next day we were absolutely shocked and saddened to hear the news of Marie passing from cancer just hours after our video was released.
We're so incredibly sorry about the loss of such a music icon, our deepest condolences go out to her family, friends and fans around the world. Marie's music is timeless and her memory will live forever."
Between their debut album 'Breathe' and their sophomore album 'All Animal' both released via Sumerian Records, Through Fire have racked up an impressive 105 million streams and 62 million YouTube views. Their first single 'Stronger' spent 26 weeks on the charts and reached #1 on iTunes. It also held the #1 spot on Sirius XM Octane for 5 consecutive weeks, placing them in the #3 spot overall for the year right behind Metallica and Highly Suspect (also winning them the Breakout Artist of the Year Award). Following that, Through Fire landed a top 10 single at rock radio with their contagious smash hit 'Breathe'. The band's third single, 'Where You Lie' continued to take them to new heights being the #1 most added song in the country at rock radio in its first week.
'All Animal', the band's highly anticipated sophomore album was produced by guitarist/songwriter Justin McCain. The title track single 'All Animal' was #1 on SiriusXM Octane Big Uns' Countdown for 2 consecutive weeks and spent 18 weeks on the Billboard rock radio charts.
The band will hit the road for 12 US shows with Fozzy in April/May of next year. The tour will start in Chattanooga, TN on April 23rd and culminating in Lawrence, KS on May 10th. Tickets will go on sale on Friday from
ThroughFiremusic.com
Full dates line up as follows:
Thu 23 Apr Chattanooga, TN Songbirds
Fri 24 Apr Greenville, SC, The Firmament
Sat 25 Apr, Charlotte, NC, Underground
Sun 26 Apr, Nashville, TN, The Basement East
Mon 27 Apr, Louisville, KY, Diamond Concert Hall
Thu 30 Apr, Baltimore, MD, Soundstage
Fri 01 May, Pittsburgh, PA, Jergel's
Sat 02 May, Cleveland, OH, The Winchester
Sun 03 May, Lancaster, PA, Chameleon Club
Mon 04 May, Buffalo, NY Iron Works
Thu 07 May, Iowa City, IA Wildwood
Sat 09 May, Lincoln, NE, The Royal Grove
What The Press Are Saying
"A band with talent and strong songwriting ability."
Cryptic Rock
"Hard rock fans will lap this up this efficiently high-impact and unapologetic collection from Through Fire from the word go."
Already Heard
"Hard rock should exist outside of the system. It should break the mold. It should burn through expectations. Through Fire most certainly does."
Down The Front Media