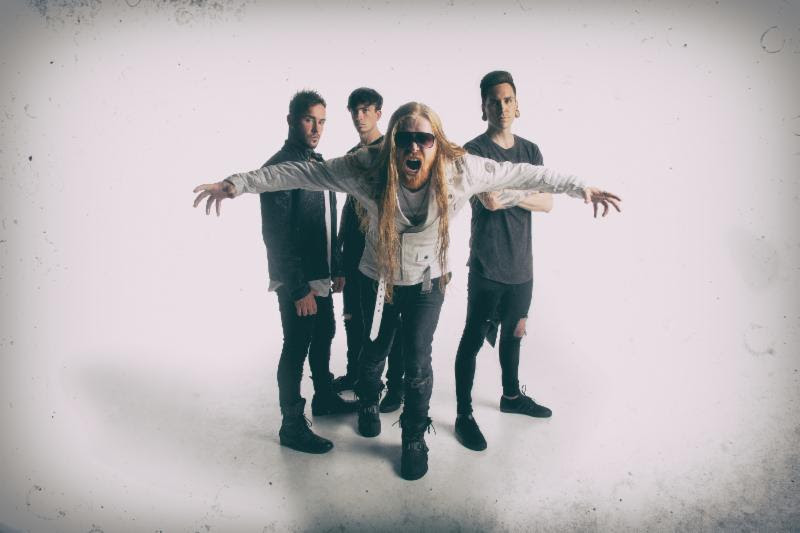 Monday, December 9th, 2019: Omaha based hard rock quartet, Through Fire, have released a brand new music video for their take on Roxette's 1989 mega-hit, 'Listen To Your Heart'. Find the track on your streaming platform of choice
here
and watch the video below.
'Listen To Your Heart' follows 'All Animal', the first single released from their most recent album of the same name. Speaking on the new track, guitarist Justin McCain says
"We're so pumped about this song and video! It was such an amazing experience putting our own twist on such a timeless classic! Listen To Your Heart is a song that has and will continue to resonate with so many people!"
Between their debut album 'Breathe' and their sophomore album 'All Animal' both released via Sumerian Records, Through Fire have racked up an impressive 105 million streams and 62 million YouTube views. Their first single 'Stronger' spent 26 weeks on the charts and reached #1 on iTunes. It also held the #1 spot on Sirius XM Octane for 5 consecutive weeks, placing them in the #3 spot overall for the year right behind Metallica and Highly Suspect (also winning them the Breakout Artist of the Year Award). Following that, Through Fire landed a top 10 single at rock radio with their contagious smash hit 'Breathe'. The band's third single, 'Where You Lie' continued to take them to new heights being the #1 most added song in the country at rock radio in its first week.
'All Animal', the band's highly anticipated sophomore album was produced by guitarist/songwriter Justin McCain. The title track single 'All Animal' was #1 on SiriusXM Octane Big Uns' Countdown for 2 consecutive weeks and spent 18 weeks on the Billboard rock radio charts.
The band is currently on their 'Holiday Havoc' Tour with Brkn Love, Saul and Dead Posey. Tickets are available from
ThroughFireMusic.com
Through Fire
Holiday Havok Tour
12/05 – Chippewa Falls, WI @ Every Buddy's Bar
12/06 – Belvidere, IL @ The Apollo Theater
12/07 – Racine, WI @ Route 20
12/08 – Cincinnati, OH @ Riverfront Live
12/10 – Heath, OH @ Muddy Creek Saloon
12/11 – Flint, MI @ The Machine Shop
12/12 – Joliet, IL @ The Forge
12/13 – Madison, WI @ The Annex
12/14 – Springfield, IL @ Boondocks
12/15 – Waterloo, IA @ Spicoli's
What The Press Are Saying
"A band with talent and strong songwriting ability."
Cryptic Rock
"Hard rock fans will lap this up this efficiently high-impact and unapologetic collection from Through Fire from the word go."
Already Heard
"Hard rock should exist outside of the system. It should break the mold. It should burn through expectations. Through Fire most certainly does."
Down The Front Media