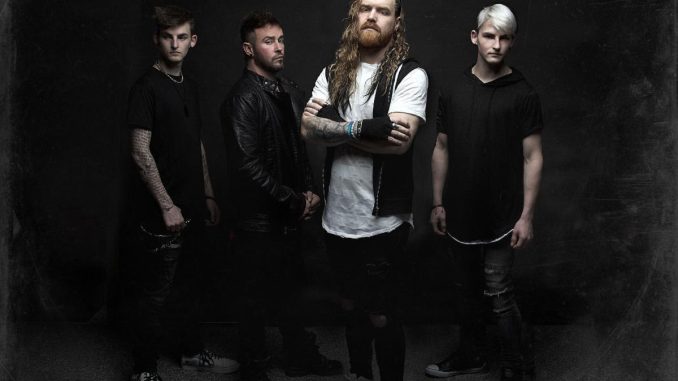 Through Fire
Release Their New Album
'Devil's Got You Dreamin'
via Sumerian Records
Listen HERE
Unveil New Single + Music Video
"The Road"
Watch HERE
See Them On The Confessions Anniversary Tour Next Month
With Ill Niño + Dropout Kings
Ticket Info HERE
Photo Credit – Christopher Tierney
Friday, April 21, 2023 – Release day is upon us, and Through Fire has unleashed their new album 'Devil's Got You Dreamin' (out via Sumerian Records). In celebration of today's news, the band has released a new single and music video for their track "The Road" from the new full-length release. Speaking on the inspiration behind the track, guitarist Justin McCain shared:
"The hardest thing about being on the road is missing my family. I wrote this whole song on the way to the studio thinking about them, thinking about touring, thinking about home."
Leading up to today, Through Fire has released music videos and visualizers for "Karma Kills", "Lose It", "Devolution", and "Over The Influence" which have altogether amassed nearly 1.1 million views on YouTube. Stream 'Devil's Got You Dreamin' here and watch the music video for "The Road" in the thumbnail below.
WATCH: Through Fire's New Music Video For "The Road"
DEVIL'S GOT YOU DREAMIN'

Through Fire

Track Listing:

1. Karma Kills

2. Dead Winter

3. Wake Up

4. Lose It

5. Heal Your Wounds

6. For The Last Time

7. Prevail

9. Devolution

10. Blindsided

11. Straightjacket

12. Satellites

13. The Road
Fans can see Through Fire hit the stage on the Anniversary Confessions Tour with Ill Niño and Dropout Kings in a couple of weeks. For ticket information, please click here.
Confessions Anniversary Tour Dates

5/4 – Jacksonville, NC - Hooligans

5/5 – Winchester, VA - Blue Fox Billiards

5/6 – Sayreville, NJ - Starland Ballroom

5/7 – Horseheads, NY - The L

5/9 – Mechanicsburg, PA – Lovedrafts

5/10 – Pittsburgh, PA - Crafthouse

5/11 – Lakewood, OH - Winchester Tavern

5/12 – Flint, MI - Machine Shop

5/13 – Angola, IN - Eclectic Room

5/14 – Joliet, IL - The Forge

5/16 – Bloomington, IL

5/17 – Belvidere, IL - The Apollo Theater

5/18 – Omaha, NE - Waiting Room

5/19 – Sioux Falls, SD - Bigs Bar

5/20 – Billings, MT - Pub Station

5/21 – Great Falls, MT - The Newberry

5/23 – Denver, CO – Marquis Theater

5/24 – Colorado Springs, CO - Sunshine Studios

5/25 – Grand Junction, CO - Mesa Theater

5/26 – Phoenix, AZ - Rebel Lounge

5/27 – El Paso, TX – Rockhouse

5/30 – Lubbock, TX - Jakes

5/31 – Corpus Christi, TX - House Of Rock

6/1 – Houston, TX - Warehouse Live

6/2 – San Antonio, TX - The Rock Box

6/3 – Fort Worth, TX - Rail Club

6/4 – Tyler, TX - Country River Club
ABOUT THROUGH FIRE:
Hard rock should exist outside of the system. It should break the mold. It should burn through expectations. Through Fire most certainly does. The Omaha, NE quartet—Justin McCain [lead guitar & songwriter], Grant Joshua Kendrick [lead vocals], Tyler Halverson [bass], and Zack Halverson [drums]—fuses hard-hitting riffs, lyrics that truly resonate and contagious melodies that are unforgettable. As a result, this impactful, immediate, and infectious fusion defies categorization and incites energy as boundless as the style itself. Additionally, the approach transformed the quartet into a phenomenon with chart-topping radio successes and over 275 million streams worldwide.
Now, the same fire fuels the band's third full-length for Sumerian Records. "This album takes you on a roller coaster ride of emotions". We've all been through the fiery trials of life, this album aims to empower us all to get up out of the pit of despair and be victorious over our difficult circumstances. "Recording these songs was truly therapeutic, going in the studio to unleash every raw, honest feeling imaginable while enduring the heat of life's flames and heartache was powerful. This album brought us healing and we know from experience, we can all rise above whatever life throws our way."