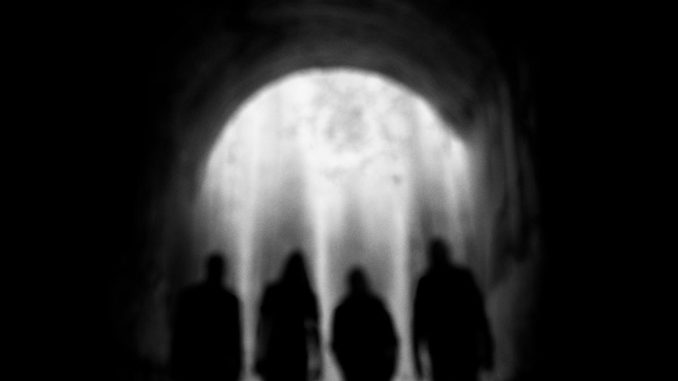 Out October 27th — Pre-Order HERE
Share New Single, "Heaven Hanged",
+ Music Video — Watch HERE
For 14 years THROAT have been the sonic equivalent of forcing a square peg into a round hole – often abrasive and causing maximum irritation at times.

The peg now fits. 'We Must Leave You' sees THROAT dropping pegs of all shapes and size through the same hole. Leaving the last confines of musical genres behind them, the resulting album can be regarded as the easiest listening THROAT has ever presented or, simultaneously, their most difficult and puzzling work to date. It is for the listener to decide…

THROAT comment on the album's theme and dark, first single:

"Bring back lockdown. Bring back isolation. 'Heaven Hanged' sums up these sentiments that are some of the key elements on 'We Must Leave You'. We're breaking up with the world. It's not us, it's you. No, we can't stay friends.

"Musically, 'Heaven Hanged' offers a glimpse of the album going from morose and goth-tinged to more hysterical dark rock ruckus. Our intention has never been to keep treading the same tracks, so the direction of progress evident on the last few releases has brought us to 'We Must Leave You'."

Check out the first single off the album, "Heaven Hanged"

and its accompanying music video, HERE
Thematically what we have here is a breakup album. Never ones for thinking small, THROAT breaks up with the world. Enough is enough. Bring back lockdown. No need for petty social commentary on how the world is burning. Let it burn. THROAT is already walking away and it remains to be seen where they end up next. If anywhere.

Breakups always require dramatic music and 'We Must Leave You' more than fits the purpose. THROAT have already hinted at new directions and new sounds on their previous two albums, but here it all breaks loose. Rooted in the same heavy, dark rock sound as before, but with a touch of 80s gothic drama injected in their sonic palette which obviously means a few deeper shades of black. The noise and dissonance remains, but this time it is dipped in honey and black grease paint.

'We Must Leave You' was written over a few years time and finally recorded in 2023 at Tonehaven Recording Studio with Tom Brooke and the band's own Amplified Human Audio. Once again, Andrew Schneider mixed the album at Acre Audio and Carl Saff handled mastering duties at Saff Mastering.

Photography by Dorota Brzezicka and design by Stefan Alt of Ant-Zen.