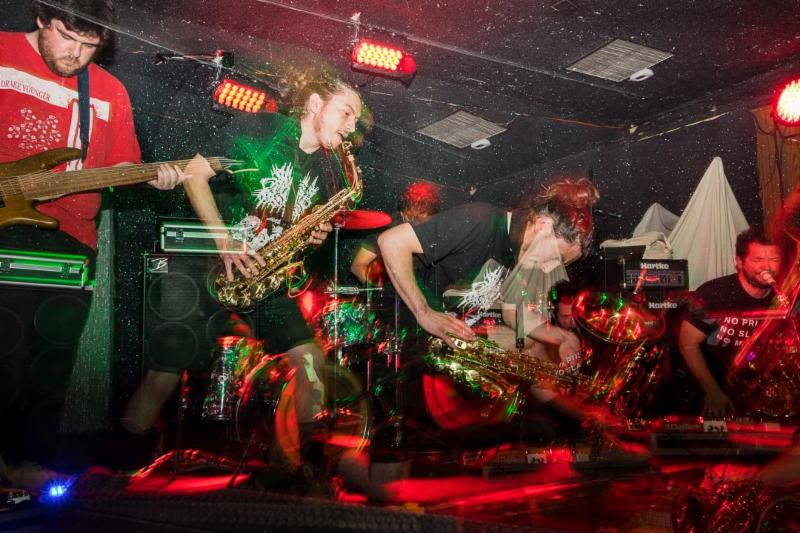 [photo by Francesca De Franceschi Manzoni]
This Friday, Nefarious Industries will unleash Calling Whitetails To A Tuned Bow, the new album from San Diego's THOSE DARN GNOMES. The collective's unhinged, unpredictable, and utterly explosive blend of free-jazz, noise, metal, and musical experimentation pushes the boundaries of sanity and safety through every minute of the new release. Toilet Ov Hell is now hosting a stream of the album in its stupefying entirety ahead of its release.
With four tracks in forty minutes, Calling Whitetails To A Tuned Bow is one of the most intriguing, challenging, genre-defiant, and off-the-chain albums of the year. Fans of Naked City, Ornette Coleman, Fantômas, Zu, Boredoms, Oxbow, Merzbow, Ruins, other boundary-bulldozing extreme music icons, THOSE DARN GNOMES should be the next thing you check out.
Writes Toilet Ov Hell with their advance stream of the album, "Since THOSE DARN GNOMES first album The Years back in 2015, I've listened to each new release with equal parts curiosity and bedevilment. Nothing about this band is easy. And yet, Assembling Calling Whitetails To A Tuned Bow is somehow the band's most ambitious and accessible work to date. Amid the weirdo jazz and noise, you'll find yourself keyed in on haunting passages…"
Stream THOSE DARN GNOMES' Calling Whitetails To A Tuned Bow via Toilet Ov Hell
RIGHT HERE
.
Nefarious Industries will release
Calling Whitetails To A Tuned Bow
on all digital platforms and eco-wallet CD this Friday, June 28th. Find preorders at the label webshop
HERE
and Bandcamp
HERE
.
Watch for new videos from the album to be released shortly.
Following their release show for the album and a West Coast tour with labelmates Fuck Your Birthday in recent weeks, THOSE DARN GNOMES continues to play with savage frequency across their home state, with additional widespread tour plans to be announced.
THOSE DARN GNOMES Tour Dates:
6/29/2019 UC San Diego – San Diego, CA
Calling Whitetails To A Tuned Bow is THOSE DARN GNOMES' first release for Nefarious Industries and sees a further expansion and refinement of the band's sprawling, genre-defying sound. Here, the group explores the outer reaches of progressive metal, free improvisation, and avant-garde sound design through the incorporation of algorithmic compositional techniques derived from mold cultivation, homemade instruments, and a greater focus on abrasive weirdness. The album captures the intense, antagonistic, and damaging sound that has become the live THOSE DARN GNOMES experience, particularly with the new lineup comprised of Christian Molenaar (voice, electronics), Noah Souza (saxophone), Jonathan Piper (tuba), Joe Molenaar (bass), Russell Case (tenor guitar), and Nathan Hubbard (drums).
While the lineup of THOSE DARN GNOMES has since shifted, Calling Whitetails To A Tuned Bow was performed and self-recorded at Apollo's Crotch by then core members Mark Steuer, Christian Molenaar, Russell Case, and Bryon Wojciechowski, who collectively deliver a crushingly odd blend of instruments. A throng of guest musicians provides a barrage of additional instrumentation, coalescing in a demented layering of guitars, bass, drums, percussion, power electronics, brass and woodwind instruments, an array of stringed instruments, keys, and more. The album's cover collage was created by Robert Khasho, visually depicting the abstract dementia of the album.
For review copies of
Calling Whitetails To A Tuned Bow
and all interviews/coverage requests for
THOSE DARN GNOMES
contact
dave@earsplitcompound.com
.