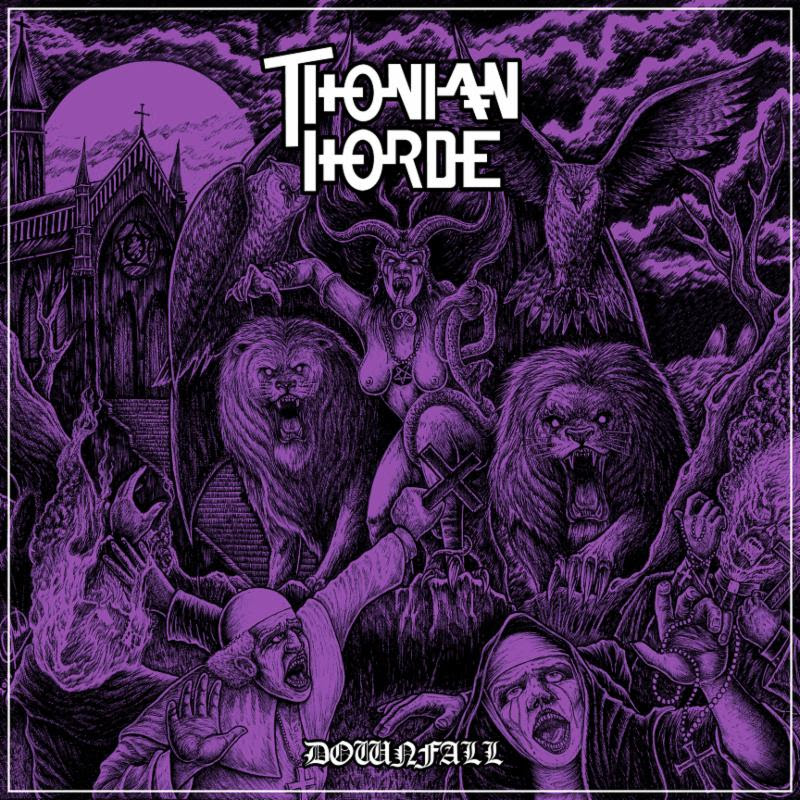 Grimoire Records is preparing for the May release of Downfall, the caustic new album by blackened Maryland outfit THONIAN HORDE, founded by a crew of scene veterans who also play with the likes of Admiral Browning, Pale Divine, Faith In Jane, Weed Is Weed, Bailjack, and others. With its street date approaching in the weeks ahead, a new single has been issued through underground metal portal No Clean Singing, who is hosting an exclusive stream of the album's "Cathedral Spires."
THONIAN HORDE's Downfall,the band's third album since their 2016 formation, features ten new tracks of thrashy, blackened rock/metal. As with their prior album, Inconnu, the tracking for Downfall was done mostly live in the Grimoire Studio with label head Noel Mueller, with minimal overdubbing. The cover art was provided by Gilbert Miranda for Lingua Mortis Artwork, and the CD layout was finished by Mueller. On Downfall, fans of Immortal, Satyricon, and Dissection, as well as the stoner/doom throngs who frequent the members' other projects, will all find something to sink their teeth into.
No Clean Singing writes of the "Cathedral Spires" single, "Deep, dismal, cruel guitar vibrations launch the track, joined by truly scalding shrieks and big fanfare-like blasts of sound and a romping, neck-cracking drum gallop. Boiling but glorious leads add to the music's building atmosphere of menacing majesty, while bursts of blast-beat fury and vicious, swarming chords enhance the song's air of ferocity. About three minutes in, a brain-searing solo becomes the prelude to a jolting, neck-wrecking riff, which becomes the foundation for an even more extravagant solo, a piece of fireball lunacy that rockets the song into a stratospheric finale."
Stream THONIAN HORDE's "Downfall" only at No Clean Singing
RIGHT HERE
.
Downfall
will be released via limited edition CD and digital download on May 24th through Grimoire Records. Preorders can be placed
HERE
.
Watch for new audio samples, live performances, and more to be announced over the weeks ahead.
THONIAN HORDE formed in 2016 in the backwoods of Boonesboro, Maryland by bassist/vocalist Ron "Fezz" McGinnis (Pale Divine, Admiral Browning), guitarists Darren "Dirty" Waters (Weed Is Weed) and Dan "D-Mize" Mize (Faith In Jane), and drummer Tyler "The Beast" Lee (Weed Is Weed). As a self-described "black & roll" outfit, the band seamlessly blends stoner rock grooves with scathing vocals ripped straight from the frostbitten black metal tundra, but what sets them apart from their peers is the highly acrobatic death metal drum work perforating the mix. Since recording their second album, Inconnu, with Grimoire Records in 2017, the band has spent little idle time in the intervening years.