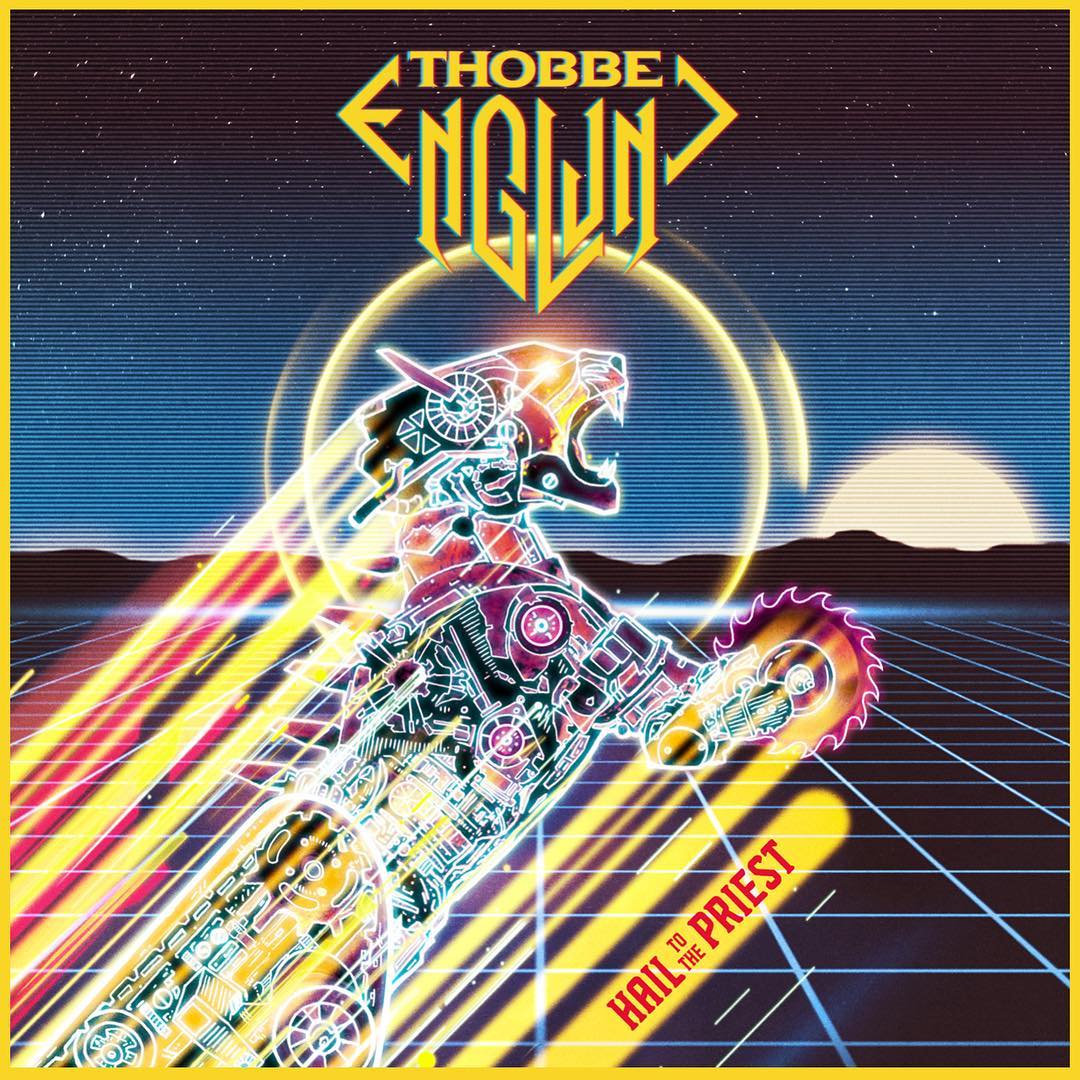 The long summer days in Sweden lend themselves to many activities. Grills run on overtime cooking food for the descendants of the great Vikings, which opens the doors for Alcoholic beverages to be shared. This translates to lots of music to be played during the feasts. What do the modern-day Vikings play; well metal of course. Metal may not be Sweden's official genre of music but it ranks towards the top. Who do the Swedes play while enjoying the spoils of life? There are the Swedish staples like Europe and Sabaton, or maybe some British Metal like Saxon or Judas Priest.
What if you could have both? I introduce you to the latest release from former Sabaton guitarist Thobbe Englund. This guitar virtuoso has taken some of his favorite Judas Priest tracks and given them his own spin and put them all together on Hail to the Priest. The first thing you will notice on Hail to the Priest is the album artwork. It has a very Priest like feel to it. It was created by Thobbe's former Sabaton bandmate Chris Rörland.
Opening right up into Hail to the Priest is Judas Priest's classic "The Sentinel" from Defenders of the Faith. It would be fair to say that no one is going to ever match the intensity of the Metal God's voice, and Englund seems to know his limits and matches where he can but puts his own spin on things in other spots. This is what makes the cover of this song so great. It is not a direct repeat of the classic but instead an artist's interpretation.
As the album continues it dives into a true Priest classic, "The Ripper." Again, Englund never tries to mimic Halford but instead puts his own spin on the legendary song and pulls it off amazingly. Hail to the Priest transitions into "Reckless" from Turbo. This song was never a hit but an amazing song both vocally and musically and Englund nails it. For true metalheads out there, Englund dives into a less known era of Halford's carrier. After leaving Judas Priest in 1992, Halford formed Fight. They released War of Words in 1993. From that album came "Immortal Sin," which brings us back to 2019 and Englund's amazing interpretation of this dark and melodic track.
Hail to the Priest continues with "Hellbent for Leather" and "Burn in Hell." Englund knocks them both out of the park. Desert Plains is not one of my favorite Priest tracks but from a musician's standpoint, I can see its draw. The guitar work is classic Priest. After hearing Englund revision this track I have a new appreciation for it and it's complexities. Englund then tackles "Blood Red Skies" from Ram it Down. This is not an easy song but Englund makes it sound amazing. Englund then conquers one of the strongest tracks in Priest's catalog, "Between the Hammer and the Anvil." Painkiller is an album that most should not venture to cover, Englund has already proved he is up to the challenge as he sang vocals on "All Guns Blazing" with Joakim Brodén on Sabaton's 2016 The Last Stand. His version of, "Between the Hammer and the Anvil" is spot on and deserves major kudos.
The climax of Hail to the Priest comes at track ten. This is not a Judas Priest track but again a Fight song. If you want to hear Thobbe Englund at his best "Into the Pit" is that song. Possessions like screams combined with the signature guitar we expect from Thobbe make this the perfect homage to The Metal God. If you were looking for a reason to add this album to your catalog, if the other songs weren't enough, this will seal the deal.
Thobbe slows the tempo down with "Before the Dawn." The track reveals a very harmonious side of Thobbe's musical abilities. Hail to the Priestcloses with "I am a Rocker." It is a fitting way to end the homage to the mighty Judas Priest.
If you are a fan of Thobbe Englund and his work with Sabaton you will know that Thobbe and Sabaton were very influenced by Judas Priest. The best part of this album is that not all the songs are the hits you remember from Judas Priest. Some are deep cuts that inspired Thobbe to become a musician. These are the songs that influenced him and you can see why and what he has done with them to make them his own. I encourage you to check out Hail to the Priestby Thobbe Englund. It will see its release on August 2, 2019, via Metalville Records. Check out Thobbe on social media also: