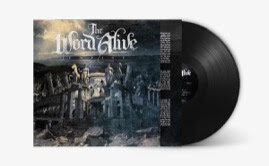 Click here to download cover art and product shot
Click here to pre-order or stream Empire
Craft Recordings
is pleased to announce the first-ever vinyl edition of The Word Alive's debut EP
Empire
. Originally released in 2009, the six-track set from Phoenix, AZ's The Word Alive turns 10 this year. This reissue will be available August 2 and includes fan favorites such as "Battle Royale," "Quit While You're Ahead," and "Casanova Rodeo."
Empire
highlights the singular sound the band has maintained for over a decade. It's considered to be one of the definitive debut works in the modern post-hardcore genre. The EP was met with critical acclaim upon its initial release, with SputnikMusic stating the band "intends on being the emperors and have set the bar for how a post-hardcore band should sound."
Since the beginning, The Word Alive have steadily maintained a course towards the forefront of alternative music and continue the upward trajectory with each album they release. With
Empire
, the Phoenix-based band—Tyler "Telle" Smith [vocals], Zack Hansen [guitars], Tony Pizzuti [guitars], Matt Horn [drums] and Ryan Daminson [bass]— toss and turn between visceral metallic power and entrancing emotionality, encased in swathes of otherworldly electronics.
This first pressing also celebrates the 25th anniversary of their frontline label home
Fearless Records
. Every month on the 25th, Fearless will be releasing limited edition vinyl from current and alumni artists. Stay tuned for more #Fearless25th news including special vinyl releases, unique events, contests and more.
The Word Alive will be doing a full U.S. co-headling tour this summer with Miss May.
Click here
to view the full tour schedule.
Click here
to pre-order and stream
Empire
.
TRACK LISTING:
Side A:
"Battle Royale"
"Quit While You're Ahead"
"Casanova Rodeo"
Side B:
"The Only Rule Is That There Are No Rules"
"Inviting Eyes"
"How To Build An Empire"

ABOUT CRAFT RECORDINGS
Craft Recordings is home to one of the largest and most prestigious collections of master recordings and compositions in the world. Its rich and storied repertoire includes legendary artists such as Joan Baez, Ray Charles, John Coltrane, Creedence Clearwater Revival, Miles Davis, Bill Evans, Vince Guaraldi, John Lee Hooker, Little Richard, Nine Inch Nails, Thelonious Monk, Otis Redding, R.E.M. and Traveling Wilburys, to name just a few. Renowned imprints with catalogs issued under the Craft banner include Concord, Fania, Fantasy, Milestone, Musart, Nitro, Prestige, Riverside, Rounder, Specialty, Stax, Sugar Hill, Vanguard and Vee-Jay Records, among many others. Craft creates thoughtfully curated packages, with a meticulous devotion to quality and a commitment to preservation-ensuring that these recordings endure for new generations to discover. Craft Recordings is the catalog label team for Concord Music. For more info, visit CraftRecordings.com and follow on Facebook, Twitter, Instagram,YouTube, and Spotify.