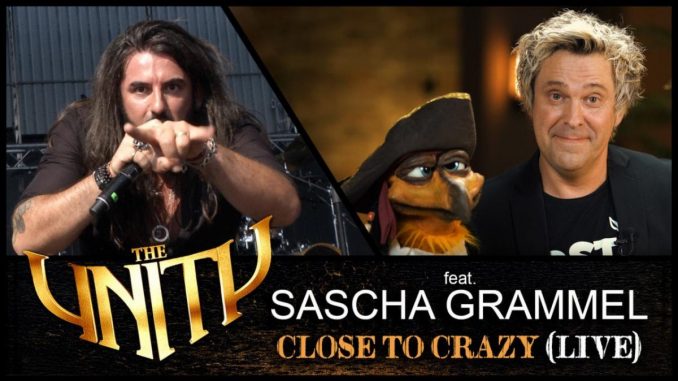 New Live Album 'The Devil You Know' Out November 12th!
Fans of the German puppet comedy superstar Sascha Grammel have known for a while now: The likable ventriloquist from Spandau and proud creator of puppets and audience favorites such as eagle pheasant Frederic Freiherr von Furchensumpf, turtle lady Josie or ecotrophologist Professor Dr. Peter Hacke, is always good for a surprise. Grammel swears by the music of German Metal band The Unity to motivate him during fitness workouts. Apparently, his favorite track to sweat, cycle, run and lift weights along is "Close To Crazy". But that`s not all! Grammel and his endearingly eccentric puppet flatmate now appear in The Unity's latest video – and you can see they're enjoying every second of it.
Referring to the unusual song title, Grammel`s alter ego Frederic quizzes his boss in the video intro: "Did you write this song?" And counters Grammel`s honest denial with, "But it would've been very fitting! You`re close to crazy too!"
"Close To Crazy (live)" is the forerunner to The Unity's new live album' The Devil You Know – Live, which is due for release by Steamhammer/SPV on November 12th, 2021, and includes recordings of concert highlights from their tours of Germany and several European countries between 2017 and 2020. The accompanying video shows The Unity as comrades in arms with the two Gamma Ray members Henjo Richter (guitar) and Michael Ehré (drums, Primal Fear), alongside bandmates Gianbattista Manenti (vocals), Stef E (guitar), Jogi Sweers (bass) and Sascha Onnen (keyboards) at the Masters Of Rock Festival in the Czech Republic, where the band, as always, managed to thrill fans and critics alike.
The band will also be back on stage for the big release party of The Devil You Know – Live on December 25th & 26th at the Jahnhalle in Nordenham, GER. Additional shows, festival appearances, and tours throughout Europe are also scheduled for 2022. And, who knows, you may even spot Sascha Grammel with his puppet family in the audience at one gig or another. Like all the best fans, they're close to crazy, after all.
WATCH: The Unity – "Close To Crazy (Live)" wsg. Sascha Grammel
Tracklisting:
01. Revenge 1:21
02. Last Betrayal 4:22
03. No Hero 6:00
04. No More Lies 5:11
05. Welcome Home 4:41
06. Firesign 5:47
07. The Storm 5:54
08. We Don´t Need Them Here 3:58
09. The Willow Tree 5:09
10. You Got Me Wrong 5:09
11. Close To Crazy 3:54
12. Never Forget 8:32
"The Devil You Know – Live" will be released on November 12th, 2021 through SPV/Steamhammer in the following configurations:
=> CD DigiPak
=> Download / Streaming
=> Exclusive CD Bundle with rare 7″ vinyl single only at the Steamhammer shop
For More Info Visit: