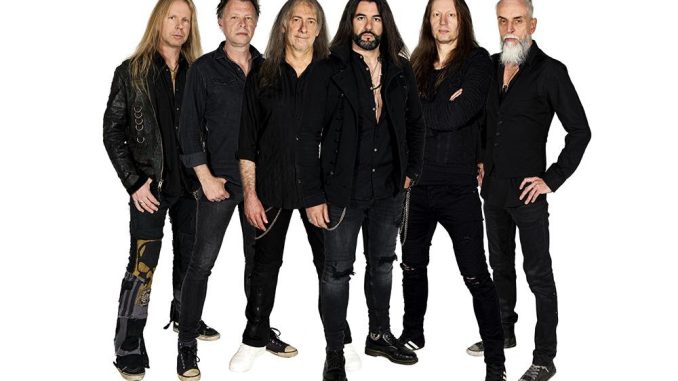 'The Hellish Joyride' Out August 25th | Pre-Order HERE
Tour with Primal Fear Starts in September!
Get ready for some hellish metal pleasure!
Presenting a more energy and diversity than ever before, THE UNITY proudly announce the release of their fifth album, 'The Hellish Joyride', due out August 25th. The album follows up their four successful albums – 'The Unity' (2017), 'Rise' (2018), 'Pride' (2020) and 'The Devil You Know – Live' (2021) – as well as European tours both headlining and alongside luminaries such as Sinner, Edguy, Axel Rudi Pell or Rhapsody Of Fire. The band has also had renowned performances at Masters Of Rock, the Knockout Festival, Metal-Fest and Bang Your Head,
"Our music has always featured a wide stylistic range, but 'The Hellish Joyride' stretches the boundaries of melodic power metal even further," explains Michael Ehré, referring to the album's twelve extremely diverse songs, which range from neck-breakingly fast-paced to groovingly cool to balladesque.
On top of that, the band's latest addition, Tobias "Eggi" Exxel (bass, Edguy), has brought fresh energy to the fold and unquestionably supports the sworn circle of Gamma Ray members Henjo Richter (guitar) and Michael Ehré (drums), vocalist Gianba Manenti, guitarist Stef and keyboardist Sascha Onnen.
The new album has been scheduled for release on Steamhammer/SPV on August 25th, 2023, and their European tour with Primal Fear is set to kick off just one week later.
The lead single, including a fun yet lavishly produced video clip, is entitled "Always Two Ways To Play" and will be out on July 14th, followed five weeks later by the second single "Saints And Sinners" on August 18th.
So let 'The Hellish Joyride' begin!
'The Hellish Joyride' Track List:
1. One World
2. Masterpiece
3. The Hellish Joyride
4. Only The Good Die Young
5. Saints And Sinners
6. Something Good
7. Always Two Ways To Play
8. Awakening
9. Golden Sun
10. Stay The Fool
11. Never Surrender
12. You're Not Forced To Stay
The new album 'The Hellish Joyride' will be released
on August 25th, 2023 in North America through
SPV/Steamhammer as Download & Stream
THE UNITY Live 2023/2024:
Festival:
08.09. DE-Sinntal – Sinner Rock Festival
With Primal Fear:
01.09. DE-Stuttgart – Im Wizemann
02.09. DE-Memmingen – Kaminwerk
03.09. DE-Naila – Frankenhalle
05.09. DE-Munich – Backstage Werk
06.09. DE-Bochum – Zeche
07.09. DE-Frankfurt – Batschkapp
09.09. CH-Sion – Le Port Franc
10.09. CH-Pratteln – Z7
Live 2024:
27.01. DE-Nordenham – Jahnhalle