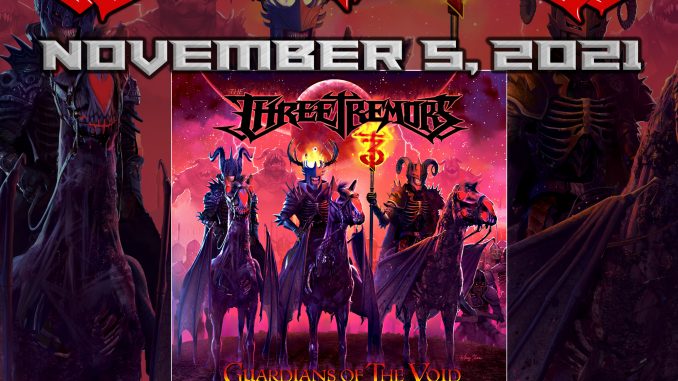 THE THREE TREMORS featuring vocalists Tim "Ripper" Owens (Judas Priest/KK's Priest), Harry "The Tyrant" Conklin (Jag Panzer/Satan's Host), and Sean "The Hell Destroyer" Peck (Cage/Death Dealer/Warrior/Denner Shermann) have released their second single from the GUARDIANS OF THE VOID album, CRUCIFIER.
Owens said "This is one of my favorite tracks on the record," while Peck added, "When the band wrote this song I knew we had a special track on our hands. It has a super haunting vibe and I love the chorus how it hits. I am sure my fellow metal heads will dig it like I do." Harry Conklin chimed in and said, "This was one I insisted we add to the live set. I can't wait to sing this with the band."
This haunting video captures the essence of the song which tells the tale of an avenging angel exiled on Earth and Hellbent on revenge!
Their sophomore effort has been garnering great reviews from the press and their North American tour supporting the GUARDIANS OF THE VOID album is about to hit!

The album will hit the streets Friday, Nov, 5th 2021 worldwide and will NOT be available on the streaming services.

Steel Cartel records releases the songs that go to video streaming platforms, relying on the hardcore fans to support heavy metal and the band by picking up a copy of the physical product.
The vinyl options include unique products like a limited edition variant cover art version and a virgin cover version devoid of logos and titles.
Confirmed November 2021 tour dates:
11/3 Wednesday Hamden, CT The Cellar
11/4 Thursday Clifton, NJ Dingbatz
11/5 Friday Pottstown, PA Rivet Canteen and Assembly
11/6 Saturday Long Island, NY Barnum Ballroom
11/7 Sunday Wilmington, DE Bar XIII
11/10 Wednesday Brooklyn, NY Arrogant Swine
11/11 Thursday Scranton, PA Stage West
11/12 Friday Rochester, NY Montage Music Hall
11/13 Saturday Erie, PA Philly On The Rocks
11/14 Sunday West Seneca NY 240 South Rocks Live
11/15 Monday Syracuse, NY Sharkey's
11/17 Wednesday Akron, OH Empire Concert Club
11/18 Thursday St Louis, MO 21 Rock
11/19 Friday Detroit, MI Token Lounge
11/20 Saturday Joliet, IL The Forge
11/21 Sunday Milwaukee, WI Club Garibaldi
11/23 Tuesday Minneapolis MN Cabooze
Crucifier