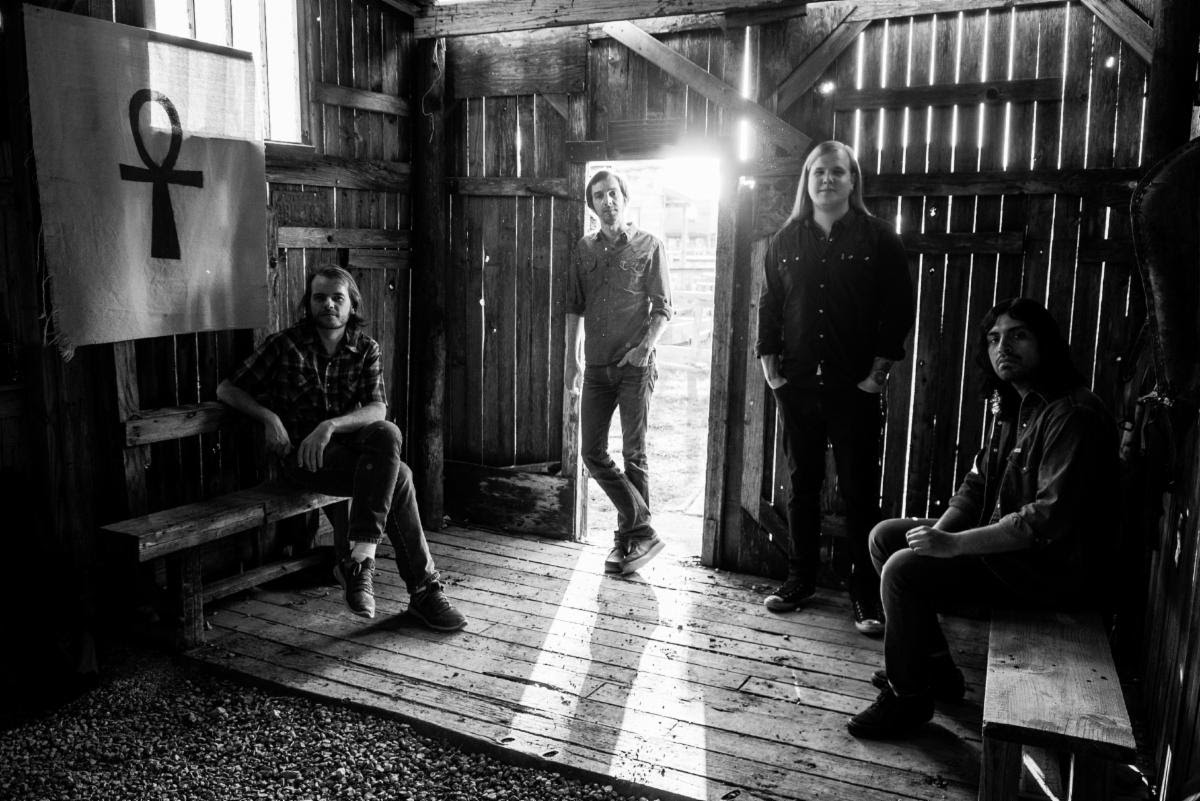 THE THREE-TRACK MINI SET WILL BE ROLLING OUT AS A WEEKLY SERIES, BEGINNING TODAY WITH
"CHILDREN OF THE REVOLUTION"
"Few modern-day metal bands can match the muscular riffing of the Austin, Texas quartet The Sword."
– Rolling Stone
Los Angeles (July, 23rd, 2020) – Austin, TX heavy riff masters, The Sword have released footage from their first live performance together since the band went on hiatus in 2018. The first track, taken from their virtual, lockdown jam session shows the band putting their own awesome, riff-heavy spin on the classic T-Rex classic, "Children of the Revolution", which premiered with
Consequence Of Sound
this morning and
can be found here
or by clicking the image below.
The Sword's triumphant live return from hiatus was scheduled to be with Primus this summer as part of their mammoth A Tribute To Kings US trek. But the pandemic had other plans. Not wishing to deprive fans of the live performances they've been waiting so long to see, The Sword got creative and so was birthed the Conquest Of Quarantine lockdown session.
Explains bassist Bryan Richie, "It was a lot of fun getting together with Kyle and Jimmy to record these tracks, and thanks to the miracles of modern technology we were able to lay down a wicked session with JD all the way from North Carolina. Crank this from the comforts of your couch, Conquest of Quarantine brought to you with minimal overdubs and maximum rocking."
Today's release of "Children Of the Revolution" will be followed by two further clips, each released a week apart, so be sure to keep it locked to their socials so you don't miss the full epic session or
subscribe at YouTube
.
Thankfully, fans will still be able to catch the The Sword in person with Primus on the rescheduled A Tribute To Kings tour in 2021, appearing for the dates listed below.
June 9 – Houston, Texas @ Revention Music Center*
June 11 – Irving, Texas @ The Pavilion at Toyota Music Factory*
June 12 – Austin, Texas @ ACL Live at The Moody Theater*
June 13 – New Orleans, La. @ Saenger Theatre*
June 15 – Orlando, Fla. @ Hard Rock Live*
June 16 – Atlanta, Ga. @ Coca-Cola Roxy*
June 20 – Charlotte, N.C. @ Charlotte Metro Credit Union Amphitheatre*
June 22 – Asheville, N.C. @ Exploreacheville.com Arena*
June 23 – Raleigh, N.C. @ Red Hat Amphitheater*
June 25 – Richmond, Va. @ Virginia Credit Union Live!*
June 26 – Baltimore, Md. @ MECU Pavilion*
June 27 – Pittsburgh, Pa. @ Stage AE*
June 29 – Essex Junction, Vt. @ Midway Law at Champlain Valley Expo*
July 1 – Westbrook, Maine @ Main Savings Pavilion at Rock Row*
July 2 – Wallingford, Ct. @ Oakdale Theatre*
July 5 – Lafayette, N.Y. @ Beak & Skiff Apple Orchards (no the Sword)
July 6 – Boston, Mass. @ Rockland Trust Bank Pavilion*
July 8 – New York, N.Y. @ Beacon Theatre*
July 9 – Asbury Park, N.J. @ The Stone Pony Summer Stage*
July 10 – Philadelphia, Pa. @ The Met*
July 13 – Toronto, Ont. @ RBC Echo Beach*
July 15 – Columbus, Ohio @ Express Live! Outdoor*
July 16 – Cleveland, Ohio @ Jacobs Pavilion at Nautica*
July 17 – Sterling Heights, Mich. @ Freedom Hill Amphitheatre*
July 19 – Cincinnati, Ohio @ PNC Pavilion*
The Sword's newly released compilations, Chronology: 2006 – 2018 and Conquest of Kingdoms each showcase the technically dazzling, riff-heavy and far-reaching metal that the band has been known for since forming 15 years ago.
Conquest of Kingdoms, an explosive three-disc vinyl collection of rarities and oddities, offers 30 tracks (16 previously unreleased) and is housed in a triple-gatefold package, including B-sides, oddities and live recordings of fan favorites like "Freya," "Iron Swan" and "Fire Lances of the Ancient Hyperzephyrians," as well as cover versions of "Immigrant Song" (Led Zeppelin), "Nasty Dogs and Funky Kings" (ZZ Top), "She" (KISS), "Forever My Queen" (Pentagram) and more. A truncated digital version is also be available.
Chronology: 2006–2018 is a three-disc CD compendium, which — in addition to the aforementioned rarities — also includes The Sword's greatest hits and fan favorites. Distilling the band's complete discography, this collection comprises 52 tracks (12 previously unreleased), including the studio recordings of "Freya," "Iron Swan," "Cloak of Feathers" and "Deadly Nightshade." The set also features expansive new liner notes with contributions from the band, plus Lars Ulrich (Metallica), Mark Morton (Lamb of God) and Neil Fallon (Clutch).