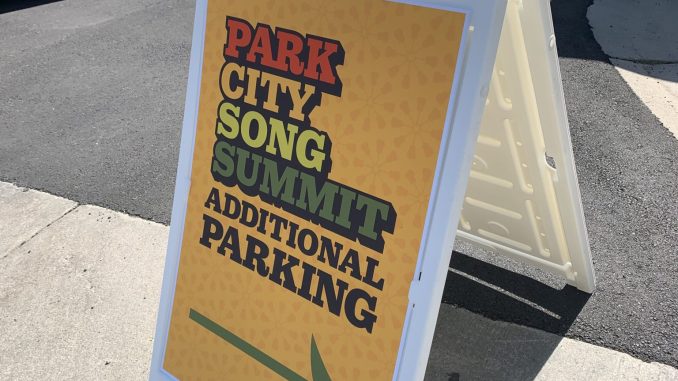 The Park City Song Summit is a one-of-a-kind music experience.
This year's three-day festival was a tapestry of events that encapsulated the magic in music and other arts, shared songwriting techniques, provided the strength of community in support of recovery from trauma or addiction, and pathways to anyone who dare chase their dreams. This warm blanket of experiences offered the chance for artist and festival-goers alike the chance to relax, recharge, and recover at the junction of Utah's Uinta and Wasatch mountains, and everyone left rejuvenated and inspired.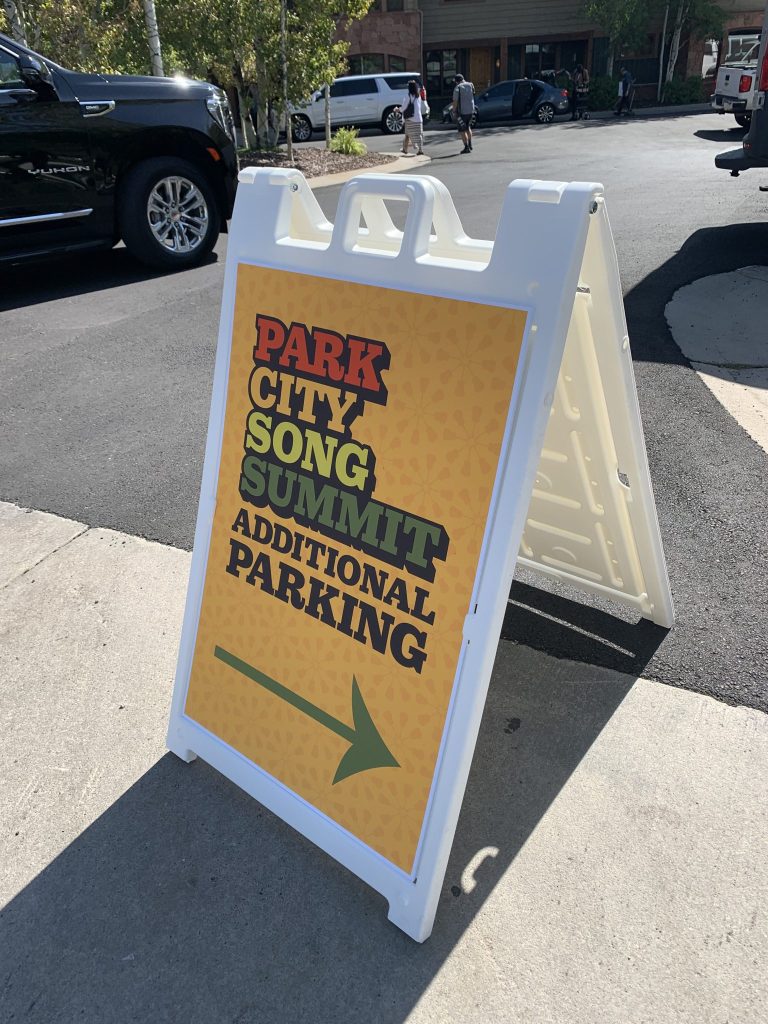 Throughout the festival, September 7-10th, attendees could choose from a few different daytime 'Labs' at The Lodges in Deer Valley. Each night there were several great performers to see down on Main Street. Nestled in the lushest green mountain tops, founder Ben Anderson was weaving the threads of recovery and music into these once-in-a lifetime adventures.
Only about 100 people attended the first Lab in the Acousterick tent called "That's the Way the World Goes 'Round", the entire discussion was about the love for John Prine and his songwriting. Warren Haynes, Jason Isbell and Margo Price were on the panel and all three considered Mr. Prine to be a close friend. Each artist told memories of listening to John for the first time, to when they first met and all the way to the close relationship they shared during his last years of life. Story gems where shared like when Roger Waters played one of his songs during the same night John was performing at Red Rocks, Waters felt so bad he flew directly to Red Rocks and apologized. We discovered that "Angel From Montgomery" was about Prine's mother, and that before a singer-songwriter, he had been a postman. Margo told us how he hated the tour bus and preferred to drive himself, he loved SNL with pizza and drinks, and had his worst review framed hanging over the toilet in his home. When the conversation shifted back to his songwriting, we find out that he never worried about fitting in, allowing him to write from the heart and have you laughing and crying at the same time. In the tent, we are about to tear up one minute and burst out in laughter the next.
Next was "Soulshine" in the Aspen tent, where Anthony Mason from CBS was interviewing Warren Haynes, introduced by Mason as the very definition of a guitar hero. "He can play and sing with anybody." First, they talked about the down-time during the pandemic and the opportunity it provided to do more writing. "I had no choice," Warren recounted. "I can't even remember the last time I had that much time off. He admitted that he also lost a bit of muscle memory, a situation that he'd never faced before. But out of those challenges came two new Gov't Mule albums. He shared some of the techniques he uses when the divine writing frenzy strikes, usually around 3am, when his mind is in that magical stream of consciousness between awake and asleep. Even in that state, it took him time to learn to not hurry. Establishing form and arrangement can't be rushed, and leaving enough room for a song to appear. He also talked about his time with the Allman Brothers, especially recalling the tragedy of losing bassist Allen Woodey. And he noted it was the ability of B.B. King and Bobby Ray to make their instruments sing to match their vocals that made them such important musical influences and heroes to him. In the lab discussion period at the end, a fan asked which musicians he would most like to collaborate with. "Neil Young, Tom Waits and Paul McCartney," were the ones he chose, and it was clear that the audience enjoyed the idea just as much. When I had a moment to chat with Warren before the photo and autograph line formed, I asked what he thought of Joe Bonamassa's cover of his, "If Heartaches Where Nickels". He said he loved it, adding that whenever someone covers his songs, he hopes they do whatever they want to and "run with it".
The next intimate discussion in the tent was with Rising Appalachia, a perfectly named sister duo. They are rising the area with their songwriting from the hollers of Kentucky and the monoculturalism in the South. These two soft-spoken but articulate siblings share their deep love for folk music, world music, and roots music with a whole lot of soul. Growing up, their mother took them to all the local music festivals, where she played the fiddle. After a hip-hop phase as teenagers, they came-of-age as the kind of artists with their own genre that defies categories. They paid tribute to wonderful mentors, teachers, elders, activists, and others who fueled their desire to write and perform, from first playing in local coffee shops to touring Bulgaria where they were treated like famous stars. Before embarking on such a journey, they learned all they could about Bulgarian music, and learning how to play traditional songs and regional instruments like the ngoni. They invite partners from a variety of worthy causes to share their stage to raise awareness and support. Saying, "There is nothing wrong with having a day job to fuel your craft", they reject the myth of the 'starving artist', knowing from experience that the path to fulfillment is one of patience. Afterward, their tour manager told me that they are all very close and enjoy spending time with each other on the road, which she hadn't always known to be the case. "We are loving the ride together no matter if it's up or down." Like Grace Potter's song "Falling or Flying", I pointed out," as she repeated me in agreement.
During the off-season, there is a noticeable change of pace from the bustling festival ski-town to its quaint mountain town roots. The air is crisp, the viz is spectacular and the weather was perfect. It was as if each of us had the whole place to ourselves to recharge for a few hours between the daytime Labs and nighttime performances. Sitting next to the water's edge meditating listening through my headphones to music of people we had just gotten to know a bit more deeply, I let the warm sun kiss my face and sang to the ducks that surrounded me like Snow White.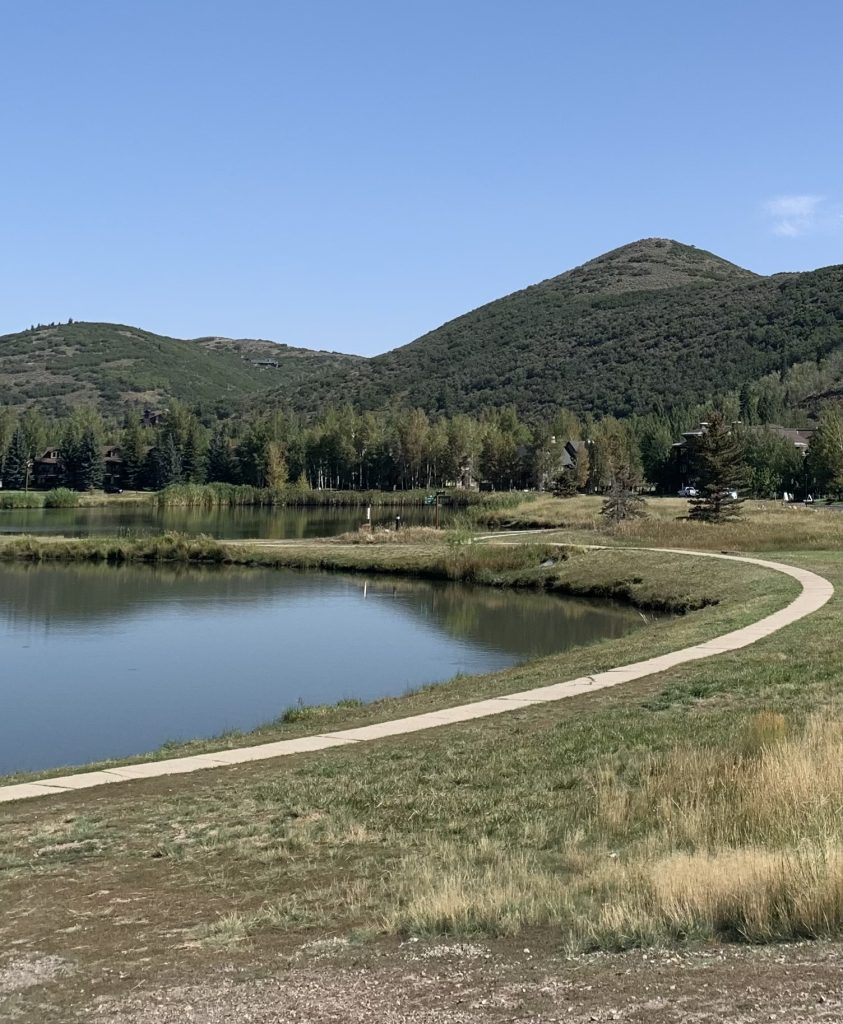 O.P. Rockwell was my venue choice for the first night's performances where Jeremy Ivey, Celisse and Warren Haynes blew the house down. Jeremy has the sweet demeanor of an old-school folk singer, playing his 12-string acoustic guitar. He opened the show alone, with nothing but his voice and chords. He said he thought it was odd that they asked him to sing and his wife, Margo [Price] to speak. "I mean, have you heard my wife's voice?!" Margo joined him on stage to harmonize, staring into each other's eyes at the same mic, a beautiful confluence to see and hear. Celisse was next, and, oh did she really throw down. With powerhouse vocals and strong guitar rhythms, she smiled and connected by locking eyes with the audience members. Between songs, she shared funny stories, then, again she'd thrill the small crowd as she dragged her vocal notes out and shredded on a variety of guitars. Was I the only one who could name that tune for her double-time rendition of Bill Withers' "Use Me" in only 3 notes? The up tempo carved out time for a smoldering guitar solo with a groove she was clearly enjoying. I can't wait to catch Celisse again. Among the many great newly discovered artists of the summit, she remained my favorite. The final set of the evening was Warren Haynes' solo performance that, as you might imagine, brought the men and media up front. Warren, by now is known for thrilling many generations. The legendary man's man singer/songwriter, told stories behind some of his songs as he played them slow. One such historical tale was the back story of "Patchwork Quilt", a song about the day Jerry Garcia died shortly before an Allman Brothers show at Jones Beach. "Banjo moon and a tie-dye sky, hippies dance and babies cry", was the lyrical spark that ignited this song. He belted out an incredible stream of songs from "End Of The Line", through a cover of "Sweet Melissa", then saving his most popular "Soulshine" for the encore. Before I knew it, his set, and the evening was over. As I left, I was handed a custom Warren Haynes guitar pick, as if to confirm it wasn't all just a dream.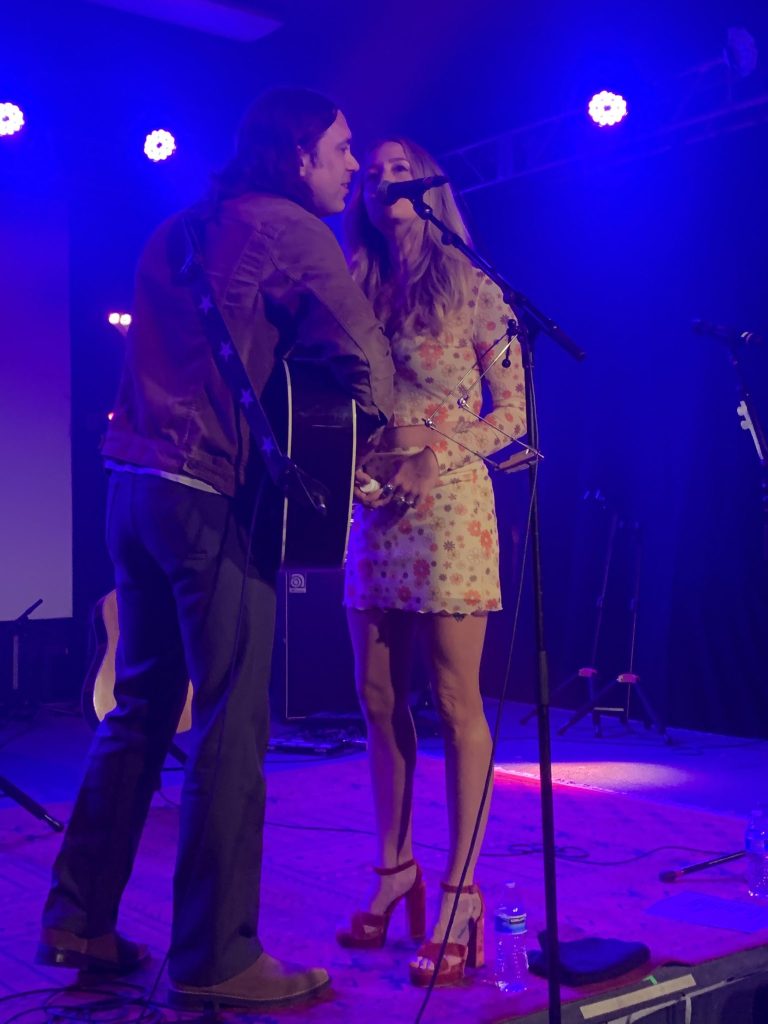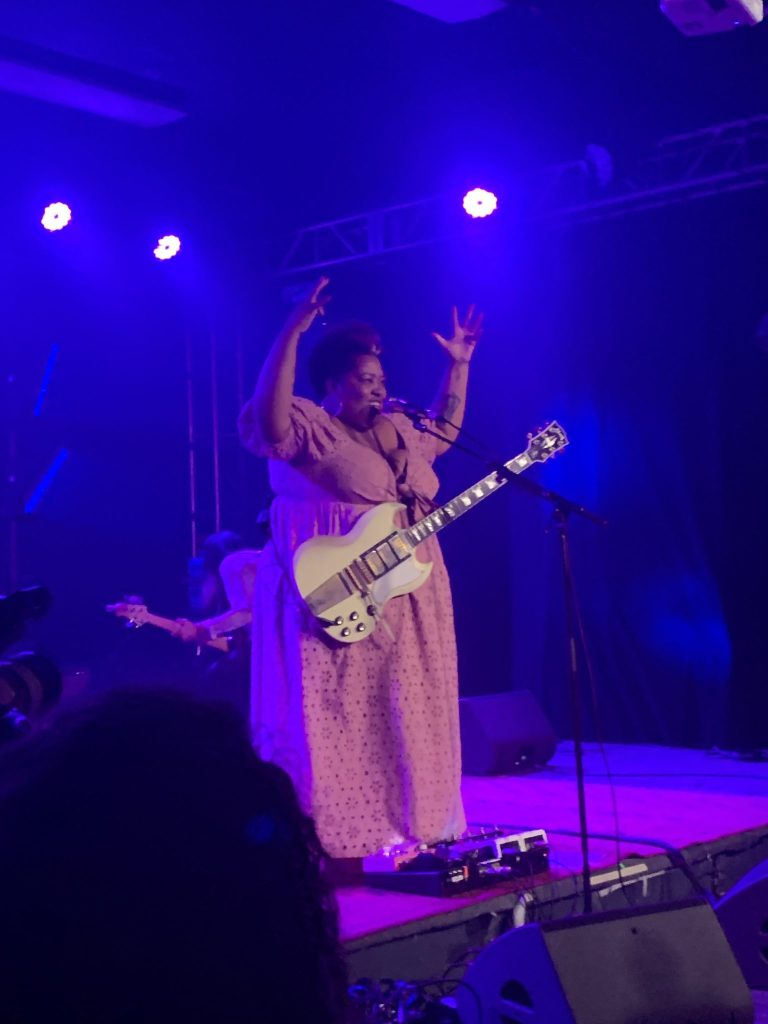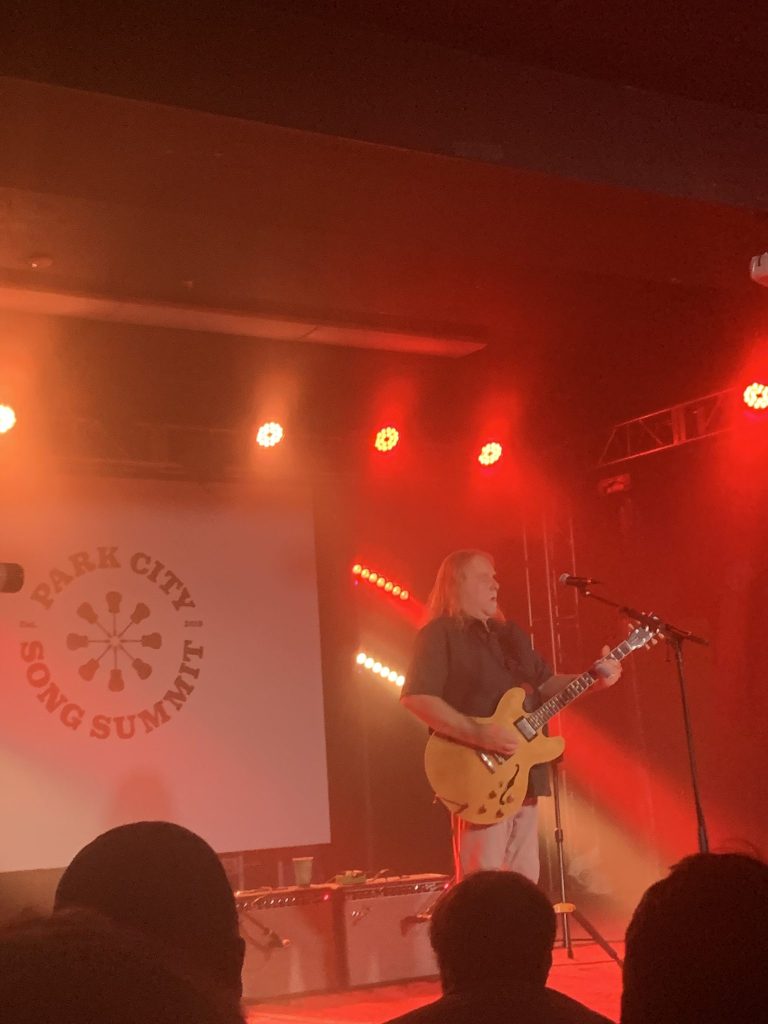 Park City and I have watched each other grow, at concerts, fishing and camping under nearby pines in the summers and on the slopes in the winters. So a massive leap of maturity was noticeable here, for myself and in the filmmakers, musicians, artists, comedians, photographers, and dedicated like-minded festival goers attending the summit, the connections being made, and the enlightening experiences. A comforting warm vibe filled the mountain side where creative artists and music lovers could both enjoy connecting in a more natural human to human way.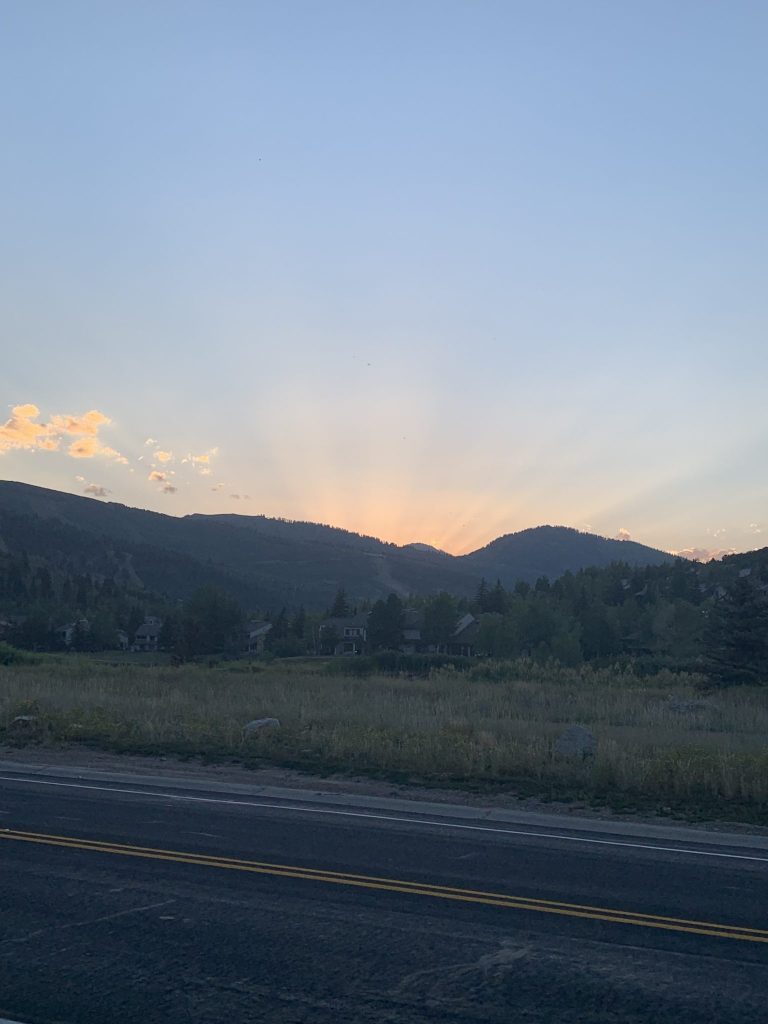 I began the second day in the Aspen tent where Fred Armisen provided "Comedy For Musicians But Everyone Can Come." A fantastic comedian, as well as a very talented musician, he's also extremely knowledgeable about the roots of and process of his music, including the history of punk percussion. Poking fun at crazy time signatures, different regions' music styles, his hysterical physical comedy and body language that accompanied jokes told over his guitar and drums had the tent bursting with giggles and the endorphins they released. During the question portion, he talked about current work on Documentary Now, his band, Blue Jean Committee, and his HBO series Los Espookys. Someone commented on his "Creepy" roll on This Fool [Hulu]. He stayed for one-on-one conversations and we found him genuine and approachable.
"A Great Collaboration", a panel in the Sunburst tent about addiction, trauma, and the healing process, was the next event. Daryl "DMC" McDaniels, Tammy Michelle, Michelle Esrick connected the strings in a deep and powerful way that highlighted the healing power of music for musicians and songwriters as well as individual listeners and even entire communities across the planet, where our differences in religion and politics crumble under the almighty song. They talked about the Artistology Foundation, a wellness community created by Tammy for the benefit of musicians and performers. Tammy, the former manager of Chaka Khan, also co-founded the Chaka Khan Foundation and a third non-profit, Color My Mind. "Music has always been there to heal us." DMC added, and that's why he's in it, "to create art for the next generation, and the next, it's not just for the money". Sharing more of his personal background, he explained that he was adopted and in his youth he could relate to superheroes who didn't fit in, which has led him to start his own comic book series. "Everyone is going through something," he reminded us. Michelle, known for directing the documentary, Saint Misbehavin': The Wavy Gravy Movie (about the founder of Camp Winnarainbow and its restorative community work) finds her own healing through her work paying it forward with love and service. "All of my projects pick me, not the other way around, and every film still heals me more." Once while dressed in a gown for her big premier, a homeless man asked her group if they'd buy him an ice cream. While others turned away, she replied yes. Yes. After purchasing the ice cream for the man, they found themselves hugging and relating on a deep level, both addicts, yet in different stages of their own journeys. Music was a big part of that for hers, as she hoped it could be for others. A true inspiration, Michelle had many of us wiping away tears of emotion.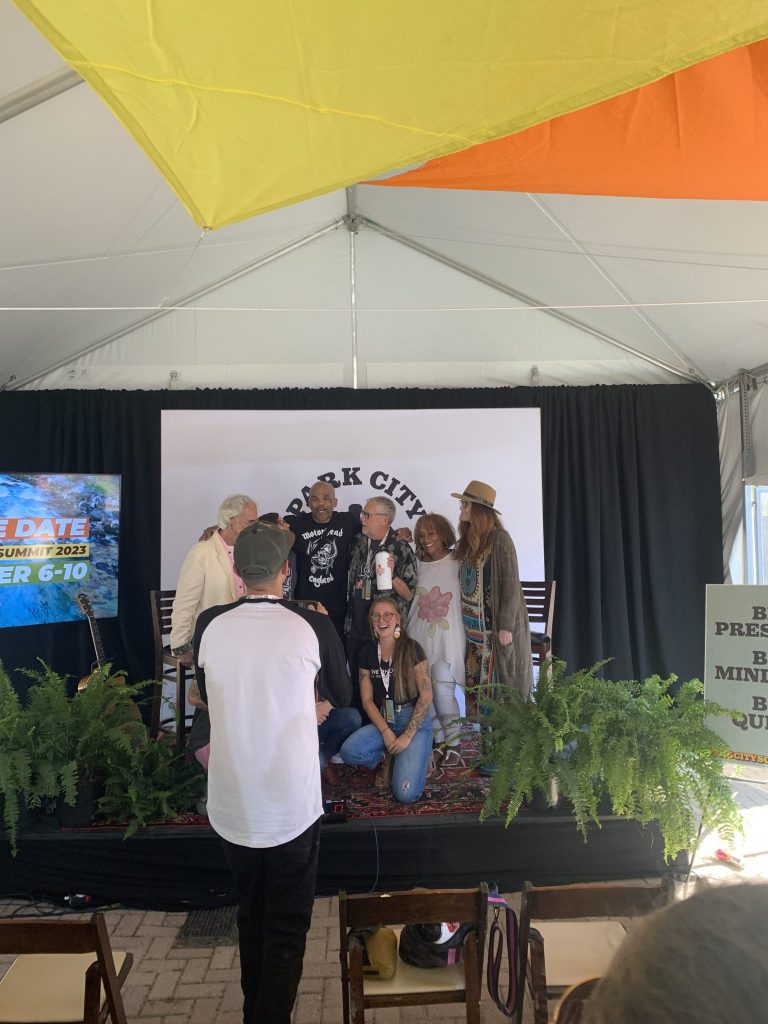 Cedric Burnside had to cancel his Lab at the Acousterick tent, but Adam Weiner from Low Cut Connie made up for it with the vivacious energy he was emitting as he played the piano with gusto. Tapping the piano's pedal with his foot for timing, he sang and played at times one-handed, with one foot on the bench and the other leg behind him. Used his inimitable vocal tones, he played a Bob Dylan cover then leapt into "Little Red Corvette" by Prince, his favorite songwriter, he admitted. He played his new song "Private Lives" that he revealed would be the title track of an album coming out soon. He continued playing and sharing stories behind his songs, dedicating a song he played on guitar to Cedrick as a touching end to a great spontaneous session.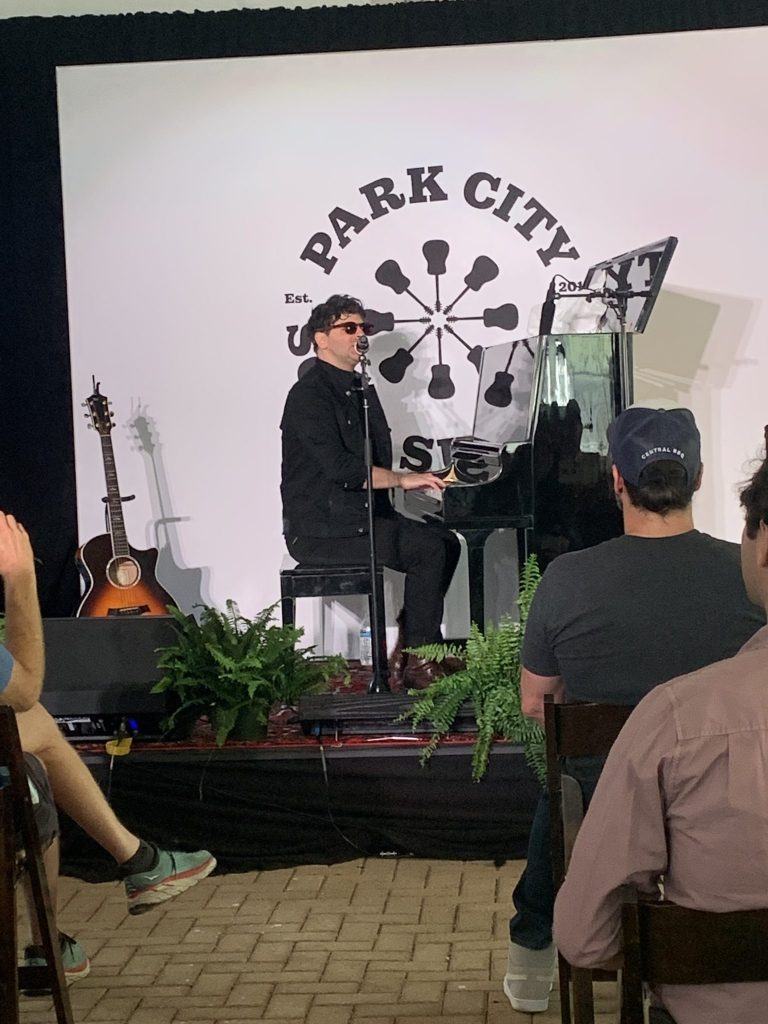 That night I arrived at The Cabin right on time in anticipation for the performance of the great Charlie Musselwhite. Jordan Matthew Young and the president of The Blues Society were there already, and they informed me that Mr. Musselwhite had been rushed to the ER during the sound check. The legendary Elvin Bishop was on stage, and I'll admit I had no idea if we'd be hearing music or perhaps an announcement. Then before I knew it, Mr. Musselwhite appeared and joined him. The crowd cheered as he picked up his ax, still tuned in the right key, and the notes started to emerge. The two played "100 Years of Blues", along with a session player who took both keys and guitar. They were obviously enjoying the great music as much as were loving how they showed it in their riffing off of each other. The crowd was so enthusiastic that at times I actually could hear better stepping outside. Between songs I engaged in a conversation with a gray-bearded man sitting by himself. He turned out to be a highly regarded documentarian who was invited to the Summit. Our conversation ranged from writing to film making to recovery. He especially admired how Ben Anderson had found the timely moment and the perfect balance of the music and the much-needed conversations that this Summit provided, giving the industry a safe and creative space to talk about alcohol, drugs, and the recovery process. With his very warmly expressed reminder of self-care, when the amazing blues jamming was done, it was time to call it a night.
On the third day the Sunburst tent was the venue for a conversation featuring Anders Osborne and Wyatt Pike. I had introduced myself to Anders as someone who had seen him with the Southern Soul Assembly and who could confirm the visible difference that living clean and sober had on his health. He seemed to get it when I described it as a `Who is THIS guy?!' moment. In the tent he spoke of spirituality and the huge role it plays in his sobriety. He started meditating 12 years ago when he got clean, and starts every activity with a mindful breath. He isn't bothered by being alone, in fact he gains energy from it. If you can remember that "100% of people want something from you" you'll be better off. Some of it can be to for sharing, but much is for some selfish purpose. Wyatt, a native of Utah known for being on American Idol, spoke of his own mental health struggles and that he couldn't go on with the competition because he was being treated in a hospital. He said he felt grounded while performing on stage, but the rest of the experience, the interviews, photographers, stylists, make-up team and coaches was overwhelming. Pike is a strong and upbeat young man who carries tons of potential, managed to avoid substance abuse as a way to deal with his stresses thus-far and doesn't plan to take that path in the future either. In response to a question I asked, Wyatt said he had a chance to talk with Jordan Mathew Young for advice, but "only over the phone, not in person."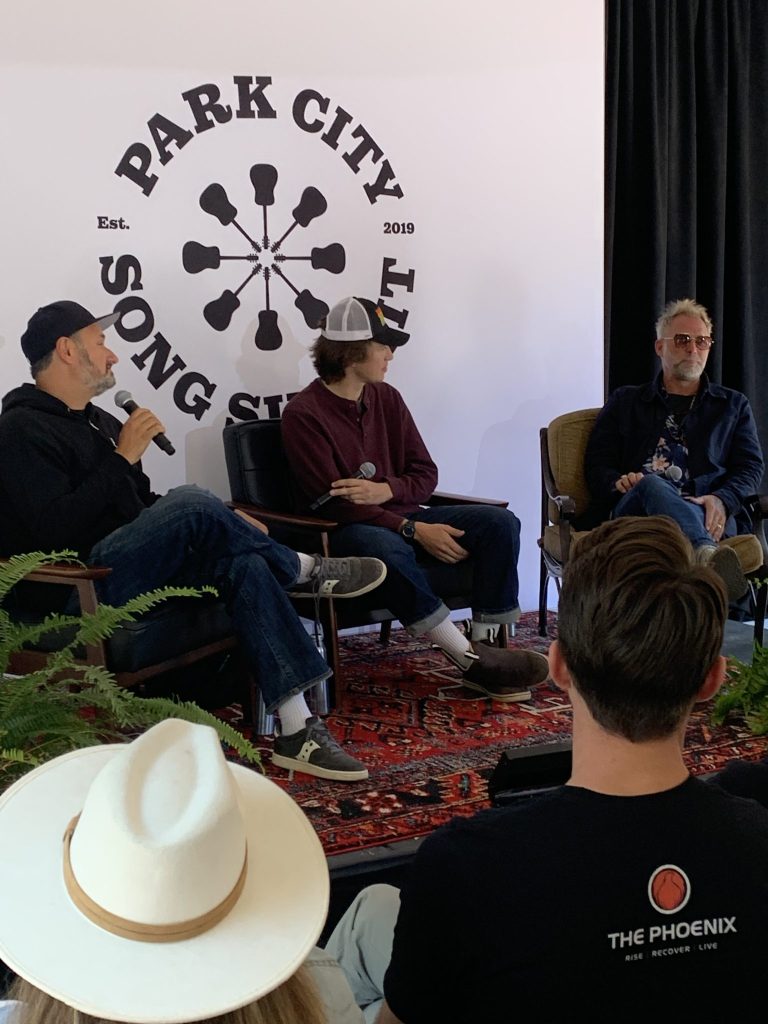 Even though Uwade, the next songwriter I was looking forward to hearing from, had canceled, as often occurs. It led me to stumble across one the best life stories any hippie girl could hear. Jay Blakesberg has been documenting the Grateful Dead for 50 years. He started from the beginning, working his way through the acid trip era with a slide show of his photos including rarely seen as well as famous photos of the most popular traveling jam band in history. He also shared his collaborations with other great artists over the decades. The photo essay books he writes communicate the love and appreciation he still has to this day for the chance to use his skill and craft to document other creative spirits in another medium. I found him just as much an inspiration as the musicians and songwriters whose emotions he captured on film, and when the session ended, I let him know.
The final Lab was anchored by an interview of Josh Ritter by his friend Adam Weiner, and was the epitome of what I hoped for in these sessions. Adam scratched an itch with the perfect balance of talk and music, giving Josh space, space to answer his questions in depth and go in whatever direction it took him. Adam also asked Josh to read an excerpt of his new book, 'The Great Glorious Goddamn Of It All', and I could tell many others were as eager as I to get it on the way out so we could read the whole thing. They discussed his childhood in Idaho, how he balances songwriting with writing novels, and artists he admires who have influenced his own writing, Lenard Cohen first and foremost. It was a perfect choice to conclude the labs, and we left feeling quite encouraged.
Back at the O.P. Rockwell stage, Cosmic Country was building a funky beat with an upright bass and a Hammond B3, combining with clear harmonizing vocals to achieve ethereal and euphoric tones. Daniel Donato, the young lead singer is also a fantastic instinctual guitar player whose sound has echoes of "The Dead", "Floyd" and "YES" Their high energy and tight jams brought intense anticipation in the crowd for Keller Williams with Grateful Gospel, a fun jam-band that especially delighted all the mega-fans up front. There was zero disappointment as Keller Williams turned out twangy riffs while Grateful Gospel sang southern choir-like harmonies and bass player pulled out perfectly matched Stanley Clarke-style tones.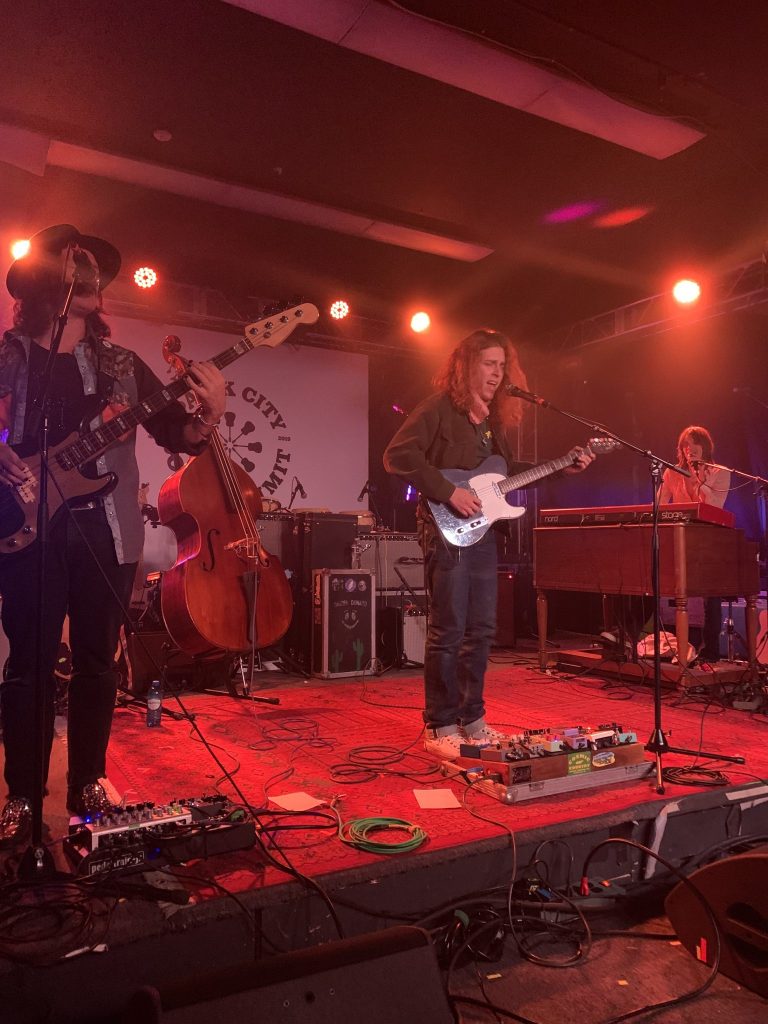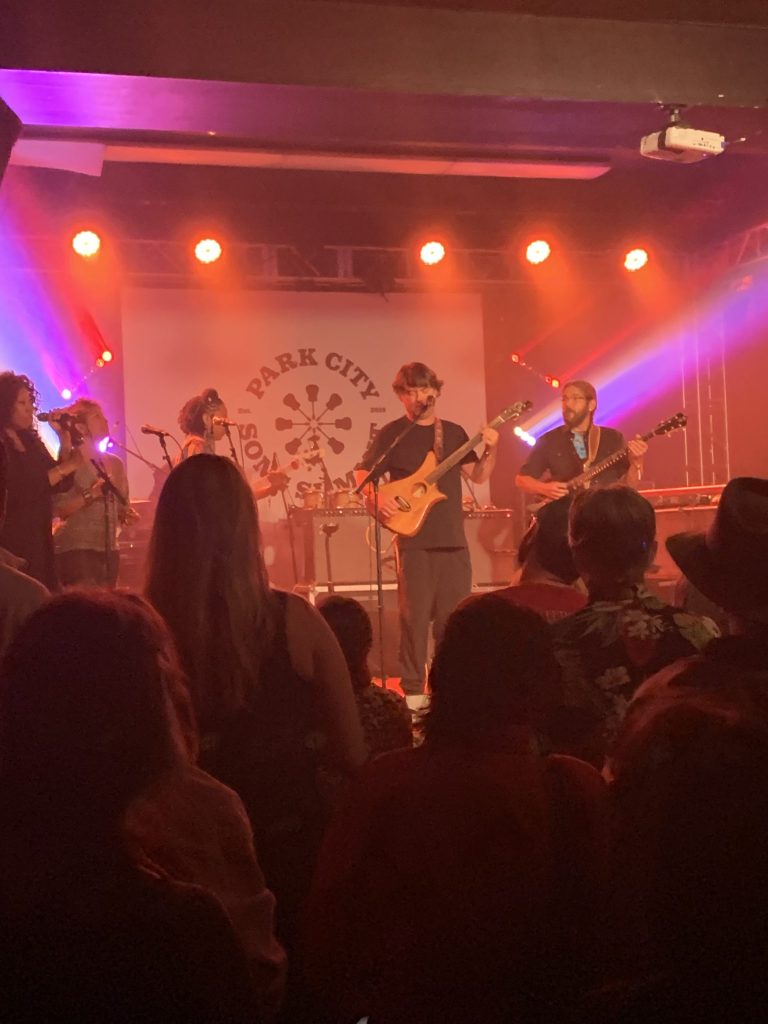 Anders Osborne and Friends finished out the festival with incredible stamina and powerful energy. The band's saxophone and percussion section added considerable musical depth while Ben Anderson was playing bass and singing. The New Orleans style sound had everyone shaking their tail-feathers. During 'Fire On The Mountain", and Ben taking over on lead vocals, Daniel Donato came back to join them on stage, belting out a guitar solo that would have made Jerry Garcia proud. In the corner, rock artist John Bukaty was painting the band as played, dancing as he scratched the canvas, a beautiful sight to behold.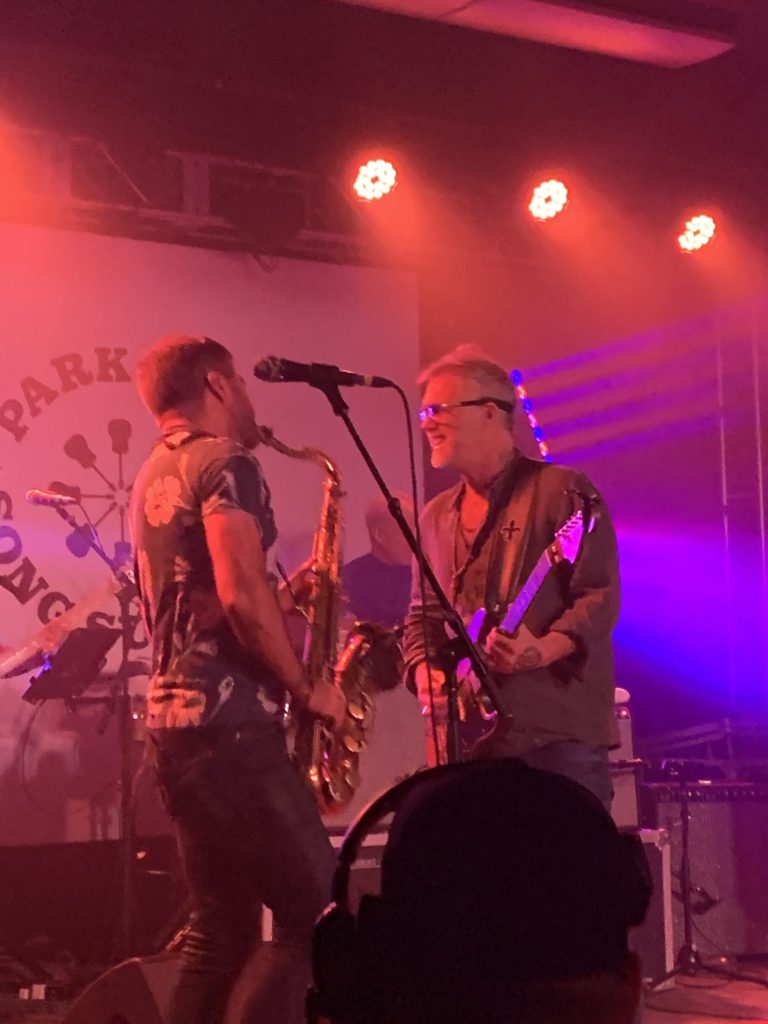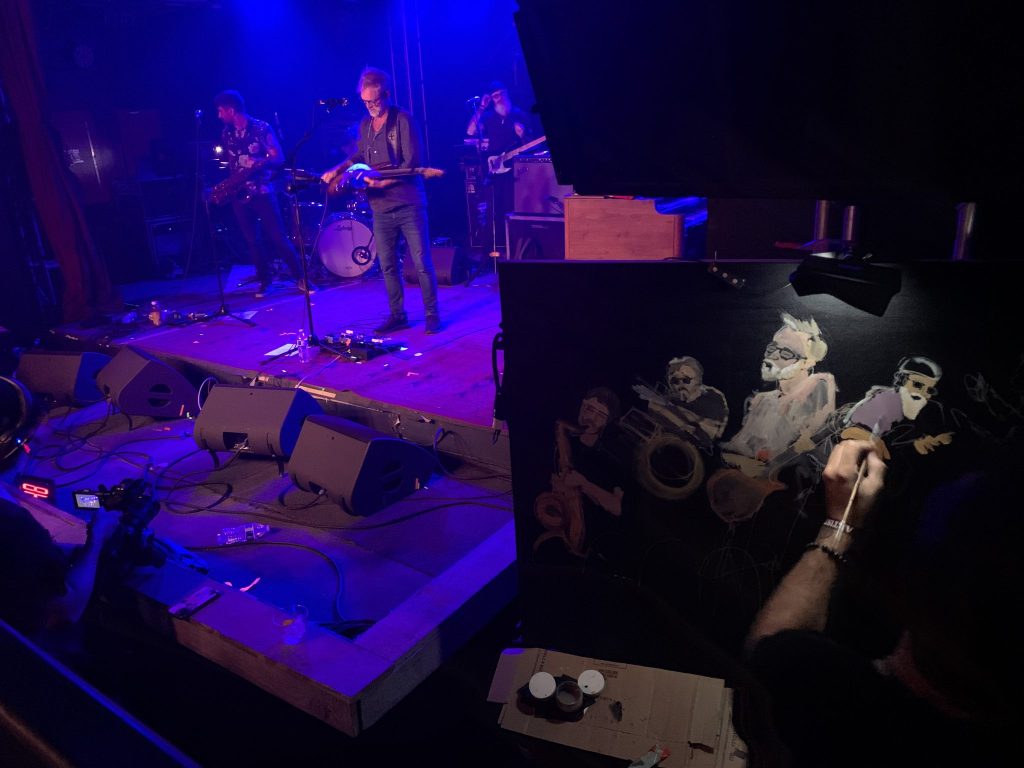 Among the many special sparks this Song Summit festival aims to keep alive, the kindle and spread a celebration of a positive artist-appreciator energy, was the feedback loop along the lines of the best Grateful Dead and Deadhead culture that showed musicians and their audiences we all can combine to create all kinds of amazing art. The Park City Song Summit has become a unique place where anyone who wishes to become a part of the musical community can do just that, as an artist or as a music lover. Ben also created a safer space for artists and other community members to share real experiences of life on the road, songwriting and performance, sobriety and recovery.
Festival goers have the opportunity to buy individual tickets or an all-inclusive package. Get the weekend package and a room and make it a very worthwhile weekend retreat. You don't need a press pass to meet any of the people or have experiences I did and would not want to have missed. It was an incredible free-range experience, blanketed by health, hard work and passion; a cherished weekend that those of us who attended will be eternally grateful for, and for the strength it will continue to provide us.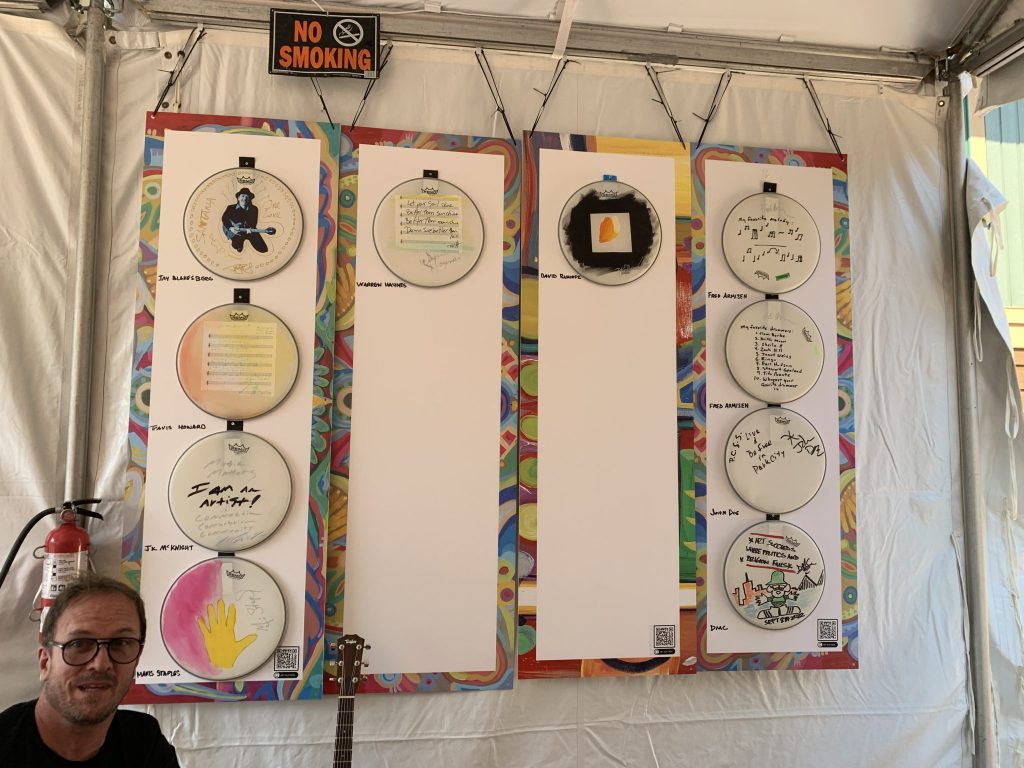 Epilogue: In the artist tent with John Bukaty was finishing the Warren Haynes drum piece. He was grasping to coming up with the final touches and I was able to help with some lyrics and then kiss the art. And that's how a perfect lip mark appeared on what is sure to become a beloved piece of historical art.