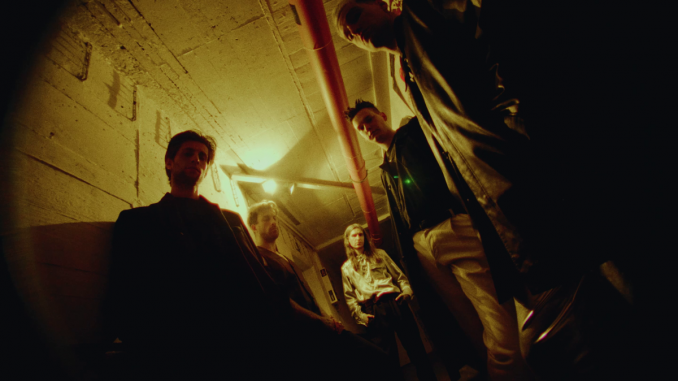 THE OKLAHOMA KID
are a modern metal experience.
The genre-blending five-piece never shies away from pushing the boundaries or breaking down old conventions.
Today, the band has shared the new single "Pale Tongue."
Watch the "Pale Tongue" video here.
"Pale Tongue" takes you on a disturbing trip with psychedelic visuals and heavy rhythms, and is deeply influenced by industrial music and Neue Deutsche Härte. Therefore, the band met with Pavel Trebukhin (Imminence, Landmvrks, Annisokay) inside a bunker to create a striking and literally tightened visual experience for their newest track.
"Pale Tongue" was recorded and produced by Jan Kerscher (Ghost City Recordings) and mixed and mastered by Lance Prenc (Alpha Wolf, Polaris, Dealer).

"We are always trying to get different influences into our music and that's why we were looking for a producer outside of our genre — to get some new input. When we first met up with Jan, we know he was a perfect match to record and produce our new material," says guitarist Andreas Reinhard.
The Oklahoma Kid are a modern metal band focused on technical intricacy and energizing rhythms. Since its formation in 2012, the band, comprised of David J. Burtscher, Fred Stölzel, Robert Elfenbein, Tomm Brümmer, and Reinhard, has consistently pushed the envelope and has established a foundation in the German metal scene.
The Oklahoma Kid have toured with internationally renowned acts such as Stick to Your Guns, Carnifex, Evergreen Terrace, and Hatebreed. They have electrified crowds with their passionate performances.
The Oklahoma Kid's debut album, 2019's Solarray, didn't adhere to genre formulas. It also displayed the band's full sonic scope and capabilities. The song featured everything from huge, wall-of-sound arrangements to fragile melodies. The very essence of the band's vision is not only encapsulated in sound but also in the delicate lyrics. Bleak existentialism, social commentary, and a reflection of the self are the core themes that were explored on Solarray.

THE OKLAHOMA KID ARE:
Tomm Brümmer | Vocals
Fred Stölzel | Guitar
Andreas Reinhard | Guitar
Robert Elfenbein | Bass
David J. Burtscher | Drums