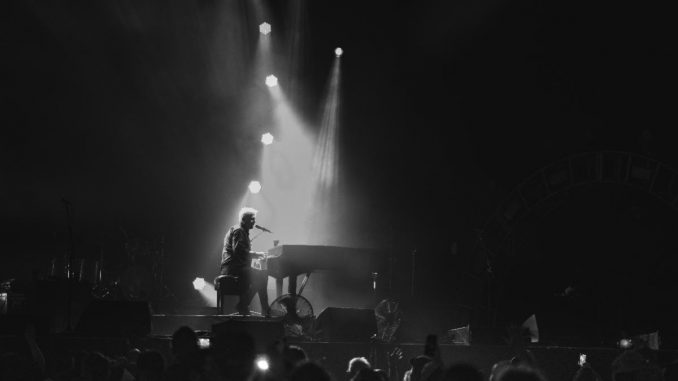 November 12, 2021 – Today, The Offspring unveiled a live performance video for "Gone Away." The video, directed by Sean Sheetz, was filmed over two nights in September at Nashville's Brooklyn Bowl and the Buckhead Theatre in Atlanta.
A reimagined version of the song (which was originally recorded for the band's 1997 platinum-selling album Ixnay on the Hombre) appears on The Offspring's acclaimed, chart-topping tenth studio album Let the Bad Times Roll, released earlier this year. The new arrangement of "Gone Away" – which transforms the song into an elegiac piano ballad – has re-emerged as a fan favorite, and during this extended period of collective grief, the song has taken on particular emotional resonance for many people.
In his introduction to the song, lead singer Dexter Holland notes, "Many of you have lost someone close to you, I know that I certainly have. When I've been singing this song lately, I've been thinking about that."
And as guitarist Noodles recently observed, "' Gone Away' may not be the biggest song we've ever done, but it's probably touched people more profoundly than any song we've ever done. It's a heavy song about losing someone in your life, and that happens to everybody. Unfortunately, it's part of the human experience and people can relate. To all the fans that love that song and have experienced that loss, our heart goes out to you. We've been there, and we share your grief."
About The Offspring:
Legends and innovators of the Southern California rock scene, The Offspring have sold more than 40 million albums worldwide, won countless awards, and have toured consistently, playing more than 500 shows in the last decade alone. Their music has had a lasting impact across film, television, and video games, and their latest album Let The Bad Times Roll has been a huge global success, hitting career-high chart debuts with seven top 5 and ten top 10 international debuts and nine top ten debuts in the US. The album peaked at #3 on the UK chart and hit #1 on the Alternative Albums chart in the US.