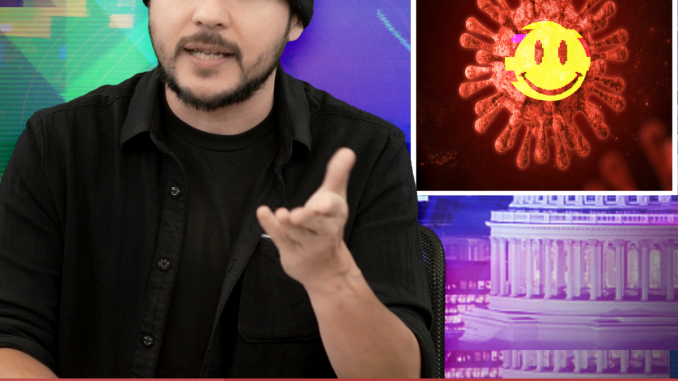 "GENOCIDE (LOSING MY MIND)"
DEBUTS ACROSS MULTIPLE CHARTS WITH 13,000 UNITS SOLD DURING WEEK 1
THE CAREER-HIGH DEBUT LANDS AT #2 SPOT ON THE BILLBOARD ROCK DIGITAL SONG CHART AND #4 ON THE BILLBOARD DIGITAL SALES CHART
THE SONG ALSO LOCKED THE #1 SPOT ON BOTH THE iTUNES OVERALL CHART AND THE ALTERNATIVE LEADER BOARD, OUTSELLING ARTISTS TAYLOR SWIFT, IMAGINE DRAGONS, AJR, LEWIS CAPALDI, AND OTHERS.
"Genocide (Losing My Mind)" is Tim Pool's second musical collaboration with Pete Parada from The Offspring. Their first single together on Timcast Records, "Only Ever Wanted," debuted in August 2022, skyrocketing up the charts claiming the #1 spot in alternative digital sales on iTunes and landing the second spot overall, below Britney Spears and Elton John's "Hold Me Closer."
The "Genocide (Losing My Mind)" chart numbers this week are as follows:
Career-High Debut with 13,000 Singles Sold
#1 Song "All Genres" (iTunes)
#2 Billboard Rock Digital Song Sales
#4 Billboard Digital Song Sales
1.1M YouTube Views + 12K Comments
650,000 Streams Week 1
The must-see video for "Genocide (Losing My Mind)" was directed and produced by Tim Pool. To date, the videos generated over 1.1 million views, 12,000 comments, and 88,000+ likes.
Editing and production by Kent Leon Welling. CGI singing animations by Wombo. Additional post-production, CGI.
The song was produced and recorded by Trash House Records and is Tim Pool's third single. Pool's first song, "Will Of The People," was released by Timcast Records in 2020 and climbed up to the #17 spot in alternative Billboard digital song chart.
"Genocide (Losing My Mind)" is written and performed by Tim Pool. Arranged, recorded, produced, mixed, and mastered by Carter Banks. Drums written, recorded, and processed by Pete Parada. Background vocals and harmonies by Ian Crossland. Additional instrumentation: Electric guitars, bass, vocal harmonies, programming, SFX, bells, whistles, etc., tracked and created by Carter Banks.
Follow Timcast Music on Social Media:
Tim Pool // https://www.instagram.com/timcast
Ian Crossland // https://www.iancrossland.net
Carter Banks // https://www.instagram.com/carterbanks4L
Follow Trash House Records:
IG: https://instagram.com/trashhouserecs
Twitter: https://twitter.com/trashhouserecords
YouTube: https://www.youtube.com/c/TimcastRecords