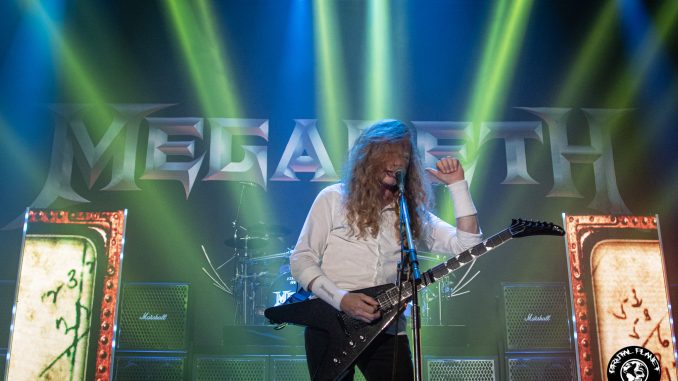 On Tuesday evening, September 28, thousands of fans poured into the Armory in Minneapolis to watch the final show of "The Metal Tour of the Year." It was evident that the crowd was ready for great music- this tour really lived up to its name as it offered something from every subgenre of metal. For over four hours, over eight thousand people forgot all about the issues that divide us and bonded over their common love of heavy music.
The first act to open the night was Hatebreed (Jamey Jasta- vocals, Chris Beattie-bass, Matt Byrne-drums, Frank Novinec- rhythm guitar, Wayne Lozinak-lead guitar). With much intensity, this Connecticut-based hardcore band started playing "Empty Promises," a fan favorite from their 1997 album "Satisfaction is the Death of Desire." Extremely popular frontman,(and beloved podcaster) Jamey Jasta, knows how to hype up a crowd and he continued to get everyone excited as he screamed out the lyrics to "Tear It Down" and "This Is Now," both which are off many of Hatebreed fan's favorite album, "The Rise of Brutality."
Hatebreed has been a band for twenty-seven years and it must be extremely hard for a band with nine full-length albums under their belt to choose a setlist- especially when they are opening the night and only had thirty-five minutes to play! However, since they are a hardcore band, most of their songs are fairly short and they were able to squeeze in eleven songs.
It was great to hear classic songs like "Smash Your Enemies," "To the Threshold," "Perseverance," and "Looking Down the Barrel of Today," but one of the best moments was hearing the band flawlessly cover Slayer's "Ghosts of War."  The band has always cited Slayer as being one of their biggest influences and I'm sure King and the boys would be proud their song continues to be played live.  Being a fan of Hatebreed's latest album, "Weight of the False Self," I was a little disappointed that only one song from the album, "Instinctive (Slaughterlust)" got played. But as I said, it must be hard to pick for a thirty-five minute setlist when you're such a legendary band.  As a special treat, Lamb of God band members Willie Adler and Randy Blythe joined Hatebreed on stage as they played their second to last song, "Destroy Everything." The band then closed their set with "I Will Be Heard."
Next on the stage was the mighty Trivium. This quartet might be one of the most underrated metal bands of the last two decades. They have wowed the masses with their extensive touring and popular twitch channels and are also about to release their tenth studio album on October 8th. As the intro song "X," played, the four bandmates (Matt Heafy- vocals/guitar, Corey Beaulieu- guitar/backing vocals, Paolo Gregoletto- bass/backing vocals, Alex Bent- drums) took their positions on stage. The crowd erupted as Trivium played "In the Court of the Dragon," their first single from their upcoming album.
Trivium continued their set with their two big singles, "Catastrophist " and the title track, "What the Dead Men Say" from their 2020 album. Since the pandemic had shut down all shows last year, the crowd was ecstatic to hear these songs played live for the first time in Minneapolis. The band continued with "The Heart From Your Hate," "Strife," and their latest single, "Feast of Fire." The lights dimmed and an instrumental recording of "Capsizing the Sea" played as the eager crowd waited in anticipation for their ever-popular closing song, "In Waves." It was unfortunate this extremely talented band didn't have more time to play, but I think I speak for every Minnesotan present that it was truly an honor to see Trivium once again.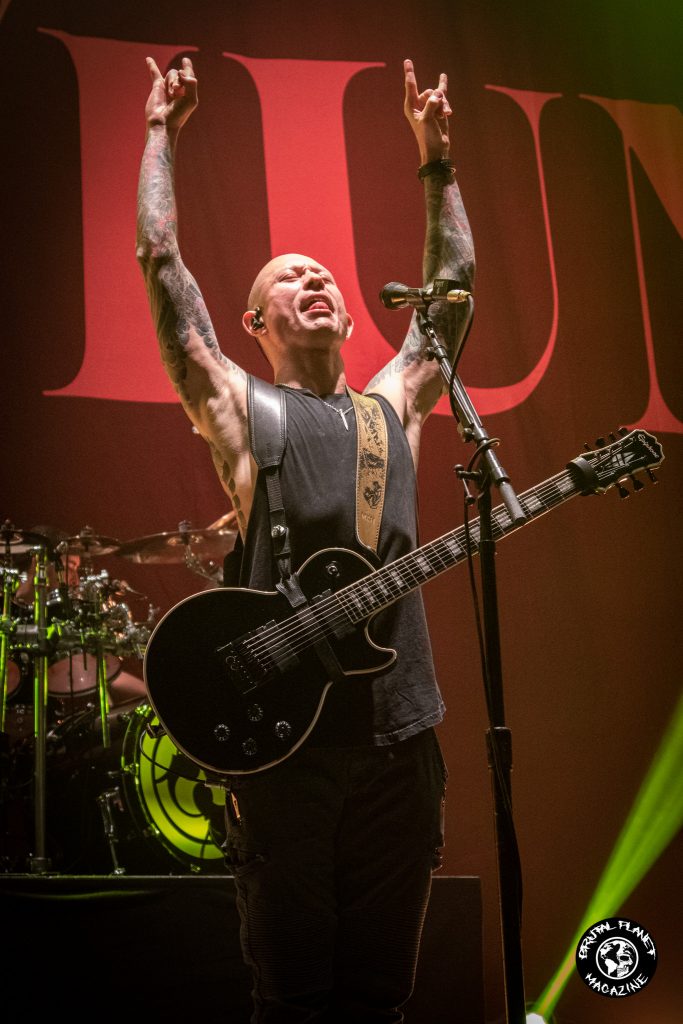 The crowd was separated from the stage by a massive black curtain when the haunting vocals of the intro to "Memento Mori" filled the Armory. Lamb of God, (Randall Blythe- vocals, John Campbell- bass, Mark Morton- lead guitar, Willie Adler- rhythm guitar, Art Cruz-drums) erupted with a monstrous sound as "Momento Mori" shifted from its eerie intro to the brutality of the rest of the song. The band continued with their 2003 single, "Ruin," and their ferocious single, "Walk With Me In Hell," from their fourth studio album, "Sacrament." It got hot fast as the pyrotechnics blared from the stage.

The Virginia-based band proceeded to play older singles such as "Now You've Got Something to Die For," "Contractor," and "Vigil," as well as a couple of newer songs like "512," "Resurrection Man," and "New Colossal Hate." Lamb of God have become leaders of their genre as they have been nominated for a Grammy five different times and have won various Metal Hammer Golden God Awards five times as well. Watching them play live proved why- they are both extremely talented musicians and know how to conjure the animalist nature of their wild fanbase. To end their set, they finished with their massive 2006 single, "Redneck." During this last song, the circle pit became one of the largest and most intense I've seen in all my years attending concerts in Minnesota.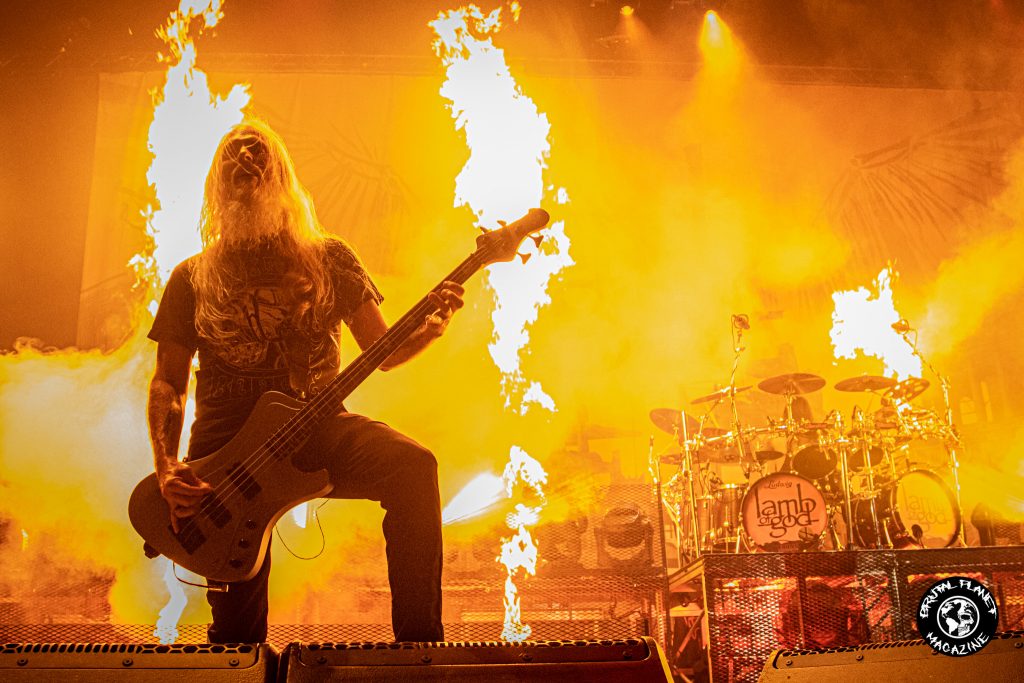 Everyone waited for the headliner to take the stage, and it was worth the wait. A recording of "Prince of Darkness" played and the thrash titans, Megadeth took the stage opening with their thirty-year old hit, "Hangar 18." One of the notable changes with the band was the absence of founding member, David Ellefson. Due to his firing earlier this year, the band recruited touring bassist, (and former Megadeth member) James LoMenzo to replace Ellefson. Although the band has adjusted to yet another lineup change, it didn't stop them from absolutely crushing it. They began to play "The Threat is Real" and LoMenzo's bass pummeled the venue like thunder.
Megadeth has now been a band for nearly four decades and to date, has released forty-nine singles. I was surprised they didn't play a more diverse setlist, but it was still epic nonetheless. They played "She-Wolf" and "Trust" from their 1997 album, "Cryptic Writings," "Conquer or Die!" and "Dystopia" from their 2016 album of the same name, and "Sweating Bullets" and "Symphony of Destruction" from my personal favorite Megadeth album, "Countdown to Extinction." Although I've never been a huge fan of Dave Mustaine's vocals, there is no denying he is one of the best soloists to ever grace the metal scene, and watching his fingers fly up and down the fretboard was alone worth the price of admission to this show. As the night was coming to a close, they brought the crowd back over thirty years and played two of their most popular songs, "Peace Sells" and "Holy Wars…The Punishment Due." It was truly an unforgettable evening.