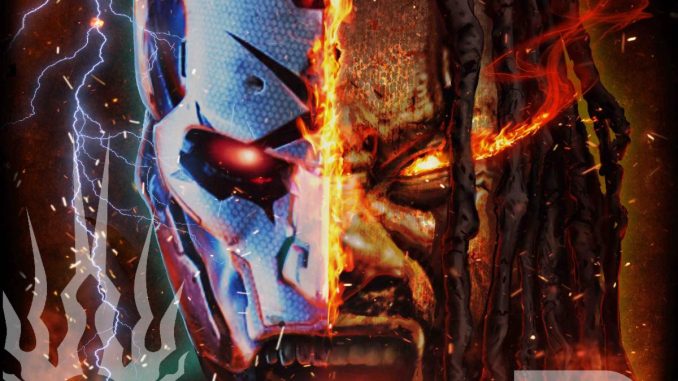 IN MURFREESBORO, TN AT HOP SPRINGS BEER PARK FORCED TO CANCEL MINUTES BEFORE SHOW START DUE TO INADEQUATE VENUE SECURITY
Refunds will be issued at point of purchase
(New York, NY) With a gathering of fans lined up for hours hoping to see The Machine Killer Tour and all of the band's equipment staged and ready this evening in Murfreesboro, TN; it is unfortunate that Sevendust and Static-X were forced to cancel tonight's performances. The show scheduled to take place in minutes at the Hop Springs Beer Park is being scratched after officials forced the show to be canceled due to inadequate security measures. The artists, promoter and venue tried valiantly to come up with a solution, but in the end – the safety of everyone took precedence.
"The last thing any band ever wants to do is to cancel a show. We were all here and ready to play when we were given the news that officials had shut the event down due to inadequate security measures. We wish this didn't happen and are working to figure an alternative to bring the show to the area as soon as we can," explains Static-X and Sevendust in a joint statement to the press.
Refunds will be issued at the point of purchase.
The Machine Killer 2023 Tour Dates

(Previously Announced)

October 6 – Houston, TX – 713 Music Hall

October 7 – Dallas, TX – The Factory Deep Ellum

October 8 – Little Rock AK – The Hall

October 10 – Atlanta, GA – The Tabernacle

October 11 – Murfreesboro, TN – Outside at Hop Springs

October 13 – Greensboro, NC – Piedmont Hall

October 14 – Silver Spring, MD – The Fillmore

October 15 – Lancaster, PA – Freedom Hall

October 17 – Detroit, MI – The Fillmore

October 18 – Ft. Wayne, IN – The Clyde

October 19 – Gary, IN – The Hard Rock

October 20 – Clive, IA – Horizon Event Center

October 22 – Chesterfield, MO – The Factory

October 23 – Kansas City, MO – The Midland Theatre

October 24 – Tulsa, OK – The Tulsa Theatre

October 26 – Denver, CO – The Fillmore Auditorium

October 27 – Albuquerque, NM – REVEL

October 28 – El Paso, TX – Speaking Rock

October 30 – Tempe, AZ – The Marquee

October 31 – Anaheim, CA – House of Blues

November 1 – Los Angeles, CA – The Wiltern

The Machine Killer 2024 Tour Dates

February 1, 2024 – Myrtle Beach, SC – House Of Blues

February 2, 2024 – Orlando, FL – Orlando Amphitheater Pavilion

February 3, 2024 – Ft. Lauderdale, FL – Revolution

February 4, 2024 – Tampa, FL – Hard Rock Event Center

February 6, 2024 – Charlotte, NC – The Fillmore

February 7, 2024 – Norfolk, VA – The NorVa

February 9, 2024 – Atlantic City, NJ – Tropicana

February 10, 2024 – Sayreville, NJ – Starland Ballroom

February 12, 2024 – Stroudsburg, PA – Sherman Theater

February 13, 2024 – New Haven, CT – College Street Music Hall

February 14, 2024 – Huntington, NY – The Paramount

February 16, 2024 – Worcester, MA – The Palladium

February 17, 2024 – Buffalo, NY – Buffalo Riverworks

February 18, 2024 – Toronto, BC – Pickering Resort Casino

February 19, 2024 – Pittsburgh, PA – Stage AE

February 21, 2024 – Columbus, OH – Kemba Live

February 22, 2024 – Cleveland, OH – Agora Theater

February 23, 2024 – Grand Rapids, MI – 20 Monroe Live

February 24, 2024 – Chicago, IL – Radius

February 26, 2024 – Madison, WI – The Sylvee

February 27, 2024 – Newport, KY – MegaCorp Pavilion
With the success of their last release Project Regeneration: Vol 1 and on the heels of their recent multiple city sold-out Rise Of The Machine tour, Static-X have reinvigorated their fan base and brought Evil Disco back to the masses. The original lineup of Tony Campos, Koichi Fukuda and Ken Jay backed by frontman Xer0 have proven that Static-X is back and better than ever. Recently, Static-X announced Project Regeneration: Vol 2 – scheduled for release on January 26, 2024 in advance of the second leg of the tour. The band recently released the original track "Stay Alive" featuring vocals by band founder Wayne Static from the album as well as a cover of the Nine Inch Nails classic "Terrible Lie." The upcoming album is produced by the band's current vocalist/guitarist Xer0 and mixed/mastered by long-time collaborator Ulrich Wild. The new album is now available for pre-order in various configurations including limited color vinyl, limited shirts, hoodies and more. The pre-order for Project Regeneration: Vol. 2 can be found here: http://www.static-x.com/.
With the band's latest single "Everything" currently in the Top 15 on the Active Rock charts, GRAMMY® Award-nominated Sevendust – Lajon Witherspoon, Clint Lowery, John Connolly, Vince Hornsby and Morgan Rose – are continuing to expand their audience with the recent release of their 14th studio album Truth Killer via Napalm Records. The song is the highest charting rock single from any artist in Napalm Records history. From the introspective opening of "I Might Let The Devil Win" to the classic Sevendust sound of "Fence," the twelve songs on Truth Killer demonstrate that the band sounds as relevant today as they did on their 1997 self-titled debut. "Truth Killer," "No Revolution" and "Holy Water" combine elements of the classic Sevendust sound with modern updates, pointing their lyrical lens at the world today and showcases the musical diversity that has won the band a legion of loyal fans. The band released a claymation video for the live show favorite "Fence" that is reminiscent of some of the band's most-famous material. Producer, friend and collaborator Michael "Elvis" Baskette returns to produce Truth Killer which is available in multiple configurations here: http://lnk.to/Sevendust-TruthKiller.
L to R: Clint Lowery, Morgan Rose, Lajon Witherspoon, Vince Hornsby, John Connolly
(Photo Credit: Chuck Brueckmann)
L to R: Ken Jay, Koichi Fukuda, Xer0, Tony Campos
(Photo Credit: Jeremy Saffer)
About Sevendust:
Sevendust never follow a linear path. Instead, they continue to bulldoze a lane of their own with a proven one-two punch of rumbling grooves, unpredictable riffing, and stirringly soulful vocals unlike anything else in hard rock. As a result, their music connects straight to the heart as evidenced by their full-contact live shows and diehard "family" of fans. It's why they've been around since 1994, tallied global sales of seven million, logged three gold-selling albums, delivered three Top 15 debuts on the Billboard 200, and garnered a GRAMMY® Award nomination in the category of "Best Metal Performance." 2021 saw them deliver one of the most acclaimed albums of their career – their thirteenth studio masterpiece – Blood & Stone, which Metal Hammer christened "Sevendust's best work in years." However, the Atlanta quintet—Lajon Witherspoon [lead vocals], Clint Lowery [lead guitar, backing vocals], John Connolly [rhythm guitar, backing vocals], Vince Hornsby [bass], and Morgan Rose [drums]—defy expectations yet again on their fourteenth full-length and debut for Napalm Records, Truth Killer, produced by Michael "Elvis" Baskette [Alter Bridge, Trivium, Slash]. Ultimately, Truth Killer reaffirms there's only one Sevendust—and they're here forever.
Website: www.sevendust.com
Facebook: www.facebook.com/sevendustofficial
Twitter: https://twitter.com/Sevendust
Instagram: https://www.instagram.com/sevendustofficial/
Tik Tok: https://www.tiktok.com/@officialsevendust
YouTube: https://www.youtube.com/OfficialSevendust
About Static-X
One of the genre-defining bands of the late 90s, Static-X was founded in Los Angeles CA in 1994 by lead vocalist/guitarist Wayne Static and drummer Ken Jay. The band lineup was rounded out by bassist Tony Campos and guitarist/programmer Koichi Fukuda, who collectively inked a deal with Warner Bros records.
Static-X rose to fame with their 1999 platinum selling debut album Wisconsin Death Trip and went on to release five more albums over the course of the next decade: Machine in 2001, Shadow Zone in 2003, Start A War in 2005, Cannibal in 2007, and Cult Of Static in 2009. The band has sold more than 3-million albums in the US alone and has had multiple chart-topping radio singles. They have toured the world extensively, and to this day, maintain a reputation for being one of the best live acts in heavy music. In 2012, the band took a break to pursue outside creative interests and on Nov. 1, 2014 Wayne Static unexpectedly passed away. In 2018, the band announced that they were reforming to celebrate Wayne Static, and in 2019 embarked on a world tour to celebrate the 20th Anniversary of their debut album. The reformed lineup of original members Tony Campos, Koichi Fukuda, Ken Jay and backed by frontman Xer0 delivered acclaimed performances by fans and critics alike. The tour was a massive success, with sold-out shows around the world , proving that Static-X fans remain as committed to the band as ever before. The revitalized Static-X continue to make headlines with their sold-out touring and new music while keeping their signature Evil Disco sound alive.
Website: http://www.static-x.com/
Facebook: https://www.facebook.com/staticx
Twitter: https://twitter.com/OfficialStaticX
Instagram: https://www.instagram.com/staticxofficial/
YouTube: https://www.youtube.com/@staticx/
For more information on The Machine Killer Tour, Static-X and/or Sevendust, please contact:
Kevin Chiaramonte / PFA Media / kevinc@pfamedia.net