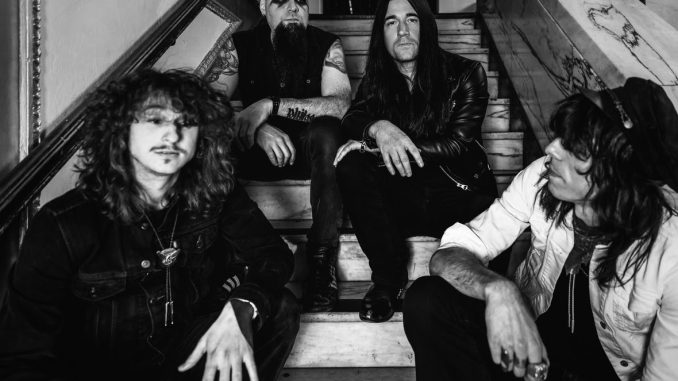 Check out The Lonely One's New Single "Bedroom Door"
https://linktr.ee/thelonelyones
Hard rock band The Lonely Ones released their new single "Bedroom Door" along with the official music video to all major platforms on October 14, 2022.
"'Bedroom door' can play out in two ways. If you find me attractive then the song is sexy and flattering. If you don't then the lyrics are creepy and predatory. It's up to the listener. Either you found the man of your dreams or a restraining order is the next step," says Marty McCoy.
WATCH "Bedroom Door" by clicking on the image below!
The Lonely Ones Tour Dates:
2022
10/21 Rockford, IL @ District
10/22 Braidwood, IL @Top Fuel Saloon
11/5 Saginaw, MI @The Vault
11/11 Westland, MI @The Token Lounge
11/12 Bucyrus, OH @ Dillinger's Event Center
11/18 Hallam, PA @Tourist Inn
11/19 Akron, OH @Empire Concert Club
12/1 Greenville, SC @The Radio Room
12/2 Carrboro, NC @The Station
12/16 Franklin, OH @J.D Legends
12/17 Glasgow, KY @AJ's
VIP Upgrades are available for select shows:
Head over to https://www.national-acts.com/thelonelyones to pick yours up today!
Formed in the summer of 2019, The Lonely Ones are a four piece vocal-oriented hard rock band with an ear for melody and a taste for success. No strangers to the hardships of the music industry, The Lonely Ones know what they want and know how to get it. They released two singles,"Eternal Sadness" and "The Lonely One," independently in March of 2020.
The Lonely Ones – Eternal Sadness: https://youtu.be/lVQPIIH3kJ8
The Lonely Ones – The Lonely One: https://youtu.be/TIsrlNEZ3_Y
The band released their re-imagined version of Queen's classic song "Flash" in July of 2020. The song/video was met with rave reviews including those of Brian May (Queen) and Sam J Jones (Flash Gordon, The Highwayman).
Brian May was quoted as saying, "What a fantastic cover! I didn't realize they were going to go into The Hero and the whole reprise … magnificent!"
Sam J Jones adds, "This is one of the best covers I have ever heard and seen. What a gifted group – The Lonely Ones are for everyone of us, from the 1980's to right now!"
The video for "Flash/ The Hero" can be seen here: https://youtu.be/Bct_S9Dp3dE
In September , 2020, The Lonely Ones released another brand new single titled "Real Big Trouble."
The Lonely Ones | Real Big Trouble (Acoustic): https://youtu.be/H-cIVJgQOA4
In February, 2021, the band released the single "Change the Station" and in June they released "Dyin All Night Long" via Imagen Records.
The Lonely Ones- Change The Station: https://youtu.be/6uKpDyVzx9k
On July 9, 2021, the band released a new single titled "Gettin' High" to all major platforms via Imagen Records.
The Lonely Ones| "Gettin High" Official Music Video https://youtu.be/yDH6CBeyElE