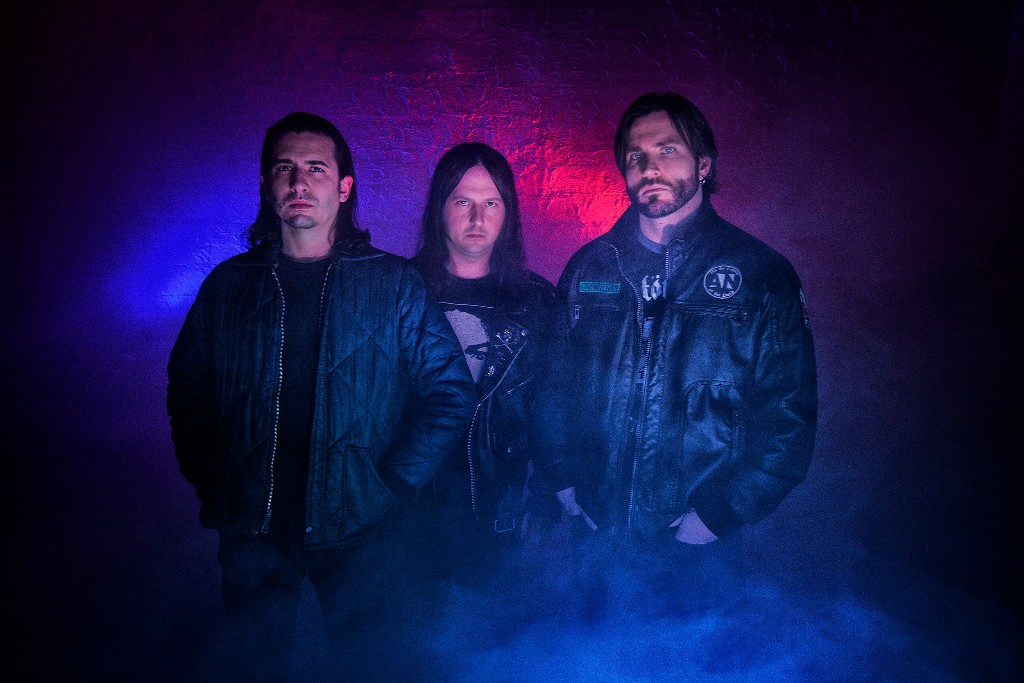 THE LION'S DAUGHTER
will be making two local appearances in their hometown of St. Louis, MO!
This weekend, on January 26, they will be performing as a Motorhead tribute at Release The Hounds, a benefit show for the Stray Rescue of St. Louis. This is the fourth year in a row that they have put together this benefit and so far, they have raised $$$$ for charity. More information on the Stray Rescue can be found HERE.
Regarding the charity event, THE LION'S DAUGHTER guitarist/vocalist Rick Giordano says, "This will be the fourth fundraiser we've put together for the Stray Rescue of St. Louis. For this one we've decided to team up with some of our friends to do full cover sets paying tribute to our favorite bands. We'll be tackling 10 Motorhead songs and doing the best to do the Lemmy, Fast Eddie, and Phil Taylor era justice. We've raised over $8,000 for Stray Rescue in the past and with the way that each one has grown we're expecting this to be the biggest yet. Dogs are better than people."
In addition to the charity event, THE LION'S DAUGHTER will playing the Hell Night Unlimited Destruction Album Release Party on March 1. Both events will be taking place at The Ready Room. The full itinerary and ticket links can be found below.
THE LION'S DAUGHTER Local Dates:
01/26: St. Louis, MO @ The Ready Room [Performing as Motorhead] (TICKETS// EVENT INFO)
03/01: St. Louis, MO @ The Ready Room (TICKETS // EVENT INFO)
For guest list and interview opportunities, reach out to Katy Irizarry at Katy@season-of-mist.com. Additional assets, such as a detailed bio and hi-rez photos, can be found HERE.
In addition to their St. Louis dates, THE LION'S DAUGHTER will be embarking on a European tour with MISERY INDEX, WORMROT, and TRUTH CORRODED. The full itinerary can be found below.

THE LION'S DAUGHTER
With MISERY INDEX, WORMROT and TRUTH CORRODED
03/23: Heidelberg (DE) @ Heidelberg Deathfest
03/24: Nürnberg (DE) @ Z-Bau
03/25: Wien (AT) @ Escape Metalcorner
03/26: Brno (CZ) @ Melodka
03/27: Dresden (DE) @ Chemiefabrik
03/28: Kassel (DE) @ Goldgrube
03/29: Berlin (DE) @ Cassiopeia
03/30: Eindhoven (NL) @ Grindhoven
03/31: München (DE) @ Backstage
04/01: Zürich (CH) @ Werk21
04/02: Segrate MI (IT) @ Circolo Magnolia
04/03: Genf (CH) @ Usine
04/04: Paris (FR) @ Glazart
04/05: Sint Niklaas (BE) @ De Casino
04/06: Essen (DE) @ Turock
The musical equivalent of what the most frightening, violent, and disturbing scenes from a good midnight movie might sound like.
THE LION'S DAUGHTER
from St. Louis, Missouri unleash a crushing assault of dense frying riffs, pummeling rhythms, pumping bass lines, and throat-shredding vocals supported by creepy synthesizers creating a seething intensity that borders on the frightful. Their third full length, 'Future Cult' is without doubt a fitting soundtrack to the post-apocalyptic hellscape that is to come.
THE LION'S DAUGHTER was formed in 2007 by guitarist/vocalist Rick Giordano, drummer Erik Ramsier, and bassist/vocalist Scott Fogelbach. The band was originally conceived out of hatred for the insincere and uninspired fodder that was choking the mainstream metal scene. They take inspiration from all kinds of extreme metal's subgenres but live by no musical limitations and are driven to please no audience but only themselves. THE LION'S DAUGHTER don't just play as if they want to see this world end, their sound implies that they want to be the ones to destroy it.
Since the band's inception, THE LION'S DAUGHTER have built a reputation as a formidable live force, sharing stages with HIGH ON FIRE, PIG DESTROYER, BEHEMOTH, TORCHE, MISERY INDEX, NACHTMYSTIUM, DARK FUNERAL, and many others. True to their underground ethics, the musicians toured around the United States on the backs of several independent EP and split releases.
Back in 2016, 'Existence Is Horror' came with the expected anger and aggression and easily detectable undertones of early NEUROSIS. Yet something of the creeping mood and atmosphere that also reminds of groups like SKINNY PUPPY or even GOBLIN.
Now, let THE LION'S DAUGHTER guide you on an even darker musical ride through the mind with the 'Future Cult'!
Line-up
Rick Giordano – vocals, guitar
Scott Fogelbach – bass
Erik Ramsier – drums
For more info on the band, visit their official Facebook page.