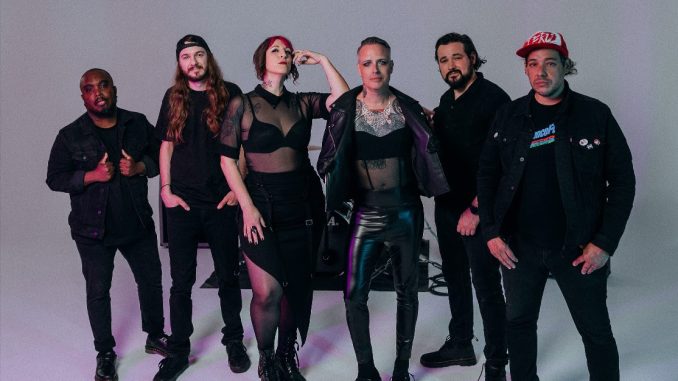 BAND SHARES "SCREAMING FOR A CHANGE" VIDEO — WATCH
The Iron Roses
—
Nathan Gray
(They/Them), vocals;
Becky Fontaine
(She/Her), vocals;
Philip "Eugenius" Smith
(He/Him), guitar and vocals;
Pedro Aida
(He/Him), guitar and backing vocals;
Michael Espinosa
(He/Him), bass and backing vocals; and
Steve Cerri
(He/Him), drums — are a passionate, unique, and beautiful group of people making music that they hope will change the world.
Their sound is fueled by the injustices of our current times — their songs are the kind of protest anthems that only a group of seasoned musicians could make. Still angry, still driven, and still screaming, this is a band that will never give up the fight.
The band will drop its self-titled album via Iodine Recordings on October 20. Pre-order it here.
Also, The Iron Roses shared the video for the incendiary first single "Screaming for a Change." Watch it here.
"Kicking off an album meant to both inspire an uprising against old systems and old ideals, 'Screaming for a Change' stands as an anthem for those ready to take their power back," vocalist Nathan Gray states. "We knew this song was the perfect choice to kick off our album and introduce ourselves to the world, as it perfectly sets up what you can expect from The Iron Roses — politically charged, anthemic punk rock with reggae, ska, and, yes, even some post-hardcore and metal influences. This is a song that firmly plants its feet and raises its middle finger in the air. We ain't backing down without a fight."
Regarding the accompanying video, Becky Fontaine continues, "The video is our introduction to the world, not only by its assertion of our social and politically-forward message, but our hearts as a diverse group of humans who don't take themselves too seriously. When we are on stage together, we are having the time of our lives, and we really wanted the video to reflect that joy, and our chemistry together. 'Screaming for a Change' doesn't need to be done in anger; it can be joyful and life-affirming. Simply existing in love and autonomy is a middle finger in the face of those who wish to see us stay down in misery; might as well shine!"

It takes serious talent to write and sing songs that sound angry while the music lifts your spirits. So much of political punk is abrasive and unpleasant. No hooks. No melodies. But other times passionate and irate words sound incongruent with emotionless and insipid music. The Iron Roses manage something rare and commanding with music that lifts the heart coupled powerfully with lyrics that express fury and resentment of the current world.

Punk as a genre has been so commodified and diluted over the last decades that it seems to be ever-increasingly hard to find bands that resonate this way — that sing and play with such intensity that their authenticity cannot be questioned, that prove that true punk is alive and well and can have you dancing around your kitchen singing along at the top of your voice.

Yes, we can discuss their pedigree, as well — most notably their frontperson Nathan Gray (of Boysetsfire fame), and their relentless touring and political activism. But none of those things matter if the songs don't connect with the listener. And this collection of songs are going to do just that. From the opening notes of the first song, the cards are on the table. The objective is clear — The Iron Roses are putting to words and music all the thoughts you've had these last few dark years. With the worldwide political climate leaning further and further from the left. With rights for many being limited and destroyed. With no end in sight. We need bands like The Iron Roses giving us a soundtrack to fight. Songs to pour our anger and frustration into when we sing along – just as they did when they wrote and recorded them — and will be doing so from stage when they hit the road hard this autumn.

THE IRON ROSES TRACK LISTING:
"Screaming for a Change"
"Soldier of Fortune"
"Hearts of Fire"
"Around & 'Round"
"Old Guard"
"Rebel Soul Sound"
"Hit"
"Justify the Lies"
"Raising Hell"
"The Hustle"
"Revolution Summer"