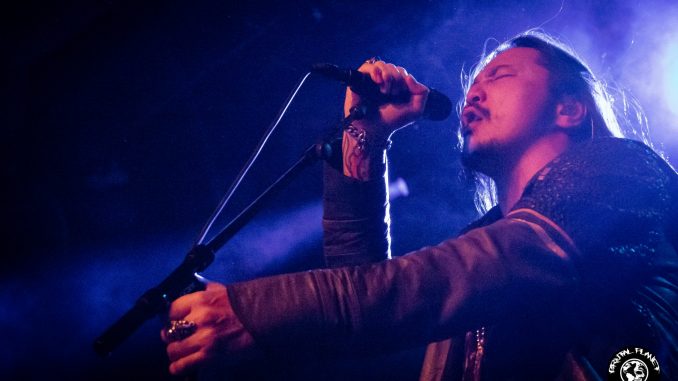 Hundreds of people lined up around the block on three different streets to get into the Varsity Theater Thursday evening. It was a cold and blustery October day, but rock fans were too excited to notice how chilly it really was. Minneapolis has hosted many rock and metal shows since venues reopened after vaccines became widely available, but Minnesota hasn't hosted a night quite this unique for a couple of years. The now-world-famous rock band, The HU, brought an incredible show to Dinkytown in Minneapolis and not a single fan was disappointed. The two-month-long "Hun Tour" has been traveling across the country since the first of September and finally performed in a city that is closest in latitude and climate to the band's home city of Ulaanbaatar, Mongolia.
Opening the night was The Haunt, a sibling-fronted Alternative-rock band from Fort Lauderdale Florida. This quartet, made up of Anastasia Haunt (vocals/piano), Maximilian Haunt (vocals/guitars/piano), Natalie Smallish (bass), and Nick Lewert (drums), took to the stage and played "Morally Incompetent." The band used the song's groovy beat and thundering bass to quickly lure the crowd into their fanbase. Next up was their cover of Kanye West's song "Ultralight Beam" and frontwoman Anastasia twirled around barefoot on stage as the band continued with "Love You Better."
As people continued to pour into the venue and fill the room, the band played their chilling anthem, "Why Are You so Cold?" which was released on YouTube a couple of years ago and has tens of thousands of views. If you haven't heard of this band yet, this would be a great video to check out and be introduced to their style. I really love hearing a strong bass guitar, so when Nat Smallish started the opening riff to "Streets & Lies" I was delighted. As their set was nearing an end, these Floridan rockers played their latest single, "Make Me King." I really like this song as it blends the right amount of enticement and heaviness- leaving everyone in the Varsity Theater with the desire to see this band come back again. Finishing strong, these four talented musicians played "Do It Again" and "Wish You Stayed." New bands need the right charisma and I wouldn't be surprised if The Haunt was headlining their own tour in the next year or two.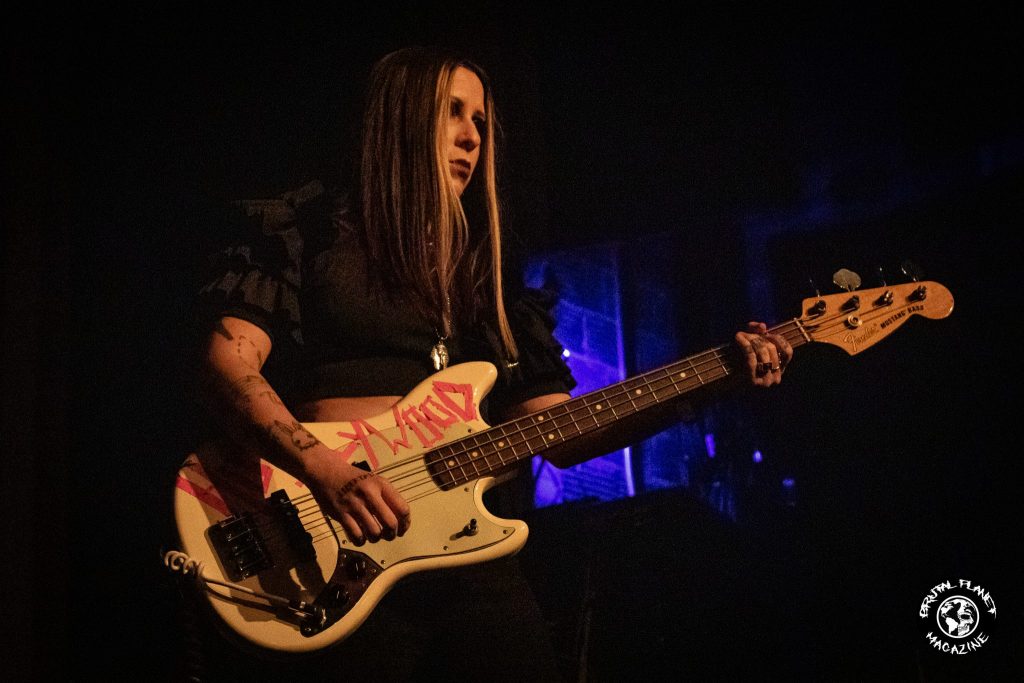 The crowd waited over forty-five minutes with eager anticipation until The Hu took the stage. This Mongolian band has gained a lot of popularity worldwide through their music videos and collaborations with artists like Lzzy Hale of Halestorm, Jacoby Shaddix of Papa Roach, and Danny Case of From Ashes to New.  As the band took their positions on stage, the bass drum emitted its thunder and everyone began to chant "Shoog Shoog" to the beat of the kick pedal. As the crowd got louder and louder, the sound of traditional Mongolian instruments like the morin khuur, tovshuur, and tsuur, soon followed.
The band, (Gala, Jaya, Enkush, and Temka) then graced the crowd with a new song titled, "Huhchu Zairan." Although The Hu consists of four official members, they had several touring members assist them in playing live. "Huhchu Zairan" kept the crowd's heads bobbing with its heavy drumming. They then continued with "The Gereg," which is the title track of their 2019 debut album. It was incredible to watch these talented musicians perform instruments that are so unfamiliar to anyone outside of Central Asia. The morin khuur is a type of bowed spiked lute that sounds like several violins playing at once and the strings are made from a horse's tail.
You can tell by the lyrical themes of "Mother Nature" and "The Legend of Mother Swan" that the band is passionate about honoring the earth. Other songs from their debut album were "Shireg Shireg," "Wolf Totem," and the 2018 mega-hit, "Yuve Yuve Yu," Much to the crowd's delight, The Hu played a fairly long set- mostly due to the fact that they have a new album coming in the near future and wanted to treat the crowd with many new songs like "Shihi Hutu," "Bii Biyley," and "Tatar Warrior." Based on the half a dozen new songs played, I would say "Uchirtai Gurav" was the crowd favorite. People went absolutely wild.
As the set was nearing the end, the band played their cover of Metallica's "Sad But True."  If you haven't heard this cover song yet, you need to check it out. The Hu was also featured on Metallica's new "Blacklist" compilation album with their cover of "Through the Never." Although the latter song wasn't played live, these Mongolian rockers know how to put their own spin on some classic metal songs.  One of the most surprising things I noted Thursday night was how diverse the crowd was in age.  I saw everyone from teens to people in their seventies enjoying the folk-metal of these Mongols.  It just goes to prove that no matter how many issues divide us in this world, good music will always bring people of all ages, religions, and politics together to unite in a common love.  Well done Hu.